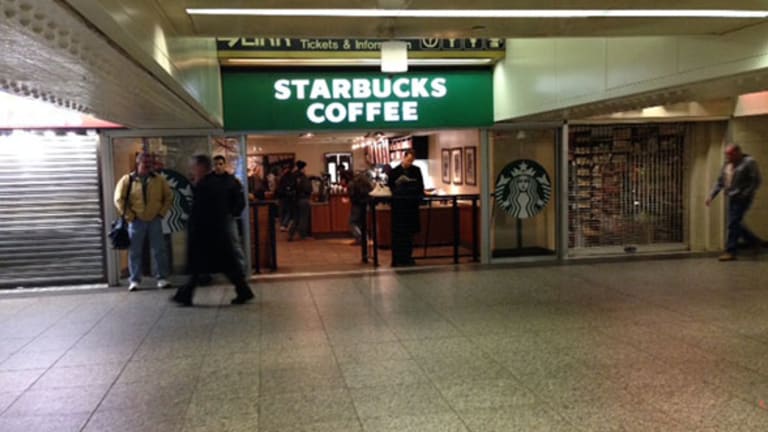 Starbucks' Seemingly Perfect Holiday Season May Not Have Been So Perfect
Starbucks delivered an impressive holiday quarter, on the surface. But there were several issues that lurked beneath the headlines.
NEW YORK ( TheStreet) -- Starbucks (SBUX) - Get Starbucks Corporation Report  had close to a perfect holiday season. But close does not mean squeaky clean as there were several areas that should cause concern amongst otherwise giddy Starbucks investors.
Demand for Starbucks' new sugar bomb of a holiday drink called the Chestnut Praline Latte, microwaved pre-made breakfast and lunch sandwiches, artsy designer inspired mugs, and plastic and digital gift cards headlined the list of factors propelling the company's holiday financials. On Thursday after the market close, Starbucks announced first-quarter revenue of $4.80 billion and non-GAAP EPS of $0.80. Both were in line with Wall Street's estimates.
Starbucks' Americas served up a same-store sales increase of 5% compared to estimates for a 4.9% rise. All periods in the day, from breakfast to the evening hours Starbucks is placing extra emphasis on, contributed to sales growth. Sales of breakfast food surged 29%, while lunch sales gained 15% on the back of an appetite for warm sandwiches. Starbucks tells TheStreet it introduced three new warm sandwiches in the quarter.   

In total, same-store sales of food increased 2% on the heels of a similar improvement in the fourth-quarter.   
Starbucks pointed out that dollars loaded on Starbucks Cards surged to a record $1.6 billion in the quarter, up 17% year-over-year. Further, 1 in 7 Americans received a Starbucks gift card in the quarter, an improvement from a 1 in 8 ratio a year earlier.
The China/Asia-Pacific region, where Starbucks opened eight of its new upscale Reserve store formats in China during the quarter, even got in on the festive feel to the report.  The China/Asia Pacific segment's same-store sales increased 8%, led by China, which according to Starbucks outperformed all other regions in the segment. Analysts had estimated a 5.9% sales increase for the division. Starbucks is now in 86 Chinese cities, with plans to enter seven new cities this year. By 2019, Starbucks believes it will have 3,400 stores in China.
Investors embraced the quarter, as well as Starbucks sharpening its fiscal year EPS guidance to $3.09-$3.13 from $3.08-$3.13 previously. There was also some solace found in Starbucks' preliminary takeaways, notably a lack of operational hiccups and strong consumer usage, from an initial rollout of its mobile order and pay platform to 150 stores in the Portland, Oregon area in December.  

Shares spiked about $4.00 in after-hours trading Thursday to $86.08.



But the unbridled enthusiasm over Starbucks' numbers and commentary may have caused investors to neglect a few glaring negatives with longer-term implications.
Starbucks' Americas business, which has been dealing with traffic challenges at physical stores due to a shift to buying products on mobile devices that Schultz has frequently referred to as "seismic," posted a 2% year-over-year increase in transactions in the first-quarter. A year earlier, the year-on-year gain was 4%. The slower rate of transactions growth is somewhat of a disappointment from multiple perspectives. 
For starters, Starbucks' created quite the social media buzz during the holidays with its "Starbucks for Life" giveaway that entered users of the Starbucks mobile app for a chance to win free coffee and food for 30 years. There was more holiday-themed merchandise available for people to buy. And the company arguably had the holiday gift of choice -- a simple Starbucks gift card. 
Solving the nagging issue of bringing in more bodies to Starbucks stores, after years of strong traffic growth, ratchets up pressure on the company to have a successful nationwide rollout of its mobile order and pay system as 2015 progresses. Success in this arena will be defined by an acceleration in the growth rate of transactions in the U.S. business later on in 2015.  

Another possible disappointment came within the China/Asia Pacific division, where despite the same-store sales growth because of an 8% surge in traffic, there was no change in the amount being spent inside the restaurants. In the fourth-quarter, average transaction value in the China/Asia Pacific business actually fell 1%. The sluggish spending is interesting in light of the premium menu items Starbucks says it's seeing success with, which should be supporting transaction value growth. 

Results from both periods continued a trend of weak transactions growth in the region, reflecting the embedded tea drinking culture in Asia and lower disposable incomes relative to those in the U.S. and Europe. That lower disposable income could be forcing Starbucks' customers in Asia to make a choice -- buy a pricey latte or a decadent pastry.

This article is commentary by an independent contributor. At the time of publication, the author held no positions in the stocks mentioned.