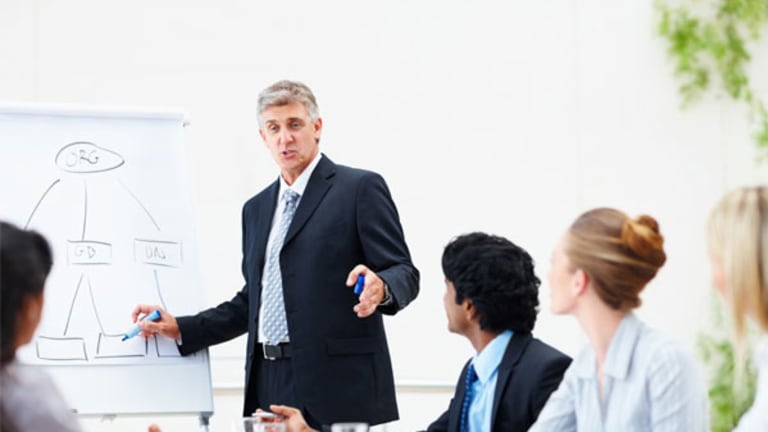 Starbucks: Buy It, Own It, Love It
Multi-method stock market ethnography says blind faith in Howard Schultz will not get you killed.
NEW YORK (TheStreet) -- It's just easy to love some companies.
As an "objective writer," I know I'm not supposed to say that.
I'm also not supposed to dog stats guys, bean counters or MBAs.
In my work, past and present, I interact with these folks. They often wow me with their knowledge. And they inform my work.
There's a place for careful study of the numbers; however, traders as well as investors ultimately lose if they live and die by the numbers.
P/E's too high, I can't buy!
or
it's too low, let's go!
can get you killed.
Generally, I agree with Springsteen,
Blind faith in your leaders, or in anything, will get you killed
, but not in relation to
Starbucks
(SBUX) - Get Starbucks Corporation Report
CEO Howard Schultz.
With Schultz, as impressive as they are, you don't need numbers.
I'll give you some anyway. The ones that matter -- from Thursday's SBUX earnings call and an email I requested and received from the company.
Loyalty, Starbucks Cards, Mobile
There is
$3 billion
loaded onto Starbucks cards. That's
25%
of U.S. store tender, according to Schultz.
There are
10 million
Starbucks rewards loyalty program members;
50%
or
5 million
are active members.
There've been
100 million
mobile payment transactions since Starbucks launched its mobile app in January 2011.
Count 'em,
2 million
mobile payment transactions per week. That's just through the Starbucks app; later this month, the company launches what it calls a "complementary" mobile payment service in conjunction with
Twitter
founder Jack Dorsey's
Square
.
I took notes during the call. The following snippets from Schultz, all about mobile, resonated:
We believe the rabid adoption of mobile gives us an opportunity to create a unique and much deeper relationship with our customers directly and in the moment ... We have the unprecedented ability to ... explore new revenue streams in music and digital publishing.
.
... we continue to push the envelope ... by adding features and interactive activity in such areas as tipping, mobile ordering and personalization
.
Starbucks is embracing the seismic shifts in consumer behavior that are well under way
.
That's a humble understatement.
There's nobody even close to Starbucks in mobile.
I gave you some quantitative and some qualitative data. Now, I'll throw in some personal experience. Everybody's multi-platform these days; I've always been a multi-method stock market ethnographer.
When I got my iPhone 5 from
Apple
(AAPL) - Get Apple Inc. (AAPL) Report
, the first thing I did was download the Starbucks app.
Apple started the mobile craze. Starbucks picked up on the trend Steve Jobs set way early. It hit the ground running.
Here's the deal: In 2008, Stephen Gillett, now a president at
Best Buy
(BBY) - Get Best Buy Co., Inc. Report
, joined Starbucks as CIO. In 2009, he hired Adam Brotman, now Starbucks chief digital officer.
Working with a small team, Gillett and Brotman, both in their late 30s now, devised and implemented Starbucks' digital/mobile strategy and laid the groundwork for
the Square deal that was finalized this past summer under Brotman's watch
.
They built the app.
There might not be a better consumer/retail app out there. Heck, there might not be a better app overall.
Not only is it beautiful and functional. It drives sales.
Anecdote doesn't always fly, but Starbucks' exponentially growing number of mobile transactions more than supports what I think I'm seeing.
I probably went to Starbucks once a month before I downloaded the app. I go every day now. Sure, maybe the initial buzz will wear off, but I'm not so sure. These guys have it down.
Not only does the app get better with every update, but everybody's on the same page. It's rare to find a surly Starbucks barista. At all levels, people, by and large, love working for the company.
At the Starbucks I frequent, the barista -- we'll call her Selena Gomez because that's who she looks like -- treats everybody like gold. I went the other day. She remembered my drink ... because my wife had come in the other day and ordered for me. I wasn't with her at the time, but "Selena" obviously recalled seeing us at the location, inside a grocery store, in recent weeks.
She proceeded to suggest a different variation on my order. One with less sugar and more caffeine. "Selena" let me know I could just dump the drink and get what I originally ordered if I wanted to. It didn't matter. She nailed it. And now, because of her style and the mobile app, I'm hooked.
Starbucks now becomes habit. And, again, it's my individual anecdote supported by several million other Starbuck card/loyalty program/mobile app "anecdotes."
I repeat: These guys have got it down.
If you're going to have blind faith in any CEO and his/her executive team make it Schultz at Starbucks.
I love Jeff Bezos at
Amazon.com
(AMZN) - Get Amazon.com, Inc. Report
. And
I fully endorse investors giving Amazon the benefit of the doubt
. However, there's no need to treat Starbucks this way because the company leaves very little doubt.
Don't second guess these guys. All together, they've got it down!
At the time of publication, the author was long SBUX
.
Rocco Pendola is
TheStreet's
Director of Social Media. Pendola's daily contributions to
TheStreet
frequently appear on
CNBC
and at various top online properties, such as
Forbes
.