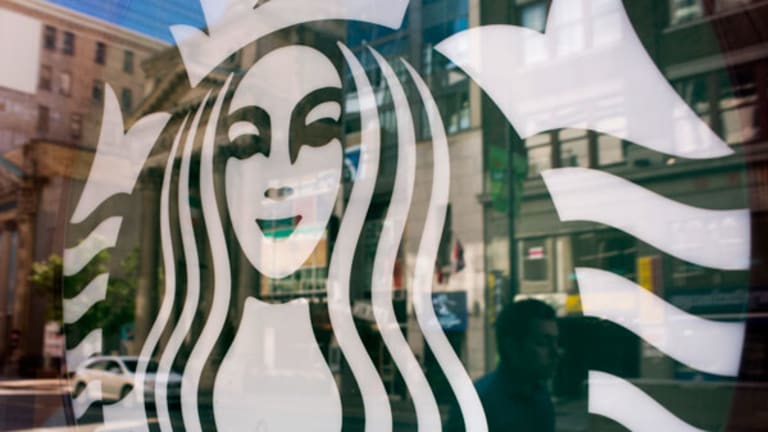 Starbucks Beats Competition in Building Customer Loyalty
A look at three steps Starbucks has taken to ensure its revenues in the competitive coffee space.
By Nate Matherson of Circa Alpha
NEW YORK (
) -- Companies have long embraced customer loyalty in an effort to drive revenues and sustain earnings throughout all economic conditions. Over the last decade we have witnessed a number of companies in a variety of sectors place an increasing level of importance on creating customer loyalty in more creative ways. For a number of years I have followed one of my favorite companies,
Starbucks
(SBUX) - Get Starbucks Corporation Report
, with great attention. The atmosphere, product portfolio and rapid growth rate are unparalleled in the sector. The company has created what is arguably the most loyal customer base on the planet with revenue inelasticity challenging tobacco.
Year to date, shares of the company have performed especially well alongside the broad market averages. Shares are higher by nearly 50% on impeccable store count and same-store growth across all geographical segments. The company's successes and most recent earnings data have been heavily covered within the financial media space, so I'd like to focus greater attention on the drivers of company loyalty. I want to highlight three keys steps the company has taken to ensure its customer loyalty into the distant future.
Loyalty Rewards
Membership rewards have been commonplace for sometime, but Starbucks has mastered the system. The company created a loyalty rewards system where its customers gain rewards on all their purchases within the family of Starbucks products. Members earn "stars" on everything from coffee drinks to accessories, from grocery store purchases to purchases at Teavana.
When customers initially sign up, they are placed at the welcome level with no real perks except a free drink on their birthday. At only five stars, or five purchases, consumers will gain access to a green membership. With a green membership, customers will receive free refills on their coffee, iced coffee and tea purchases when they visit stores. Then at 30 stars, or 30 purchases, consumers will receive the prized gold membership, along with a gold card in 4-6 weeks. Every 12 purchases the member earns a free drink as well as other special offers from time to time. Starbucks has begun to roll out its rewards system in the majority of its markets, including China. In two years the company has built a base of more than 3 million members in the U.S., and they now account for 35% of transactions in its stores.
The company has given customers a reason to continue with the brand and frequent their local store more often. By offering rewards on the company's full portfolio of products at places other than your traditional Starbucks location, the company has promoted consumer loyalty across a number of business segments.
Seasonal Favorites
Throughout the year Starbucks releases a number of seasonal favorites, which I'm sure many of us are very familiar with. The pumpkin spice latte, peppermint mocha and gingerbread latte have become the company's seasonal staples alongside accompanying food offerings. Since Starbucks launched the world renowned pumpkin spice latte in 2002, it has channeled the unique combination of spicy and sweet flavors into a financial boon, reportedly selling 200 million pumpkin spice lattes since its inception.
As the company has ingrained the daily trip to Starbucks into their customer's everyday lives, I feel the unique seasonal offerings have been ingrained in the yearly routine of its customer base as well. Customers have and will return for these products as they have become as much a part of the seasons as the seasons themselves. Create a product connected to something larger, give your customers something to look forward to throughout the year.
All-Day Offerings
Starbucks has actively looked for strategic acquisition within its beverage and pastry space. The company went on a buying spree, which included the acquisitions of Teavana, Evolution Fresh and La Boulange just a couple of years ago. Since then, the company has looked to integrate these newly acquired brands into its stores and brand to give customers all-day offerings.
A few years ago if you asked me what Starbucks was I would have said it was a coffee company with a focus on the morning consumer. By greatly expanding the size of its product portfolio, the company has become a market leader in coffee, juices, sandwiches, snacks and sodas, effectively making Starbucks an all-day option for its customers.
I feel the expansion to an all-day lineup has been central to promoting customer loyalty. I have found myself taking additional trips throughout the day, and according to management I'm not alone. The company's morning customers have increasingly started coming back throughout the day for the company's line of afternoon specials, including the recently launched refreshers. The company hasn't just integrated into its expanded portfolio but the company has ingrained itself throughout the daily lives of its customers.
Wrap-Up:
Starbucks has created a singular customer loyalty, which will sustain growth and revenues amid economic uncertainty. Its loyalty rewards structure promotes customer spending across a number of locations and product lines. By establishing seasonal favorites, the company has given customers something to look forward to throughout the year. And by becoming an all-day brand through acquisition and expansion, the company's customers now have a reason to return to their local location throughout the day for more than just coffee.
At the time of publication the author was long SBUX.
This article was written by an independent contributor, separate from TheStreet's regular news coverage.
Nate Matherson is currently a student at the University of Delaware, where he is pursing degrees in Finance and Economics. Nate manages his own investment portfolios in addition to writing investment analysis articles for a variety of news outlets. In the future, Nate would love to work in either the portfolio management or investment banking industry.