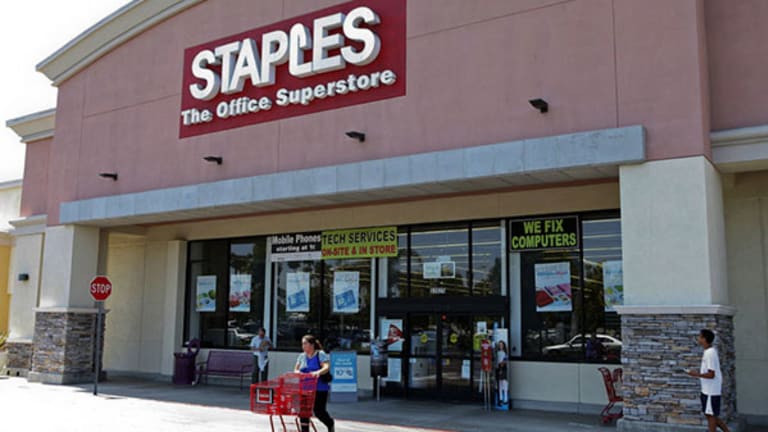 Staples Agrees to Buy Office Depot: What It Means for Investors, Consumers
Staples has decided to purchase smaller rival Officer Depot. That has major implications for both investors and consumers.
Staples has decided to purchase smaller rival Officer Depot. That has major implications for both investors and consumers.
NEW YORK ( TheStreet) -- There's about to be one dominant office supplies retailer in the U.S., and that could mean a rare opportunity for investors -- as well as some changes for both consumers and small businesses.
On Wednesday, Staples (SPLS) announced that it will acquire smaller rivalOffice Depot (ODP) - Get Report for about $6.3 billion in cash, capping an end to activist investor Starboard Value's long-running battle to get the two companies to combine. Staples acknowledged that it began discussions with the Office Depot team on a tie-up in September 2014. The deal is set to close by the end of 2015. Staples has apparently done enough due diligence to proclaim $1 billion in synergies three years after the deal closes.
Staples stock was trading down more than 8.6% early Wednesday, after gaining 11% on Tuesday when a potential deal was first reported. Office Depot shares were up 1.8% early Wednesday after surging 22% on Tuesday.
Investors now have an interesting opportunity to consider in a retail sector continuing to deal with pressured sales and margins as more people shop online.
A combined company will have a commanding physical store presence across the country. Coupled with a consolidated marketing and promotional budget, that could be a sizable asset that drives more profitable and consistent business. As online infrastructure is consolidated, Staples could drop its web prices to better compete with Amazon (AMZN) - Get Report and Wal-Mart (WMT) - Get Report , both of which have started to offer more expansive selections of office supplies.
With the cost savings, by 2016 the merged company could begin showing attractive earnings growth. A merger would come with significant integration risk, however.
Staples said it plans to achieve synergies in numerous ways. There will be hundreds of store closures required to appease the Federal Trade Commission, a headcount reduction, and better negotiating power with the likes of 3M (MMM) - Get Report , Microsoft (MSFT) - Get Report and other inventory providers.
Staples CEO Ron Sargent will lead the combined company, with Office Depot CEO Roland Smith departing.
The company gave no indication in its press release or on an analyst Webcast whether Office Depot locations will be rebranded as Staples. A rebranding would be a significant operational and financial undertaking, ranging from relabeling product packaging to replacing exterior and interior store signs. Furthermore, the company did not shed light on whether OfficeDepot.com would remain in existence.
"Customer needs and expectations are changing, and customers are looking for sharper pricing," said Staples Chairman and CEO Ron Sargent on the Webcast. The statement was likely a nod to the FTC, which blocked a previous merger proposal of the two companies back in 1997 due to competition concerns.
Consumers are likely to see more affordable prices on pens, paper and print services as Staples reinvests its cost savings windfalls. But a wave of store closures from the combined entity is likely in 2016, should the deal be approved by regulators.
Small businesses, however, may not benefit much. Businesses that often contract with Staples or Office Depot for weekly and monthly office supplies may see their bills becoming a bit more expensive as Staples morphs into the dominant player in the contract delivery industry. The lack of competition in the contract business stands to be a hot button issue for regulators reviewing the deal.
This article is commentary by an independent contributor. At the time of publication, the author held no positions in the stocks mentioned.