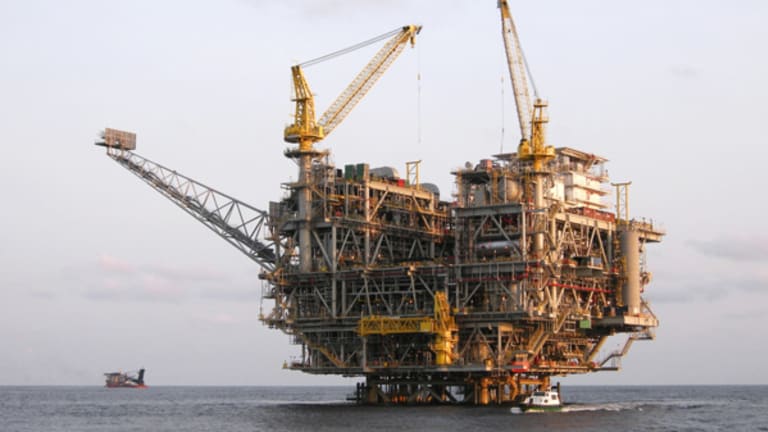 Falling Oil Prices Likely to Force More Energy Companies to Merge
The oil majors are tightening their belts as crude prices slide, but it won't be long before an M&A frenzy begins in the sector, analysts say.
Updating crude oil price from 6:05 a.m. story.
NEW YORK (TheStreet) -- The major oil companies are tightening their belts as crude prices slide, but it won't be long before an M&A frenzy begins in the sector, analysts say. The targets will be U.S. explorers and producers, both large and small. 
Crude oil prices are at $50.76 a barrel after reaching their lowest levels in six years last week near $43, a 60% drop from June's near-term peak in benchmark prices.
Major U.S. oil companies are moving aggressively to turn off the spigots of supply, which is expected to keep rising this year, causing oil revenue to take a colossal hit. But once the industry has assessed the damage, analysts say, the fittest will start to look for investment opportunities. The best opportunities will be in the U.S., the most attractive area to explore and produce oil.
"I've seen this movie before and I know how it ends," said Oppenheimer analyst Fadel Gheit, who's been covering the oil industry for 30 years.
After extensive cost cutting in an industry that's been propped up by high prices -- Gheit estimated there's been an extra $35-a-barrel "fluff" in oil prices -- companies will take this as a good investment opportunity to capitalize on the weakness of competitors.
"When it's done, the industry will be more resilient and in better financial shape," said Gheit, who owns shares in the oil majors, including BP (BP) - Get BP Plc Report , Royal Dutch Shellundefined , Exxon Mobil (XOM) - Get Exxon Mobil Corporation Report , Total (TOT) - Get Total SA Report , ConocoPhillips (COP) - Get ConocoPhillips Report  and Devon Energy (DVN) - Get Devon Energy Corporation Report .
It was speculation-driven price inflation above oil's fair value -- which analysts put at around $65 a barrel -- that fueled the development of the U.S. shale drilling industry. Thanks to that speculation and soaring oil prices, drilling technology has improved, making the U.S the most attractive area to explore and produce oil, Gheit said.
While Gheit sees the potential for mega-mergers strengthening as the downturn wears on, Howard Weil analyst Blake Fernandez said the majors are looking for takeover targets with portfolios that are located in specific regions, preferably in the U.S.
"Most of the appetite I'm hearing from the majors is very rifle-shot oriented -- meaning assets consolidated in one or two basins -- rather than far flung assets all around the world. Ultimately they go in and divest certain assets they're not interested in," said Blake.
Persistently low oil prices are laying the groundwork for a busy oil industry M&A environment over the next 12 to 18 months, Blake said.
Although the smaller players would be reluctant sellers with their stock prices at depressed levels, banks will become increasingly nervous about lending to already-leveraged exploration and production firms the longer the downturn in crude oil continues. Reduced access to capital will force some sellers hands, Blake said.
"Majors haven't done a good job on shale in the U.S -- they feel they've missed the boat on E&Ps because of costs being too expensive," the analyst said. "This sets up the opportunity to buy acreage at a cheaper cost."
The likelihood that oil prices -- and therefore revenue -- will stay low for an extended time makes industry consolidation a given now.
"Oil prices are not likely to go up because they've been over-inflated since 2010," Gheit said, adding that crude oil below $65 is also unsustainable and driven by speculation.
Citi, in a note to clients last week, projected total capital spending among oil explorers and producers will be slashed by about 34% in 2015 to approximately $61.7 billion. Capital spending is projected to exceed after-tax operating cash flow by about 23% this year, the report said.
With lower cost structures and good balance sheets, the strongest oil companies will continue to reduce costs, analysts say. They'll be demanding more service for less money from providers because fewer and fewer projects will get financed.
Once they find their sea legs, the fittest companies will look to snatch up rivals with weaker balance sheets that have strong oil portfolios.
"We will see a lot of capital spending then, and a lot of M&A," said Gheit. Among them are likely to be mega-deals like the Exxon and Mobil merger of 1999 to form Exxon Mobil.
"The longer-term horizon companies will take advantage of the smaller companies that will make their own portfolio better," Gheit said. Because of their sheer size, the only way to grow will be through deals.
Among the companies that will be able to withstand the pressure of low prices, Gheit said, are EOG Resources (EOG) - Get EOG Resources, Inc. Report , Pioneer Natural Resources (PXD) - Get Pioneer Natural Resources Company Report , and Noble Energy (NBL) - Get Noble Energy, Inc. Report , which have low cost structures, good balance sheets and will continue to cut costs.
Fernandez pointed to Exxon Mobil's $35 billion merger with XTO to beef up its natural gas business, which was not well received by investors after natural gas prices plunged. For now, he thinks a merger of equals is less likely than buying a company with a smaller market cap of $5 billion and below.
"Never say never, but it doesn't ever sound to me like there's a ton of synergies to having a merger of equals," said Fernandez, who owns a small position in Royal Dutch Shell.
Given a continued crude slump, however, "I wouldn't be surprised if that trends up to $15 billion if there's an opportunity out there," he said.