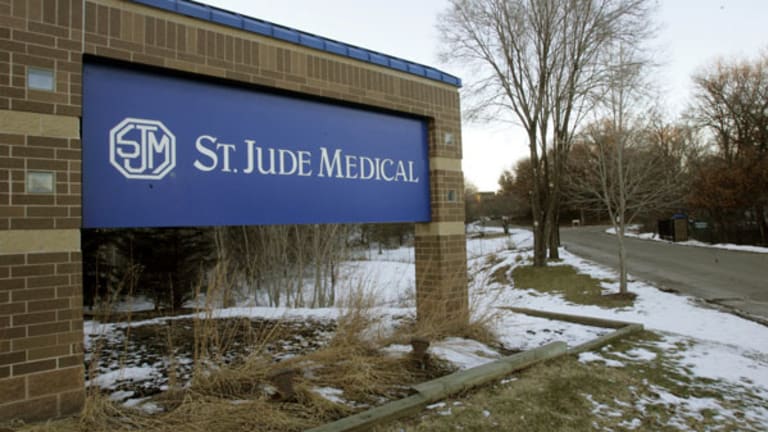 St. Jude Medical Gets Too Much Praise
Given the lack of growth, it's hard to cheer the stock at these levels.
NEW YORK (TheStreet) -- Every once in a while I am amazed at how some companies apparently can do no wrong, despite a constant stream of negative news. St. Jude Medical (STJ) certainly fits this criteria.
Although this company has showed extraordinary potential, over the past several months there have been concerns ranging from the company's product pipeline to its competitive positioning.
Issues related to the company's leads have brought about increased scrutiny from the FDA. St. Jude is also coming off two disappointing quarters in a row, during which revenue declined more than 2% in the fourth quarter and 3% in the first quarter.
Despite all of this, the stock is up almost 40% the past five months. This is not St. Jude's fault, however. There's not much a company can do when its stock has become a Street favorite. I do worry, however, that investors are willfully ignoring what's becoming a negative trend in favor of the company's potential. I won't dispute that the upside prospects are there. But at some point, though, it has to manifest itself into better execution. The question is when?
Also see: Medidata Pushing Clinical Cloud >>
Given the soft growth that St. Jude has posted over the past couple of quarters, not much was expected in this report. In that regard, there weren't any surprises, either. Though the company missed on both top and bottom lines, when taking into account other reports from within the sector, St. Jude didn't perform that poorly, even with the 3% revenue decline.
As is often the case in this sector, there's plenty to sort through. Unfortunately for St. Jude, most of it was underwhelming -- led by the company's cardiac rhythm management (CRM) business, when shed 7% year over year. This was especially disappointing because aside from being one of St. Jude's largest businesses, CRM also shed 5% in the fourth quarter.
Management said that the weakness in CRM was due to soft sales in pacemakers, which declined 11%, along with a 4% decline in the company's implantable cardioverter defibrillator (ICD) business. Even though the top line was broadly unimpressive, management made up for it in profitability - albeit not as great as the valuation currently commands. Nevertheless, although gross margin and operating income declined year over year, both arrived better than expected.
What's the Deal With ICD?
The ICD business has been St. Jude's biggest issue lately, given that it has garnered FDA attention. In fact, it's gone as far as St. Jude receiving a written warning by the FDA regarding the safety of the company's Durata leads. However, to St. Jude's credit, the company has done pretty much everything in its power to ensure the leads are safe.
Not only has the company placed the leads through rigorous tests before their launch, St. Jude has also maintained a registry of each one so that their performances can be tracked over time. Given how well the stock has performed over the past several months, it would seem that investors are content with this effort. Besides, it doesn't seem as if the Street is concerned about potential recalls, nor are there worries that St. Jude will lose market share as a result.
Also see: Top 5 Things Recent Grads Can Do to Stand Out and Get a Job >>
The consensus is that St. Jude will emerge out of this unscathed. I remain unimpressed by the company's segmental results, where St. Jude
by
Johnson & Johnson
(JNJ) - Get Johnson & Johnson (JNJ) Report
. Plus, given the 11% revenue decline in pacemakers, it's not a stretch to suggest that market share is being lost to (among others)
Boston Scientific
(BSX) - Get Boston Scientific Corporation Report
.
What of the Stock?
Although there are legitimate concerns regarding growth, the key is how well St. Jude can emerge out of the ICD situation. The valuation presumes that the Street has already priced in a victory. That's a big risk, especially now that the stock has approached expensive territory. That said, it's not unrealistic to expect higher gains if/when a victory becomes official. But strictly on a valuation perspective, these shares are (at best) fairly valued.
At the time of publication, the author had no positions in stocks mentioned
.
Follow @saintssense
This article was written by an independent contributor, separate from TheStreet's regular news coverage.
Richard Saintvilus is a private investor with an information technology and engineering background and the founder and producer of the investor Web site
. He has been investing and trading for over 15 years. He employs conservative strategies in assessing equities and appraising value while minimizing downside risk. His decisions are based in part on management, growth prospects, return on equity and price-to-earnings as well as macroeconomic factors. He is an investor who seeks opportunities whether on the long or short side and believes in changing positions as information changes.