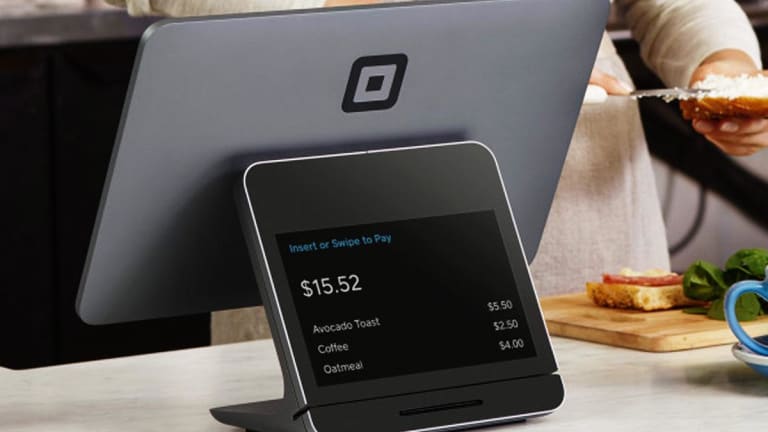 Square Tumbles as Results Are Not Enough to Support Sky-High Valuations
To get behind Square's stock at a staggering forward EV-to-EBITDA of 72x, investors expect to be impressed by the company's results. This does not seem to have been the case in the most recent quarter.
Square's  (SQ)  growth story continues to unfold.
On the first day of May, the San Francisco-based fintech company delivered a net revenue beat of about $10 million over consensus expectation of $478 million. This has been the fourteenth consecutive time since the 2015 IPO that Square has topped analysts' top-line estimates, this time by a slightly narrower margin than usual.
Despite that enviable record, shares of Square tumbled in after-hours trading on Wednesday and were down more than 8% to $67.44 in morning trading on Thursday. 
Not Much To Complain About The Results
Transaction-based sales, representing more than two-thirds of total company gross revenue, were supported by further expansion of the seller ecosystem. GPV, or gross payment volume, increased 27% year-over-year, driven particularly by strong activity in the high-value mid-market seller segment. See depiction of revenue and volume trends below.
Very impressively, subscription revenues nearly doubled over year-ago levels on an organic basis (excluding the impact of the Weebly and Zesty acquisitions), driven in great part by the doubling of Cash App's volume. This side of Square's business may prove to be an important value creator in the future. Not only should the recurring-revenue model help to support richer valuations for the company as a whole, the higher segment margins (of 72% in the first quarter, gross of operating expenses) suggest that a gradual increase in total company profitability from the revenue mix shift alone should be expected.
Regarding earnings, $0.11 in adjusted EPS topped the Street's projections by three cents. However, the mere timing of certain expenses may have helped to lift bottom-line results in the first quarter. What seems obvious is that Square continues to invest heavily in the business, prioritizing user growth and new product roll-outs (including Square Invoices, Square Stand and the new version of Square Online Store) over cost containment.
Stock Fails To Gain Traction
Judging by the upbeat narrative above, it seems natural that investors would have welcomed the results with open arms. Instead, Square stock took a sizable hit in after-hours trading. The initial bearish reaction, however, does not seem to be justified by underwhelming performance.
Sure, second-quarter guidance failed to inspire and landed slightly below consensus expectations. However, the financial goals previously set for the full year remained intact -- in fact, revenue guidance improved slightly. The outlook might even prove to be a bit conservative in the end, following the first quarter top- and bottom-line beat and the growth opportunities in the pipeline.
Most likely pressuring share prices after the earnings report are overly rich valuations that set too high of a bar for the stock to overcome. In order to get behind the name at a staggering forward EV-to-EBITDA of 72x, nearly three times as high as peer PayPal's (PYPL)  earnings multiple, investors probably expect to be thoroughly impressed by the company's performance. This does not seem to have been the case in the first quarter, even though material weakness in the financial results was hard to spot.
The more aggressive and risk-tolerant investor may be compelled to buy the stock on the dip, since Square's earnings report did little to raise red flags over the company's growth prospects. However, shares still seem to be priced for perfect execution. With the stock value having increased nearly seven fold in just over three years, prudence here may be the best course of action -- at least until or unless shares reset at more reasonable levels.
The author has a long position in PYPL.