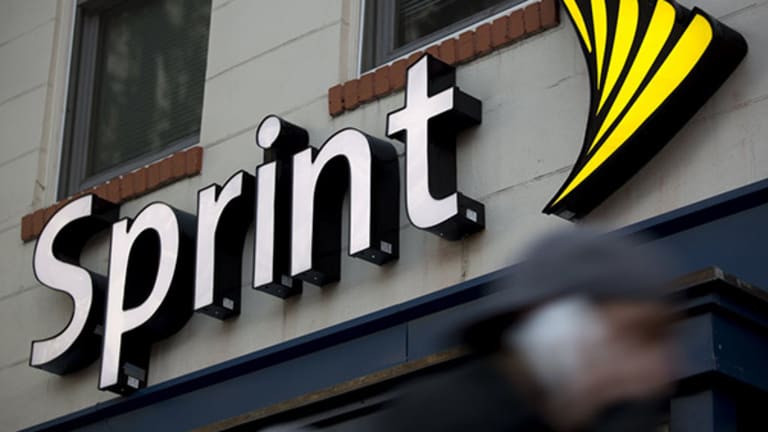 Publish date:
Sprint Adds More Phone Customers Than AT&T, Verizon, but Quarterly Loss Exceeds Forecasts
Slashing prices has helped the fourth-largest U.S. wireless carrier gain customers, but at the expense of revenues.
Slashing prices has helped the fourth-largest U.S. wireless carrier gain customers, but at the expense of revenues.
Shares of Sprint (S) - Get SENTINELONE, INC. Report gained Tuesday, as CEO Marcelo Claure touted progress in the wireless carrier's turnaround during the fourth quarter of fiscal year 2015.
Sprint's $8.07 billion in revenues exceeded forecasts of $8.02 billion, and the company reported progress in reducing costs. A loss of 14 cents per share was worse than FactSet's consensus forecast of loss of 12 cents per share, however. While the company has raised billions to address upcoming maturities, questions about Sprint's ability to grow into its balance sheet persist.
The stock, which is part of TheStreet.com's Stressed Out index of distressed stocks, gained 6 cents, or 1.7%, at $3.55 in early afternoon, but had been up nearly 6% at $3.69 earlier in the day.
"This was a very special quarter for Sprint, as we surpassed both Verizon (VZ) - Get Verizon Communications Inc. Report and AT&T (T) - Get AT&T Inc. Report in postpaid phone net additions for the first time on record," Claure told investors.
Sprint added 56,000 net postpaid subscribers, who are more profitable that prepaid subscribers. Of the gains, Sprint added 22,000 postpaid phone subscribers, who are more lucrative than accounts for tablets or laptops. Evercore notes that Wall Street expected 385,000 net postpaid adds and 174,000 postpaid phones.
Verizon gained 640,000 net postpaid accounts in the first calendar quarter, but lost 8,000 net postpaid phone accounts. AT&T gained 129,000 postpaid net additions, but lost 363,000 phones.
Wells Fargo Securities LLC analyst Jennifer Fritzsche called the results "better than feared in a seasonally weak quarter," in a report. In addition to outpacing AT&T and Verizon in phone gains, the Sprint said it had achieved $1.3 billion of a planned $2 billion in annual cost cuts.
Sprint is running aggressive promotional campaigns, offering customers from AT&T, T-Mobile USA (TMUS) - Get T-Mobile US, Inc. Report and Verizon 50% off their bills if they switch to Sprint.
"Slashing prices has helped them stop the bleeding of subscribers by attracting newcomers, and it has allowed them to reduce promotional spending by letting low prices speak for themselves, but it leaves revenue growth largely unattainable," Craig Moffett of MoffettNathanson Research wrote in a Tuesday report, adding that the discount has "utterly wrecked" average revenue per user and Ebitda.
On another front, Sprint is battling its balance sheet, which holds nearly $34 billion in debt. The carrier faces $2.3 billion in December maturities, but has taken steps to improve liquidity.
Sprint announced a series of sales and leasebacks of assets to companies affiliated with parent Softbank. The deals have provided Sprint with billions of dollars in cash, and the carrier could raise another $2 billion to $4 billion through similar transactions in fiscal year 2016.
"I have read analyst reports of concern about our liquidity and our upcoming debt maturities," Claure said, reassuring investors that Sprint has $11 billion in committed liquidity.
Moffett noted that Sprint's leverage comes to 8.8 times Ebitda, and suggested that the carrier is "playing for time," in a note.
"Presumably, the goal is to simply reach 2017, and then hope something good happens when they get there," Moffett wrote, raising the possibility of a merger with T-Mobile USA if a Republican administration takes power.
Sprint Chairman Masayoshi Son had hoped to merge the carrier with T-Mobile USA, but Democratic regulators have pushed back against a deal.
"With odds makers pointing to a probable Democratic victory in the November elections, a T-Mobile merger remains uncertain ... but it remains their best option," Moffett added.