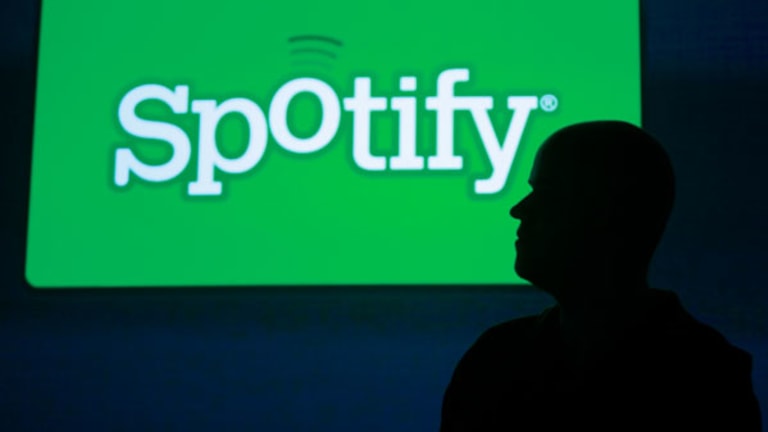 Spotify Won't Stream Any Miracles Out of Sprint
Spotify is about to partner with Sprint in an attempt to draw more subscribers to its streaming music service. Maybe it should ask Beats how well that plan worked with AT&T.
PORTLAND, Ore. (TheStreet) -- Oh really, Spotify? You're going to jump on with Sprint (S) - Get Report and totally take over that carrier's entire streaming market?
That's great. Let us know if it works out for you any better than a partnership with AT&T (T) - Get Report worked for Beats Music.
Streaming music companies are like goldfish swimming around a little plastic rock formation and bubbling diver statue: They have absolutely no memory and are always surprised by what's in the fishbowl. In the streaming community's case, the companies involved are continuously stunned by the fact that there's more than one such service in the app store and that mobile device owners would choose someone else's over theirs.
Or that someone would chose a service that requires less effort and is available for free.
My colleague Rocco Pendola took Beats Music to task for its hubris earlier this week. He noted that the presence of cranky old rock curators like Trent Reznor failed to earn Beats any fans outside the esoteric music snob set, but didn't mention that Beats' touted deal with AT&T to offer unlimited downloads hasn't helped shore up the streaming service in the least.
As Apple (AAPL) - Get Report discovered with iTunes Radio -- and its failing attempt to use streaming to sell music downloads -- the streaming audience cares as much about downloads as Run DMC fans care about Reverend Run's reality TV family.
If/when Spotify announces its deal with Sprint next week, it'll be touting a subscription plan with the nation's No. 3 wireless company that Consumer Reports places at the bottom of the pile for value, voice and 4G reliability. The value and quality of your audio tend to be big selling points for streaming customers, but Spotify is likely more concerned with capturing a small fraction of Sprint's 50 million users (Spotify's estimated paid listener base is 9 million worldwide) than with sparkling audio.
It just shouldn't expect miracles. Keep in mind that Beats' deal with the No. 2 carrier and its 110 million customers has led to a conversion rate -- from free trials to paid usage -- that's only put Beats' subscriber count "in the low six figures," according to Billboard. As Kantar Media points out, AT&T had $1.8 billion to blow on marketing last year. Sprint spent a fraction of that at $765 million.
We keep hearing a lot about "potential" when it comes to streaming music. iTunes Radio has the potential to turn around digital music sales that dipped for the first time last year, but only 1% to 2% of all listeners ever click the "buy" button. Beats Music has the potential to increase its audience tenfold overnight thanks to AT&T's subscription base and could take over the world as Pandora (P) stays in the states, but more people watch early round National Hockey League playoff games in the United States than pay for Beats' service.
Spotify could get a big boost from the Sprint partnership, or it could realize that it just slapped its premium audio into the slowest car in the wireless lot. The reality is that Pandora still has a massive 31% stake in the streaming market, while the next closest competitor -- ClearChannel's online terrestrial radio offering iHeartRadio -- taking 9%. Spotify comes in at No. 4, which means more people would rather listen to standard radio online than listen to what Spotify is offering.
Spotify could be fine with that. It's a great niche and one that Nielsen Soundscan monitors with great interest, noting that subscription streaming rose from little more than 25 billion streams in 2012 to 34 billion in 2013. With music executives putting 1,500 streams at the equivalent of a full digital album, streaming equivalent albums have increased by 10.1 million units so far this year as download sales dropped by roughly 9 million units.
But it's facing competition that's not only more familiar, but requires a lot less interaction to craft playlists with. Oh, and they don't require subscriptions or conversion -- just a solid connection. Perhaps that's why Verizon Wireless has steered clear of these partnerships to this point. By opening its ecosystem to all devices and all streaming apps, Verizon levels the playing field and allows users to decide for themselves which service offers the best value.
Even with Beats tying itself to AT&T and Spotify lashing its hopes to Sprint, listeners seem to have drawn their conclusions -- and carriers haven't altered them one bit.
-- Written by Jason Notte in Portland, Ore.
>To contact the writer of this article, click here: Jason Notte.
>To follow the writer on Twitter, go to http://twitter.com/notteham.
>To submit a news tip, send an email to: tips@thestreet.com.
RELATED STORIES:
>>Beats Music Thinks It's Netflix -- But It's Wrong
>>Vinyl Is Streaming Music's Flipside
>>Mainstream and Country Join Hands, Sing 'God Bless America'
Jason Notte is a reporter for TheStreet. His writing has appeared in The New York Times, The Huffington Post, Esquire.com, Time Out New York, the Boston Herald, the Boston Phoenix, the Metro newspaper and the Colorado Springs Independent. He previously served as the political and global affairs editor for Metro U.S., layout editor for Boston Now, assistant news editor for the Herald News of West Paterson, N.J., editor of Go Out! Magazine in Hoboken, N.J., and copy editor and lifestyle editor at the Jersey Journal in Jersey City, N.J.