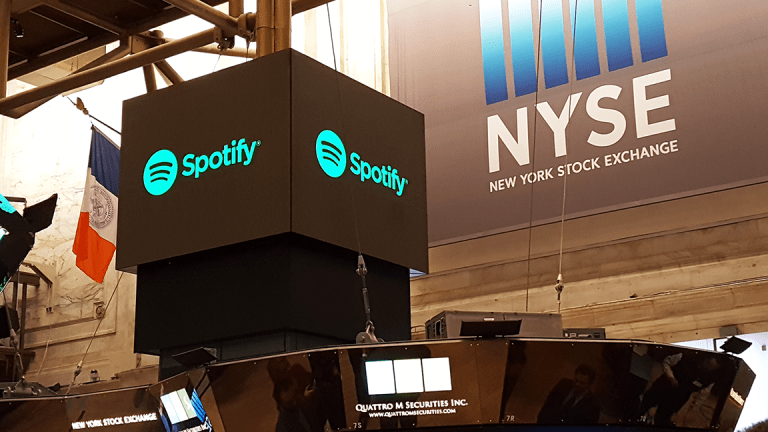 Spotify Shows Other Hot Tech Companies the Way in Secondary Markets
Spotify is fresh off a successful IPO. Here's what its listing process should show others in the emerging tech space.
When Spotify (SPOT) - Get Free Report burst on the scene in 2006, it rolled out an attractive model that eased users into its platform with ad-supported free listening, complemented by a premium ad-free subscription tier with uninterrupted playback. This powerful combination helped propel Spotify's growth and reinvigorated the entire music industry, with revenue spiking to a degree not seen since the 1990's.
In going public recently, the company pursued a direct listing on the New York Stock Exchange. Its bypass of an IPO provided several advantages for Spotify and its investors, such as avoiding underwriting-process costs, pre-empting a "lockup" period (with the exception of strategic investor Tencent (TCEHY) ), and ensuring that initial stock gains went to existing shareholders, not the privileged few clients of the investment-banking firms leading the deal.
Using this shareholder-centric approach, Spotify encouraged a vibrant secondary market for its shares, which buyers purchased from existing shareholders rather than investing in the company's newly issued ones. These secondary transactions provided liquidity for shareholders even while the company remained private. The firm enthusiastically embraced the secondary market, citing private secondary transactions in its F-1 filing with the SEC as integral in its price-discovery process as it went into a direct listing and successful launch in the public markets.
By remaining private as they iterate on their platforms, companies can benefit by ensuring that their products and services are fully matured before going public. Many firms remain in this "stealth mode" for years. Fortunately, these private companies are supported by massive amounts of capital from investors, ensuring stable operations even before they are profitable.
While investors have shown increased interest in conventional venture capital (VC) funds, hedge funds, sovereign wealth funds and mutual funds are also pouring more capital than ever into venture-backed technology firms. Interest from a broad range of investors has elevated venture-backed technology companies to a new level, giving them levels of funding that were previously available only to public companies.
While company insiders are common sellers in the secondary markets, primary investors increasingly seek to sell some or all of their positions as well, even if they have a strong conviction in the company and believe in its continued growth.
Watch what Dropbox's (DBX) - Get Free Report top executive told TheStreet right after its recent IPO.
This situation often occurs due to a mismatch in timing, because funds are usually required to distribute returns to its investors within 10 years of formation, but their portfolio investments may remain private for a substantially longer period. Investors may choose to sell their positions in a company to recognize realized gains instead of marked-to-market returns, a distinction which can be crucial in creating a track record and raising a new fund.
Angel investors also commonly seek to sell their positions in the secondary market, as they are constantly deploying capital in the earliest stages of the startup lifecycle. Another rationale for a VC selling while a holding is still private is to divest a position acquired as a result of an M&A transaction by their original portfolio company, and the acquiring company doesn't fit as well within the investor's mandate.
Previously, the only method to meet investor demands for liquidity was to either accept a full trade-sale exit or exit to the public markets. Now, the secondary markets are an increasingly viable and attractive means to achieve these goals. The secondary market has gone from a "Wild West" of sporadic, small sellers, to a fully institutionalized market support by large companies and investors.
Buying these direct secondary positions also offers the purchasers substantial benefits. Rather than entering at an early, uncertain stage, secondary buyers receive unprecedented transparency into a company's trajectory. Their positions in a company are supported with established market positions, strong business models, full management teams and boards of directors and strong balance sheets. These companies are well-positioned to seek an exit to the public markets within the next few years. Further, investors gain the opportunity to invest alongside the best and brightest venture capitalists in the world, penetrating a closed club.
Investment in the later stages of the startup lifecycle may not provide the same eye-popping returns as primary VC investments, but it can offer superior risk-adjusted returns for investors.
Although the secondary market for venture-backed technology companies has advanced profoundly over the last few years, it requires considerable expertise to maneuver correctly. One must know investors and companies to have access to the best disruptor companies in the space-and be able to analyze and understand the transaction structures of these companies.
Before acquiring shares on the secondary market, a buyer must know whether or not the price being offered is even actionable so as not to act as a stalking horse for existing shareholders. The complexity of secondary transactions is also evidenced by the confusing world of rights of first refusal (ROFR).
In the case of Spotify, the company had two shareholder agreements: one in which only the company had a ROFR, and another in which its top shareholders had these rights.
Such complicated arrangements can lead to different deal dynamics in the secondary market, depending on what kind of agreement a particular seller is party to. ROFRs can create additional "friction" if multiple potential buyers already hold positions in the company and are looking to add to their positions.
Spotify provides an ideal example of an exemplary private technology company with a secondary market to support it. It's also a microcosm of a greater trend throughout the VC space in which companies delay entry to public markets longer.
To support this change, capital is flowing into the late-stage VC space at higher rates than ever before, and companies are embracing the secondary market as a method of making their delayed exits more palatable to employees and investors alike.
-Eric Brachfeld is a Managing Partner at Manhattan Venture Partners, a research-driven merchant banking firm. Follow them on Twitter @MVPvc.
Retirement Is Complicated. It's never too early -- or too late -- to plan for and achieve your retirement goals . TheStreet's new premium subscription, Retirement Daily, will help you un-complicate the world of retirement with the latest, news, research and analysis from TheStreet's "Mr. Retirement" Robert Powell and his team of experts. Learn more about Retirement Daily and get a free trial subscription.