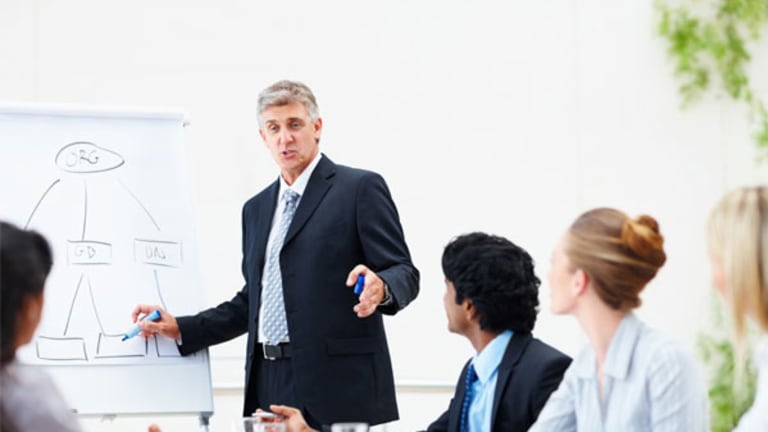 Spotify Has the Bad Business Model, Not Pandora
Simply put, Spotify is the next Netflix. Pandora should stay the course.
NEW YORK (TheStreet) -- Just to be clear, short-term I am a Pandora (P) bear. I explain why in Absolutely Horrible News For Pandora.
Long term, little has changed regarding my conviction.
I do have concern over how the royalty fight in Congress will play out; however, on the issue itself, Pandora is 100% correct. If sanity and fairness prevails, the company will see its content acquisition costs come more in line with cable and
Sirius XM
(SIRI) - Get Report
satellite radio.
It's time to demystify the royalty situation. Even people who know it inside out, explain it poorly or provide more information than necessary.
I compare Pandora and
Spotify
to help flesh out my argument that, contrary to popular perception, Pandora does not have the broken business model, Spotify does.
What is Pandora's General Royalty Situation?
Pandora abides by federal copyright law under the compulsory licensing provision. Pandora can play any song -- though it faces some limitations in how it serves music -- but must pay a per-song royalty set by a board.
What is Spotify's General Royalty Situation?
Spotify chooses to negotiate with record labels and artists directly. In other words, it cuts a bunch of separate deals as opposed to using an objective formula.
Both companies lose money -- and lots of it -- primarily because of the amount of money they pay for content acquisition.
Who Has the Better Deal?
It might not seem that way based on the media coverage, but Pandora does. It has a better deal, both from a business perspective and from the consumer/listener's perspective.
Pandora serves music from a much larger catalog than Spotify. Because Pandora licenses music via a standard and universal method, it can play anything. As such, it is able to play music from major artists/labels, but it has access to independent artists and labels. In fact, these relatively "unknown" acts make up the vast majority of Pandora's catalog.
If Pandora negotiated directly with labels and artists like Spotify does, its catalog would shrink exponentially. In fact, it would look a lot like traditional radio with much less variety. That's because it's literally impossible -- time- and cost-prohibitive -- to negotiate with thousands of tiny labels and artists directly. In fact, Pandora would not be able to find most of them to cut deals.
How Is Spotify Like Netflix?
Again, Spotify negotiates deals directly with labels and artists . . . directly with the content owners. That's exactly what
Netflix
(NFLX) - Get Report
does. The process comes with the same pitfalls in both situations.
It's well documented that Netflix operates at the mercy of content owners. Over the next five years, Netflix counts roughly $5 billion in off-balance sheet obligations for content. It owes roughly $2 billion of that within the next year. And that's just the debt that's off the balance sheet.
While we don't know exactly how much Spotify is on the hook for, we know it's a lot. Just like Pandora. Spotify operates at the mercy of record labels, just like Netflix does with Hollywood programmers. It's an expensive and time-consuming process.
That's a very basic explanation of the differences between Pandora and Spotify on royalties.
Pandora could decide to negotiate directly like Spotify does, but it would hardly help the company's situation. It would make it worse. The product would suffer, plus content costs would likely not change much.
Even if Spotify ended up catching a break on its royalty costs, it's model still doesn't work.
Like Netflix, Spotify relies heavily on subscription fees for its revenue. It's incredibly difficult to continue to scale a business, at least to the level Pandora has scaled and continues to scale, under the confines of a subscription-based scheme. Without scale, you do not have a large enough audience to leverage for advertising dollars.
Even if Spotify could make a compelling case to advertisers, it will have trouble competing with Pandora for revenue.
Over the last two years, Pandora built out a local, regional and national sales force. It's not even close to done. But it has sufficient staff in place in most major markets where it, not Spotify, claims the No. 1 spot among 18- to 49-year-olds across Internet and terrestrial radio.
Local is where it's at. That's the past, the present and the future of radio. Salespeople hitting the street calling on clients. It's the traditional radio model. And it's the traditional radio advertising market that Pandora chips away at as it rapidly grows revenue.
Spotify simply does not have the infrastructure (or, as noted, the scale) to make this play. With every day that goes by, Pandora's head start -- its "first mover advantage" -- becomes more of a problem for Spotify. If Spotify ever gets a viable salesforce off the ground, it will need to chip away at the well-established leader in Internet Radio and one of the leaders in mobile advertising revenue. (See
Absolutely Fantastic News for Pandora
for those details).
Like Netflix, I'm not sure Spotify can stay solvent long enough to sniff Pandora, let alone become a serious challenger. That's why I argue that
private equity is throwing its money into a black hole with Spotify
. The venture firms better hope they can dupe retail on the IPO because, if and when Spotify goes public, the offering is not going to be a pretty sight.
--Written by Rocco Pendola in Santa Monica, Calif.
Rocco Pendola is
TheStreet's
Director of Social Media. Pendola's daily contributions to
TheStreet
frequently appear on
CNBC
and at various top online properties, such as
Forbes
.