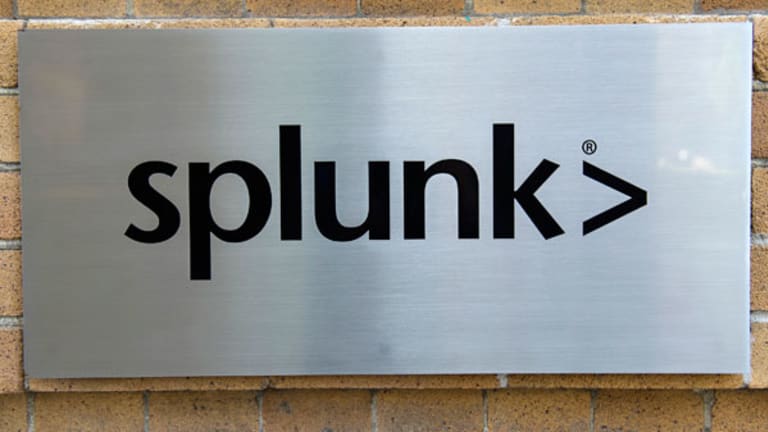 Splunk's Value Is in the Clouds; Investors Should Take Profits Now
Data analytics specialist Splunk has boosted its revenues and stock price. What it hasn't boosted is its bottom line. Until it does, investors should take their profits off the table.
NEW YORK (TheStreet) -- The cloud and big-data markets are driving profits higher for many software companies, but data analytics specialist Splunk (SPLK) has struggled to grow its bottom line. While its revenue is growing at impressive rates, Splunk's valuation remains a concern. And investors would be wise to take some of their profits off the table ahead of the company's fourth-quarter results Thursday.
Splunk shares closed at $66.44 Tuesday. The stock is up more than 10% year to date. But there's nothing about the shares that screams value. The stock is trading at forward earnings estimates of 4 cents per share for 2015, implying a forward P/E of over 1,600 -- and no, that's not a typo. By contrast, the average S&P 500undefined stock trades at a forward P/E estimate of 17, according to The Wall Street Journal.
So with shares up 10% year-to-date, and up 48% in the past six months, investors are pressing their luck thinking things can get any better.
SPLK 6 Month Total Returns (Daily)
data by
Founded in 2003, San Francisco-based Splunk has made a name for itself with its predictive behavior analysis, which is a boon for advertisers looking for big returns on their investments.
Splunk provides analysis of customer behavior, and can assess -- in real-time -- online end-to-end business transactions. In other words, it can inform businesses about the types of services customers prefer and how much of those services they use, which helps its clients spot trends. And those corporate clients are responding.
In the most recent quarter, revenue surged 52% year-over-year, prompting Gregg Moskowitz, an analyst at Cowen & Co., to reiterate his outperform rating and raise his price target on the stock from $55 to $60. "Splunk is extremely well positioned to capitalize on Big Data," Moskowitz said, "and the use cases continue to grow steadily, in turn expanding the addressable market."
Spunk is trading up almost 9% above Moskowitz' target price -- another sign that profits should be taken now. 
Splunk has been successful at undercutting the likes of Oracle (ORCL) and IBM (IBM) , which has helped it grow its revenue. But increasing revenue without initiatives that will also grow the bottom line is risky. At some point investors, will want to see real profits.
Complicating matters, both IBM and Oracle -- through recent acquisitions and organizational initiatives -- have become bigger cloud threats. Not to mention, they have much deeper pockets, and can easily invest in taking market share from Splunk.
For the quarter that ended in January, analysts will be looking for earnings of 4 cents per share on revenue of $137 million, representing year-over-year growth of 33% and 37%, respectively. These numbers can't be expected to remain at such robust levels in the quarters to come, however.
All told, Splunk, like many young companies, continues to be an incredible growth story. However, that does not alleviate concerns that its stock is overvalued. Until there are clearer signs that the company can actually make money, investors should take their profits and wait to hear what management says about its business outlook for 2015.
This article is commentary by an independent contributor. At the time of publication, the author held no positions in the stocks mentioned.