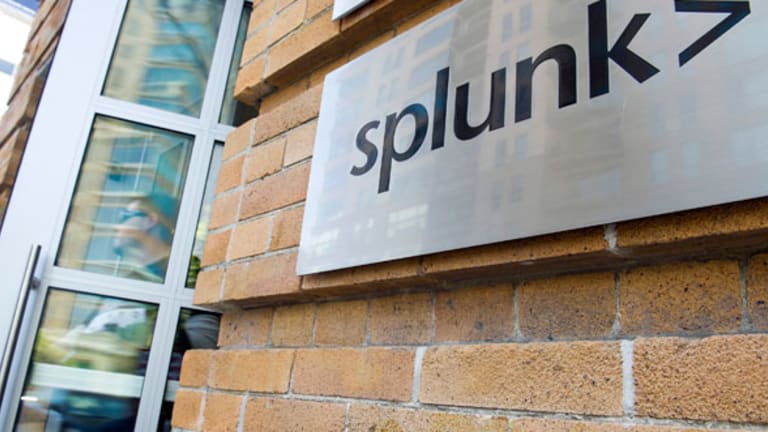 Splunk Stock Too Expensive Despite Exceptional Cloud Growth
Any small miss on expectations can send the stock plummeting, while Splunk must demolish expectations to send the stock higher.
NEW YORK (The Street) -- With better-than-expected results coming in from Salesforce.com (CRM) - Get Report, there appears to be no slowing down in the fast-growing cloud and Big Data solutions markets. Although Splunk (SPLK) - Get Report, whose shares are up 16% year to date, has been a beneficiary of strong cloud demand, there's nothing about the stock today that screams value.
At around $68 a share, Splunk's price-to-earnings ratio is 766 factoring in Splunk's 9 cent-a-share earnings in its last fiscal year. That P/E is 36 times the average earnings multiple of companies in the S&P 500 (SPX) index. And even when compared with the more expensive iShares North American Tech-Software ETF (IGV) - Get Report, which has an average P/E of 30, Splunk stock still trades 25 times higher.
Plus, when considering the tech-software ETF houses leading cloud stocks like Oracle (ORCL) - Get Report and Red Hat (RHT) - Get Report in addition to Salesforce.com, investors paying such a high valuation for Splunk today are foregoing better gains and safer picks elsewhere.
So while Splunk stock has impressed with more than 150% gains in three years, including 16% this year, the easy money on the stock has already been made.
Ahead of the company's fiscal first-quarter earnings results Thursday, the smart play would be to take some of these profits off the table and wait to hear what the company says about its outlook for the rest of the year and beyond.
Sure, the cloud remains a dominant growth platform. And granted, Splunk's ability to analyze real-time customer behavior has been a boon for businesses needing help spotting sales trends. But Splunk, which is expected to post a three-cent loss in the just-ended quarter, has not shown it can monetize that business in way to grow earnings at a faster rate. And some point, the cloud and Big Data will become commoditized, making it even harder to increase profits.
The question, then, is to what extent Splunk can outperform the likes of Salesforce.com and Oracle. Microsoft (MSFT) - Get Report, which has grown its commercial cloud revenue at 100%+ rates for six consecutive quarters, is also a legitimate threat. These questions -- and others -- may be answered Thursday.
For the quarter that ended April, the company is expected post of narrower loss of 3 cents a share, up from 4 cents, while revenue is projected to climb 37% year over year to $118 million. For the full year ending January, earnings per share are seen rising 33% year over year to 12 cents a share, while revenue of $603 million is expected to climb 34%.
In absolute terms, these numbers -- assuming Splunk hits its marks -- are strong. The risk that the company will miss is too great to justify any additional gains in the stock.
With the P/E at 766, any small miss can send the stock plummeting. By contrast, with expectations already so high, Splunk will have to demolish expectations to send the stock higher. And that's not the risk/reward scenario that helps an investor sleep at night. 
This article is commentary by an independent contributor. At the time of publication, the author held no positions in the stocks mentioned.