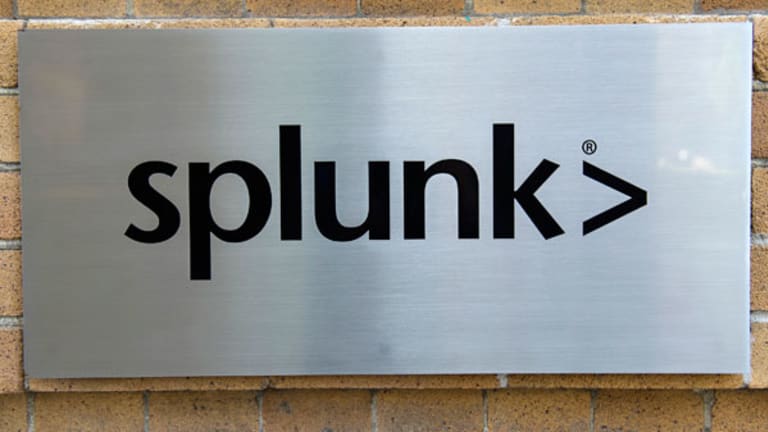 Splunk Remains a Risky Bet Despite Its Fast Revenue Growth
The software company is still losing money on a GAAP basis.
 NEW YORK (TheStreet) -- Splunk (SPLK) , a maker of data-analytics software, reported late on Thursday another big jump in quarterly revenue that topped analysts' estimates.
The company, however, also reported another net loss, and with its sky-high valuation, its stock remains a risky bet.
Splunk makes software that helps companies analyze Web data, a fast-growing field. The company was founded in 2003, and it went public 2012. While its revenue has been growing fast, it has struggled to reach profitability. That struggle may last considering that tech giants IBM (IBM) and Oracle (ORCL) offer competing analytics software.
On Friday, shares of Splunk were down 2% to $68.23. The stock has fallen 28% during the past 12 months. Check out the chart, which looks at Splunk's  stock and its margins, as well as at the margins and the stocks for Salesforce (CRM) and Workday (WDAY) , two other companies that offer cloud-based software and services.
data by
Late on Thursday, Splunk reported a net loss of $57.1 million, or 47 cents a share, for its fiscal fourth quarter ended on Jan. 31, compared with a net loss of $32.6 million, or 30 cents a share, a year earlier. On a non-GAAP basis, earnings were $11.5 million, or 9 cents a share, which topped analysts' estimates.
Revenue rose 48% to $147.4 million, also higher than analysts' estimates.
This article is commentary by an independent contributor. At the time of publication, the author held no positions in the stocks mentioned.