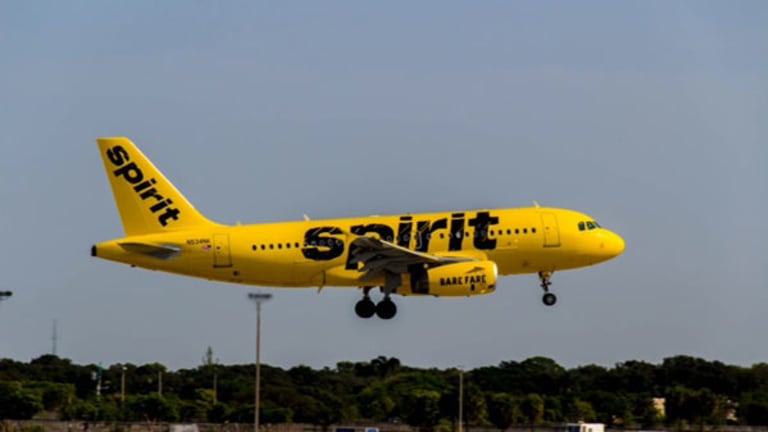 Spirit CEO: 'We're Frustrated' by Share Price Plunge but We'll Keep Growing
Spirit Airlines shares have fallen sharply this year as American matches Spirit's ticket prices. But Spirit says it plans to continue its rapid growth.
In a golden age for U.S. airlines, Spirit (SAVE) - Get Spirit Airlines Inc. Report is showing a 51% year-to-date share price decline, largely because lower fuel costs provide American (AAL) - Get American Airlines Group Inc. Report with the ability to match Spirit's fares and still make record profits.
It's a tough spot for Spirit, which reported Tuesday that while third-quarter net income rose 31%, revenue per available seat mile declined 17.5%, load factor fell 2.4 points to 85.2% and ticket price yields fell 15%.
Spirit earned $1.35 a share. Analysts surveyed by Thomson Reuters had estimated $1.32. Nevertheless, in mid-morning trading, shares declined $3.50 to $34.37.
On the carrier's earnings conference call Tuesday morning, CEO Ben Baldanza said the carrier plans to keep doing what it's doing -- grow rapidly and keep costs low.
"We're frustrated obviously that the company has lost half its value in the stock drop," Baldanza said. "That's frustrating to us and we know it's frustrating to the people who hold stock."
But there is always a place for the carrier with the lowest cost. "It's good to be the 5.5 cent CASM guy," Baldanza said, referring to Spirit's third-quarter cost per available seat mile excluding fuel. By comparison, American's third-quarter CASM excluding fuel and special items was 8.6 cents.
American's earnings call Friday included the carrier's detailed explanation of the need to match Spirit's fares because a high proportion of passengers will fly whatever airline offers the lowest price.
"In some of our markets we continue to see very low prices from all competitors including legacies," Baldanza said in his opening remarks. "We think that may continue, perhaps for longer than people expect.
"We have made continual adjustments but we have avoided knee-jerk gyrations in reaction to current conditions," he said. Rather, Spirit will keep costs low, keep ticket prices low and improve reliability. In general, growth helps airlines keep costs low because it involves adding new airplanes and new employees.
Spirit's on-time performance has been improving. It dipped to an embarrassingly low 50% in June, when the industry average was 75%. It rose to 68% in July and stood at 68% in August, according to Department of Transportation figures. On-time performance improved to 77% in September and 79% in October, an airline spokesman said.
Another reason for hope: Baldanza said ultra-low-cost carriers like Spirit account for 20% of the market in Europe, and "that's a lot bigger than the 5.5% capacity that's flying in the U.S. (So) its important for our investors to build our position in the places we need to build."
Baldanza said 60% of the third-quarter RASM decline was due to competition, with 40% related to expansion and the introduction of new routes. Spirit has added 38 new routes this year and plans to add 20 in 2016. Capacity grew 30% in the first nine months of 2015; the carrier plans 20% capacity growth in 2016.
Looking ahead, Baldanza said projections "indicate that we will make less money next year than this year; it's just too soon to know. (But) we will use a scalpel vs. a chainsaw so that we maintain the long-term value of our franchise."
This article is commentary by an independent contributor. At the time of publication, the author held no positions in the stocks mentioned.