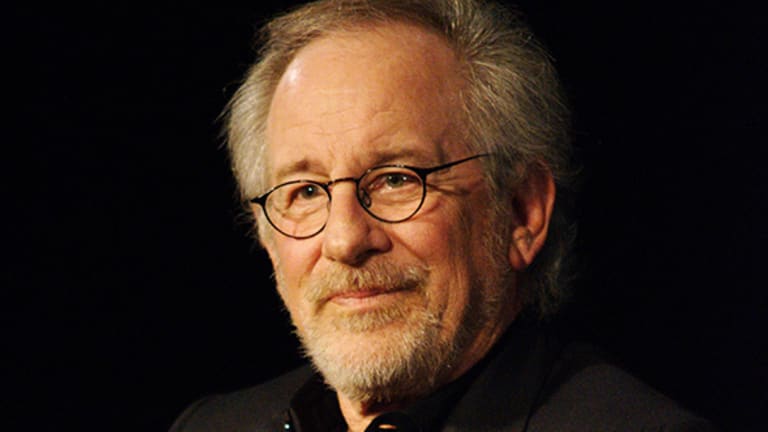 Spielberg Becomes Facebook Star to Promote 'The BFG'
Despite a strong Cannes showing, the Disney-distributed, PG-rated film isn't generating word of mouth for a large opening.
Steven Spielberg knows how to produce a blockbuster. The 69-year-old director has created some of the biggest hits in Hollywood history, earning an estimated $9 billion in worldwide ticket sales. But in recent months Spielberg has become a regular on Facebook and other social media outlets in a bid to pump life into his first family film in years, TheBFG, which opens on Friday.
The BFG, based on Roald Dahl's 1982 children's book about a young girl who is befriended by a kindly giant, is expected to open with underwhelming numbers over the three-day holiday weekend, according to industry tracking services. Disney (DIS) is releasing the film domestically and is one of the film's backers along with Spielberg's Amblin Entertainment and Reliance Entertainment, a unit of India's Reliance Anil Dhirubhai Ambani Group.
"The BFG was the darling of the Cannes Film Festival but faces challenges and will have to count on great reviews and more importantly great social media buzz to gain traction once it opens," said Paul Dergarabedian, senior media analyst for comScore (SCOR) , who tracks the box office for the media measurement firm. "The title and the concept are a bit tough to grasp."
The film, which was made for a reported $140 million, hasn't generated much word of mouth and is expected to open at about $30 million over the three-day weekend. Another big-budget film opening the same weekend, The Legend of Tarzan from Time Warner's (TWX) Warner Brothers studio, also is expected to stumble in what has become a crowded box office for new films.
"If it isn't a sequel or from Marvel or Pixar, it seems it's hard to build the word of mouth you need to break out of the pack, no matter what the film is," said Tony Wible, a senior analyst with Drexel Hamilton.
To generate buzz for the PG-rated film's opening, Spielberg has become a more frequent presence on Facebook (FB) , according to a person who works with the director. In April he took more than 860,000 Facebook visitors on a video tour of the screening room at his Amblin studio, where he premiered the latest trailer for The BFG.
"I've spent all of my years as a father reading to my children, and The BFG was one of them," he said, sitting before a poster from his film E.T.the Extra-Terrestrial. "Thank goodness I got a chance to liberate myself from the kind of box history puts you in.'
A spokeswoman for Amblin and Spielberg's publicist had no comment. A Disney spokesman did not return a request for comment.
On June 20, Spielberg took part in the Gobblefunk Spelling Bee on Facebook with the film's stars Ruby Barnhill and Mark Rylance. The contestants spelled the mangled, hard to understand words that populate the giant's vocabulary in both the movie and Dahl's book. (Spielberg correctly spelled the word "jabbeling.")
The director also took part in a "speed-reading challenge" on the site, ripping through a passage of Dahl's book in 10 seconds.
He thanked teachers as well on the Scholastic (SCHL) site for "the incredible work" they do for students in a 58-second video to introduce a new BFG in school reading programs.
The director took time out as well to meet in a Los Angeles hotel room with more than two dozen "social media influencers," the online bloggers who write about films, Disney and other cultural issues on their sites.
Spielberg has been active as well in promoting his film on more traditional media. He answered reporters' questions after a press conference after the film's showing in Cannes, took an Entertainment Weekly reporter on a tour of the back lot at Universal Studios, where his Amblin Entertainment operation is scheduled, and is set to hit the talk show circuit with an appearance on ABC's Good Morning America.
Whether all the effort translates to a giant opening -- or at least a decently sized one -- remains to be seen.
Disney shares Monday afternoon were down 1.2% to $94.54, bringing its two-day loss since the Brexit vote to 4.5%.
This article is commentary by an independent contributor. At the time of publication, the author held positions in Disney and Facebook.