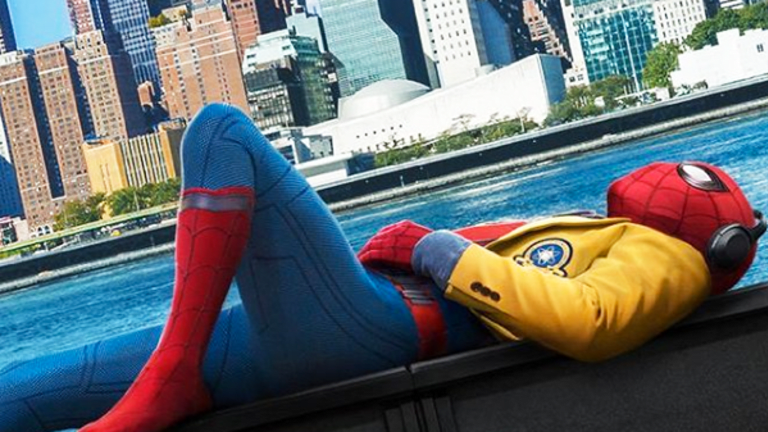 'Spider-Man: Homecoming' Keeps Up Superhero Hot Streak
The Sony film was the third straight superhero film this summer to open above $100 million.
"Spider-Man: Homecoming" opened to blockbuster numbers this weekend, marking a win for both distributor Sony (SNE) - Get SONY GROUP CORPORATION SPONSORED ADR Report and Disney's (DIS) - Get Walt Disney Company Report Marvel Studios, which came on as a producer for this movie as part of a strategy to integrate the web-slinging superhero into the larger Marvel Cinematic Universe. The $117 million domestic debut for "Homecoming" signals that fans were eager to see Spider-Man fight alongside other Marvel superheroes like Iron Man, who is featured in a supporting role in this film. Internationally, Marvel's spin on Spider-Man also impressed, opening ahead of past takes on the character.
Sony also saw success with the second weekend of "Baby Driver," and Universal's (CMCSA) - Get Comcast Corporation Class A Report "Despicable Me 3" held up respectably in the face of stiff competition from "Spider-Man: Homecoming." Overall, the Top 12 films pulled in $201.6 million, up 26% from last weekend and about even with the same frame last year, when "The Secret Life of Pets" ruled the box office.
The $117 million debut for "Homecoming" was right in line with TheStreet's prediction and marks the best opening weekend for a "Spider-Man" movie since the $151.1 million that "Spider-Man 3" took in at the beginning of summer 2007. The final film in Sam Raimi's trilogy fell off quickly after that due to poor word-of-mouth, and five years later Sony was promoting a reboot of the franchise, "The Amazing Spider-Man." Unfortunately, the reboot series petered out after the second entry in 2014 experienced tepid critical reviews and diminishing box office returns.
However, given that the five "Spider-Man" films had cumulatively pulled in roughly $4 billion at the global box office ($2.5 billion from the original trilogy, and $1.5 billion from the reboot series), Sony was hesitant to let the franchise die out. Knowing that a straightforward second reboot would strike audiences as a cash grab, the studio had to find an exciting justification for a new Spider-Man to swing back onto the big screen. The answer was, of course, to bring Marvel Studios on board to team up Spider-Man with the rest of the heroes in the Marvel Cinematic Universe. The terms of the 2015 agreement between Sony and Disney gave Marvel Studios President Kevin Feige power over the creative direction of Spider-Man, as well as permission to have Spider-Man appear in future Marvel films. Sony still finances and keeps the revenue from the new "Spider-Man" films, while Disney gets to keep the money from merchandising.
The collaboration between these two studios is shaping up to be a win-win. "Spider-Man: Homecoming" likely benefitted from the omnipresence of Iron Man in its marketing, and the web-slinger's future appearance in next year's "Avengers: Infinity War" is sure to ramp up anticipation for "Spider-Man: Homecoming 2," which is slated for July 2019. Meanwhile, Disney is sure to reap a considerable profit from Spider-Man merchandise, especially given that the audience for "Homecoming" skewed young (with 43% of the audience under 18). That is not surprising, given the fact that marketing materials emphasized that this was a lighter, funnier take on Spider-Man than had been attempted in past installments. Opening weekend audiences dug what they saw, rewarding "Homecoming" with an 'A' CinemaScore that was in line with glowing critical reviews.
Marvel's spin on Spider-Man cost $175 million before marketing, a figure that "Homecoming" will have easily cleared by this time next week. The blockbuster performance of "Homecoming" keeps up the trend of 2017 superhero movies doing gangbusters business at the box office, which started back in March with 20th Century Fox's (FOXA) - Get Fox Corporation Class A Report "Logan" ($616.2 million worldwide) and has continued this summer with Disney's "Guardians of the Galaxy, vol. 2" ($857.7 million and counting) and Warner Bros.'s  (TWX) "Wonder Woman" ($745.8 million and counting). With no more superhero movies slated until November and light family competition on the horizon, "Homecoming" seems poised to continue raking it in throughout the summer season.
The latest "Spider-Man" was also a heroic performer overseas, catching $140 million in its international web for a global opening of $257 million. South Korea was the film's largest international market with a $25.8 million five-day start, which represented the third-largest opening for a Hollywood title in the territory. "Homecoming" charted a No. 1 debut in all of the Asian territories where it opened, and it also excelled in Latin America where family-friendly titles tend to do well. The film opened 20% ahead of "Guardians of the Galaxy, vol. 2" in the same set of territories, which has grossed $472.2 million overseas so far, and 30% ahead of 2014's "The Amazing Spider-Man 2," which ended its international run with $506.1 million. If "Homecoming" keeps trending ahead of those films, a worldwide gross around $900 million appears likely. Major territories still to come include France, Germany, Japan and the ever-important China.
Second place belonged to "Despicable Me 3," which dropped an understandable 53% to $34 million after much of its family audience mutinied to the latest "Spider-Man." The film is trending 31% behind the pace of 2015's "Minions" and 35% behind 2013's "Despicable Me 2," as franchise fatigue continues to plague films that do not feature superheroes. On the bright side, "Despicable Me 3" enjoyed a $139 million weekend internationally, fueled largely by a $66 million start in China (the largest debut ever for an animated film). The "Despicable Me" franchise has always been a big hit overseas, and the latest installment is no exception, having pulled in an international cume just under $300 million with much more to come.
Sony took third place as well as first this weekend as "Baby Driver" continued to attract audiences in search of original fare. The heist film dropped a light 38% this weekend for a $12.8 million second frame and a running total of $56.9 million domestically. The sleeper hit will probably run out of gas before the $100 million mark, but that shouldn't take away from the success of a gamble on an auteur-driven original film by Sony, in the midst of the summer season no less.
In fourth was "Wonder Woman," as the superheroine film has continually charted in the Top 5 films since its debut six weeks ago. This weekend, the DC film dropped a small 36% to $10.1 million, even more impressive considering the strong competition from Spidey. "Wonder Woman" has grossed $368.8 million at the domestic box office so far and has a real shot at passing the $400 million mark by the end of the summer.
Rounding out the Top 5 was Paramount's (VIAB) - Get Viacom Inc. Class B Report "Transformers: The Last Knight," which dropped a considerable 63% in its third frame for $6.3 million. The film has pulled in $118.9 million domestically, far behind every other film in Paramount's cornerstone franchise (all of which had passed $200 million by the end of their third weekend). "The Last Knight" is saving some face internationally, though, with $375.7 million so far from overseas markets and major openings to come.
Next weekend the box office will go bananas with the debut of 20th Century Fox's "War of the Planet of the Apes," and glowing critical reviews ahead of release are sure to fuel audience interest. Upstart distributor Broad Green Pictures will also release horror film "Wish Upon," and Amazon Studios (AMZN) - Get Amazon.com, Inc. Report -Lionsgate (LGF) collaboration "The Big Sick" will enter wide release after making a lot of noise on the specialty circuit. Check back on Thursday for weekend predictions.