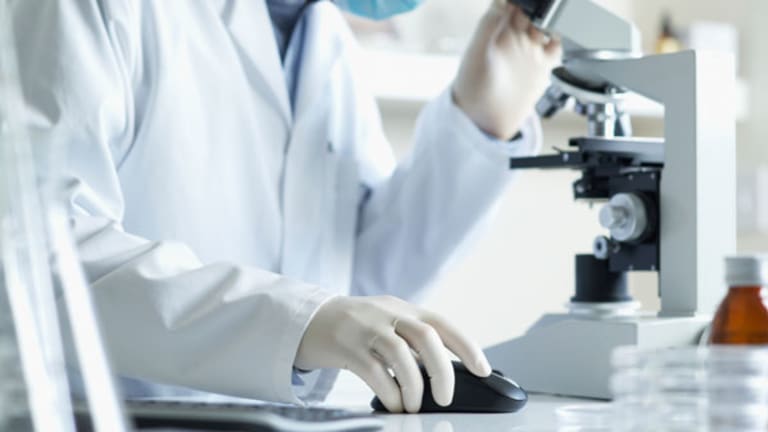 Speculative Money Propels Biotechs La Jolla Pharma, Aeterna Zentaris
When speculative money starts to flow in the market, the biotech sector is always a recipient. These stocks offer tremendous upside in the near term.
NEW YORK (TheStreet) -- When speculative money is flowing into the stock market, as it is right now, I like to focus on biotech stocks. The biotech sector is on fire, so it's a great place for traders to find stocks ready to break out from consolidations.
A recent example of interest in this very hot area right now is the huge move we have seen in shares of La Jolla Pharmaceutical (LJPC) - Get La Jolla Pharmaceutical Company Report over the last month. During that time, La Jolla has seen it shares gain 135%. Today as of 3:55 p.m., La Jolla is up 64% to $17.91 on the heels of very good trial data for its kidney disease drug.
Such a large move in the biotech sector usually drives traders into other nicely set up biotech charts. That's happening with shares of Aeterna Zentaris (AEZS) - Get Aeterna Zentaris Inc. Report. At 3:55 p.m. today, shares were at $1.49, up 16.5% for the day. 
Aeterna is one of the more hated biotech stocks around, with it shares seeing some large volatility over the last year. Looking at the chart below, we can see Aeterna is setting up for a pretty significant chart breakout now that it has passed $1.34. A break of this resistance level should see the stock make an attempt on the 200 day moving average at $1.48 -- and that's exactly where it's hitting today.
Above this level, the stock would look to challenge its November 2013 high of $1.74. That's a potential 30% upward move on the chart. Aeterna has had solid support at $1.25. Now that the stock has overcome the small band of resistance at $1.39, this should set Aeterna free for a sustained move higher.
Traders should monitor volume in Aeterna for a confirmation of this breakout. When Aeterna sees volume above 4 million shares, it has been a signal in the past that the move higher is real. A 17 million volume day in early January saw Aeterna move from $1.12 to $1.39 within a week, for a very nice 25% return.
This is important: small cap biotechs are volatile, and traders considering them should adhere strictly to stops.
The large move seen in shares of La Jolla came on positive Phase II study results. Aeterna also has an extensive Phase II drug pipeline as you can see from the chart below. With four indications in Phase II trials and an ongoing Phase III trial in endometrial cancer and a similar market cap to La Jolla before its large advance, the stock should see increased trader interest right now.
Another biotech that is breaking out today is Neostem (NBS) . Shares of Neostem have been staging a breakout today at $7.50 on above average volume. As you can see from the chart below, this breakout on heavy volume above the $7.50 resistance level sets up Neostem for a move to $8.29. After this level is $9.89, the high seen in September.
Traders considering an entry on Neostem on the breakout could consider stops at the 20 day EMA, just below the low of today. Traders should further note that the last high volume day such as this, seen back in December, resulted in a 20% upward move in the stock price within a week.
These breakouts aren't just in biotech, either. Alternative energy stocks have seen incredible moves in recent days as speculative money has flowed into stocks. But that money now appears to be moving into biotech stocks.
Aeterna, Neostem and La Jolla should be nice beneficiaries of this speculation.
At the time of publication, the author held AEZS but held no position in any of the other stocks mentioned.
This article represents the opinion of a contributor and not necessarily that of TheStreet or its editorial staff.