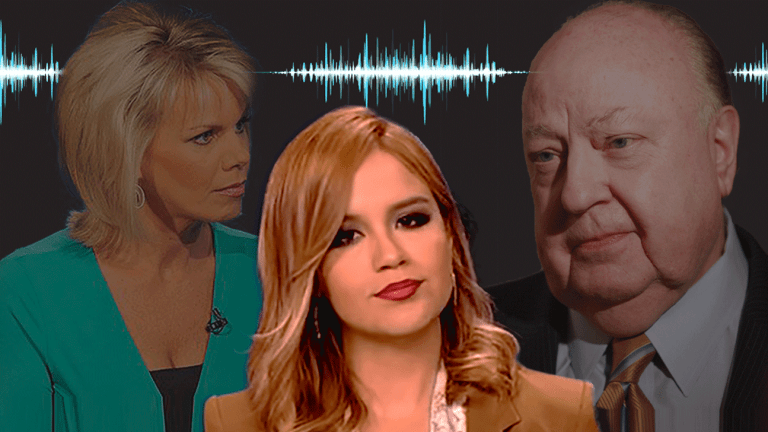 Spanish-Language Version of Carlson v. Ailes Is Latest Harassment Case With Audio Recordings
When Gretchen Carlson's explosive case against Fox News founder Roger Ailes was filed in July, Karla Amezola already had launched her case against Spanish-language TV network Estrella using similar tactics.
In a move that mirrors the strategy of former Fox News anchor Gretchen Carlson in her lawsuit against Roger Ailes, a female television news anchor in Los Angeles has defied her employer's mandatory arbitration agreement and taken her sexual harassment case directly to court. And, like Carlson, she's proceeding in her litigation with audio recordings of her alleged harasser. 
Unlike Carlson's case, though, this one -- filed two weeks before the explosive July 6 lawsuit against Ailes -- has for months gone largely unnoticed.
Karla Amezola, an award-winning anchor at Los Angeles-based Estrella TV, filed a complaint in Los Angeles Superior Court on June 23 against Estrella parent Liberman Broadcasting, Inc. and its vice president for News, Andres Angulo. Most of Amezola's allegations of sexual harassment against the privately held Spanish-language network -- which include repeated requests by Angulo to have sex -- can't be printed here.
But those recordings might be heard by a jury one day if she prevails in her fight to bypass arbitration. 
Companies increasingly force employees to give up their right to go to court in the event of a dispute before they can get the job. But plaintiffs' lawyers have learned that it is worth fighting those agreements when there's damaging evidence that can invite public scorn and productive settlement talks.
An example of those dynamics was at play when Carlson's allegations become public. Fox initially played hardball with her for having flouted the mandatory arbitration agreement she'd signed, accusing her in court papers of trying to "coerce" Ailes to settle.
But after the ugly behavior she described inspired more than a dozen women to speak up and say they'd also been harassed by Ailes, the pressure rose for Fox. On Sept. 6, a settlement was announced and Carlson received $20 million and a rare public apology. Lest you shed a tear for Ailes, he already had walked off with twice that in severance pay.
No small contributor to Carlson's success was that she had recorded some of Ailes's seamy comments, according to news reports. And Amezola has her hands on tapes, too. Her Los Angeles lawyers, Jonathan J. Delshad and Elie Ghodsi, would not allow me to listen to the recordings. But they said in a written response to my questions that they'd informed the company "months ago that Karla has audio tapes of comments by Mr. Angulo."
Unlike New York State, where Carlson could legally record Ailes without his permission, Amezola recorded Angula in California, a so-called "two-party state" where both parties to a conversation must agree to be recorded. Cliff Palefsky, a San Francisco employment lawyer, says the California penal code allows exceptions to that when there is evidence of extortion, and that the demands of sex in return for keeping a job might meet that standard. 
In the meantime, though, "Mr. Angulo is not permitting Karla to disclose the contents of the tapes," Delshad said.
According to Amezola's first amended complaint, the network allegedly removed the 30-year-old woman from her coveted 5 p.m. anchor spot after she told the human resources department about Angulo's "disgusting acts of sexual harassment."
Among her allegations were that he called her into his office one day and, while stroking his erect penis, asked her "to turn around so that he could see her rear end."
Another allegation: "When Ms. Amezola asked Mr. Angulo for a raise, Mr. Angulo responded that he would be able to get her a raise so that she could rent an apartment but that he would require a copy of the key to her apartment. From that point on, Ms. Amezola would not ask for a raise since she was afraid and disgusted by the anticipated harassment from Mr. Angulo." The two have never had a physical relationship, according to the complaint.
Last week, a second woman at Liberman also sued the firm and Angulo, alleging that she was terminated in April "for reporting sexual harassment, discrimination, intimidation and retaliation," according to her complaint. Although she was identified in the complaint only as "Jane Doe," the entertainment magazine Variety said that she is Adriana Ruggiero, former anchor of the network's 5:30 p.m. national news.
Ruggiero said in her lawsuit that Angulo told her "that she had a beautiful pair of tits and should show them more." According to her complaint, she told two human resource representatives on Feb. 9 about Angulo's comment about her breasts and the harassment of both Amezola and an unnamed female editor.
By April 30, the company had informed Ruggiero it would not renew her contract, according to the complaint.
In private correspondence with me on Twitter, Ruggiero declined to comment on any aspect of the case.
Although the company has filed a motion to compel the Amezola case into arbitration, it has not yet filed a defense to either Amezola or Ruggiero's complaints, so we've heard only one side of the story.
When I reached Angulo at his office on Wednesday and identified myself, he said "I can't talk right now -- I'm in the middle of a meeting," and hung up. Marco Gonzalez, vice president of corporate affairs at Liberman, told me in a telephone interview that the company does not comment on pending litigation.
Mandatory arbitration shields companies from the potential embarrassment that comes with allegations made in publicly available court documents and Liberman appears to require arbitration as a matter of course. It fought successfully to compel arbitration in a previous case brought by an employee and its court filings in Amezola's case include copies of arbitration agreements signed by both Amezola and her boss Angulo.
If the allegations in the lawsuit are true, it would not come as a surprise to see additional gender-related complaints against the network, just as happened after the case against Ailes became public. From the complaint: "Mr. Angulo would show Ms. Amezola nude photographs of the women that Mr. Angulo had slept with, including their Estrella coworkers."
"We have strong evidence that there are others," said Delshad, in the written response to my questions.
Amezola said in her complaint that her boss made it clear in one of their earliest conversations in 2011 that he wasn't someone to be messed with. "Mr. Angulo told Ms. Amezola that he was an untouchable employee," according to the lawsuit. "He stated that he knew he could get away with anything at work because of his value to the company."
Delshad said that, at this point, he considers it a reflection of corporate negligence that Angulo continues to work at Liberman.