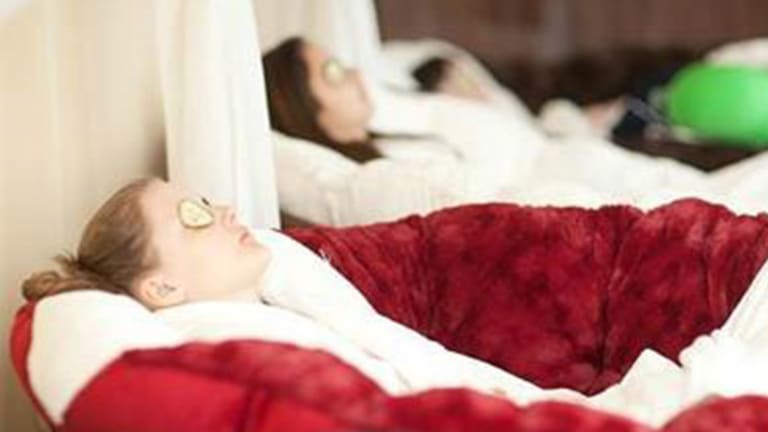 Spa and Wellness Activities for Children Are the Latest Parenting Trend
Today's parents are helping kids deal with stress by taking them to the spa and signing them up for yoga and meditation.
In the Maasai culture, the health and well-being of a community is determined by the health of its children.
Nowhere is that more obvious then in the traditional greeting used by Maasai warriors, which begins, "And how are the children?" That's an opening that underscores the tribes' focus on the youngest members of society.
The anecdote comes from the 2016 Spafinder Wellness 365 report, which this year notes that rest of the world is slowly but surely beginning to embrace the Maasai concept.
The report's evidence of this comes in the form of a growing trend among parents to treat their children to the same spa and wellness therapies and techniques that they themselves have used for years. This includes everything from bringing children to an acupuncturist to enrolling them in a meditation class in pursuit of achieving overall well-being.
"Parents are learning that to raise healthy children in the 21st century means more than just teaching them to eat their vegetables or look both ways before crossing the street," states the report. "The poor diets, technological obsessions, and ubiquitous stressors that plague adult life offer no immunity to the young. We forecast that serious treatments and programs, from healthy cooking classes to yoga and meditation, designed with children in mind will be the biggest growth factor in the spa and wellness industry for years to come."
The trend is materializing most noticeably in resorts and hotels around the world, followed by a smattering of yoga studios around the globe and finally, in upscale spas.
Industry-leading resorts and hotels for instance are acknowledging that wellness is a family affair by diversifying their programs to include yoga classes for children, healthy cooking lessons and kid-focused spa treatments.
"Instead of just doing things like playing kids' video games all day, they will have a naturalist to take kids out to learn about plants," says Beth McGroarty, research director for Spafinder Wellness Inc. "More and more resorts around the world are getting into serious wellness for children, things that are more meaningful."
Among the resorts branching into such offerings are places like Six Senses, in the Maldives, where the children's club includes music mediation class, yoga, tai chi, organic gardening, and dance. In addition, the property's chef designs custom children's wellness menus that are healthy versions of classic kid go-to meals.
Another luxe property identified by the report, the Ritz-Carlton's newly opened Reserve destination in Ubud, Bali, offers up Green Camp at Mandapa. There children are given the opportunity to explore, play, and create while learning about Balinese culture and the local environment. Options include yoga classes, traditional Balinese games and crafts, native plant study, and constellation walks through rice fields.
If you don't have the resources to jet across the globe in pursuit of child oriented wellness activities, not to worry. Local yoga studios have begun offering family packages and lessons focused on integrating the Hindu- and Buddhist-based exercises into a child's daily schedule.

In New York City, Karma Kids Yoga, for example, describes itself as the only yoga studio dedicated entirely to children. Classes at the Manhattan studio involve yoga poses, games, music and stories, all aimed at promoting a child's strength, and body awareness. There's also breathing and visualization techniques designed to teach focus, relaxation and self-control.
The Children's Hospital Colorado meanwhile has run a yoga therapy program for children since 2011. The program there is focused on helping kids who suffer from physical, developmental, emotional and psychological issues.
And in San Diego, Hapa Yoga includes among its many offerings a 45-minute kids' yoga class called "Hapa Tots." The class guides children through breathing exercises, and teaches them the postures of a yogini. And this being for kids after all, the class is broken up into 45 minutes of yoga and 15 minutes of free play.
"Even if you look at Kripalu Center for Yoga & Health, they have kids stuff," says McGroarty of the famous Massachusetts destination. "It makes sense in a world where parents are so obsessed with health and wellness that this would happen."
Spas in the United States meanwhile are still on the cusp of this emerging trend, according to various experts. There are still far more options for children to indulge in fun, sparkly manicures then full-on wellness activities. Among the most popular offerings at this end of the spectrum are found at places like Great Wolf Lodge and Snip-Its, whose bread and butter in the spa department are princess pedicure parties.
At Great Wolf Lodge, the Scooops Kid Spa is an over-the-top, dessert-themed space where kids sit on giant banana split thrones and have ice cream-inspired manicures, pedicures and organic chocolate facials. Spa guests are treated like little princesses, an experience that comes replete with complimentary pink robes and glitzed-out tiaras.
"We have 13 resorts and there's a spa in every resort," says Susie Storey, director of communications for Great Wolf Lodge. "With every new build, we include a spa now. It's become one of the most popular places in the resort." 
As popular as the spa is at Great Wolf, the experience remains primarily focused on fingernails, toenails and fun.
The most educational of the offerings, a chocolate covered organic facial designed to teach tweens the importance of keeping skin soft and healthy, is not a frequent choice among customers, says Storey.
The audience at Great Wolf, a family getaway resort built around a massive indoor waterpark packed with thrill rides and water slides, typically arrives seeking lighthearted entertainment, not anything overly in-depth or serious. And sentiment carries over to the spa.
"It's about having fun, a special treat, something you don't normally get to do at home," says Storey. "We're not a traditional spa. We're a unique treat for girls to enjoy when they're on vacation."
Snip-its, is an equally fun-oriented experience designed more to entertain then educate. A nationwide franchise with 63 locations, the décor is aimed at creating a magical cartoon world, with multicolored murals and splashy vibrant colors.

The business started out solely as a child-focused hair salon. But about five years ago, the Snip-its pilot tested spa offerings in its Palo Alto location, and the experiment went so well, spa menus have been added across the country.
The chain offers the usual manicures and pedicures, as well as facials, a "Mommy & Me" spa package, signature spa packages and spa parties.
"The concept was all about making kids feel good about themselves and allowing them to have a good experience," says CEO Jim George.
Spa parties have since become one of the chain's most popular offerings, says George. But with that said, he admits the mani-pedis remain the big seller. Services such as facials have yet to gain the same popularity.
As with Great Wolf Lodge, George says the company's spa services are more about having a good time, then teaching wellness.
"There's not a real health benefit to it," he explains. "It's more for fun and makes the kids feel good."
Spas that do venture into true wellness offerings for children however, will stay ahead of the pack, says Julie Pankey, a spa consultant and industry expert who has contributed to the success of the Four Seasons Hotels and Resorts, Marriott, Cliff House Resort and Spa and others.
Pankey recently wrote a blog on the topic aimed at spa owners, in which she says the trend towards kids' wellness is going to continue and urges businesses to respond by offering such things as family spa day packages or mini restorative treatments for kids that will introduce younger customers to the benefits of spa wellness.
The KidSpa at Stowe Mountain Lodge, seems to have heard that message loud and clear. The website for the Vermont property emphasizes that kids are living in the same stressful world as adults. Options to deal with the stress for the under-8 crowd include a Mini Me facial that teaches basic lessons about the importance of clean skin and also a Chillax Session involving aromatherapy washcloths, cool cucumbers, hand and foot treatments and deep breathing exercises aimed at leaving kids relaxed and ready for a good night's sleep.

Still, the majority of spas across America, especially day spas, remain focused on that glitz and glam spa world for little girls.
Part of the challenge, is day spas often don't have the physical pace to expand into wellness offerings
Such obstacles however, can be overcome.
"Spas can be creative," notes Pankey. "Look around - what do you have by your facility? Is there a park nearby? Can you partner with neighborhood YMCA? The day spa market has been slower to respond to the trend then the resort market and they have to catch up, because in the world we live in today, we need to be focused on mindfulness and education."
"Families are busier than ever," Pankey continues. "And kids are feeling the stress like their parents. Pressures from school, television, poor diet are creating tension and stress in young children. Parents are looking for natural, healthy and non-invasive ways to restore balance and calm."
What's more, Pankey points out, these young children are the spa customers of tomorrow.
Or as the Spafinder Wellness 365 report notes, this trend is here to stay. And in the coming years will likely continue to expand, perhaps even replacing some of the most popular vacation activities families have long pursued.
"As wellness attitudes, strategies, and techniques trickle down the family tree, bettering the lives of children, just as they have for their parents, we expect interest in spa and wellness treatments and programs geared to children to blossom," the report concludes. "Yoga will find its way into gym classes, mindfulness will become an integral component of playtime, and family vacations will eschew buffets and roller coasters for local cooking classes and nature hikes."