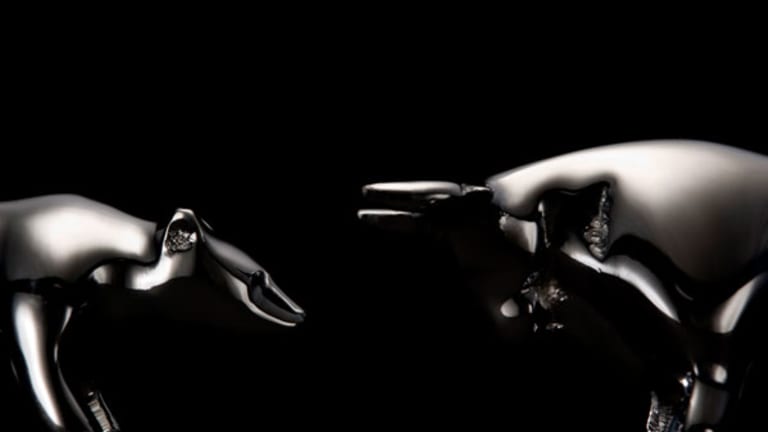 S&P Flirts With Another All-Time Closing High in Lackluster Session
The stock market finished higher on Tuesday with lackluster volume. No conviction on the buy side.
The stock market finished higher on Tuesday with lackluster volume. No conviction on the buy side.
NEW YORK (TheStreet) -- It was another lackluster session Tuesday for the market indexes.
The DJIA was up 61.81 points to close at 17113.54. The S&P 500 flirted with a new all-time closing high but finished short, closing at 1983.53, up 9.90 points. The Nasdaq was higher by 31.31 to close at 4456.02. The Russell 2000 closed up 9.49 at 1156.15.
The higher close of the indexes was all on air once again. The S&P 500 Trust Series ETF (SPY) - Get Report traded 67 million shares, slightly higher than Monday.
Inflation Pressures Abate, at Least for Now
3 Takeaways From Netflix's Second Quarter
This is now a traders market and it is critical to have a trading process that is repeatable. I had the S&P daily trading range at a sell trade of 1987 before the markets opened this morning. The S&P 500 index hit a daily high of 1986.24. That is pretty accurate.
There are a ton of earning reports after the close on Tuesday that will provide the short-term direction of the market. The most important report will come from Apple (AAPL) - Get Report.
The Russell 2000 index is still in "trend bearish" territory. I will not become more constructive on the upside until the Russell 2000 is solidly above the 1165 level.
Thus, we continue to trade this stock market and not invest. When the S&P 500 sells off enough to hit the "buy trade" level, we buy and when the S&P moves higher to reach the "sell trade" level, we sell. That trading range today was buy trade 1956 and sell trade 1987. We are always moving. It is quite a simple process if you have the internal algorithm numbers.
As I was not available to post an article on Monday, a bit of housekeeping is in order. I sold the remainder of my S&P Goldman Sachs Crude Oil Trust ETN (OIL) - Get Report on Monday for a wash. I still hold my starter position in Ultra Petroleum Corp (UPL) .
At the end of trading on Tuesday I bought Digital Realty Trust (DLR) - Get Report as a momentum play after it closed above its upper channel price of 61.70. I also started a long position in Arcos DoradosHoldings (ARCO) - Get Report and Beacon Roofing Supply (BECN) - Get Report. Both stocks are extraordinarily oversold according to my algorithm process.
At the time of publication the author was long UPL, DLR, ARCO, and BECN.
This article represents the opinion of a contributor and not necessarily that of TheStreet or its editorial staff.