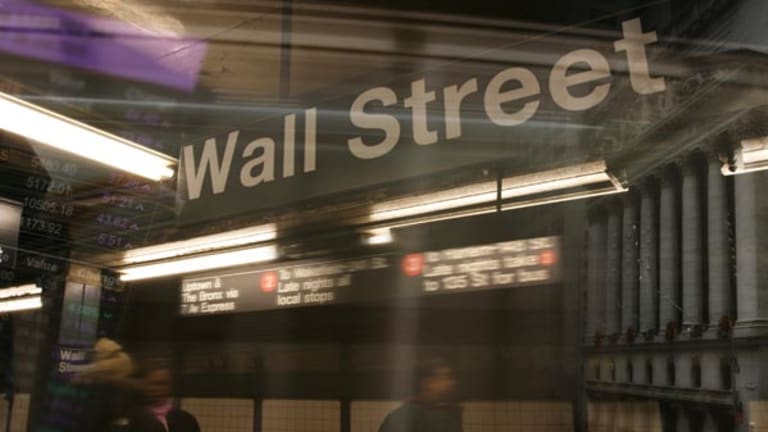 Publish date:
S&P 500 Near an All-Time Closing High? I Could Care Less
The stock indexes are all in overbought territory and the Nasdaq and SPY will be extremely overbought on a 'green' open tomorrow.
The stock indexes are all in overbought territory and the Nasdaq and SPY will be extremely overbought on a 'green' open tomorrow.
NEW YORK (TheStreet) -- The stock indexes once again finished higher in Wednesday trading on no volume. This is the third day in a row where the buying volume came in at less than 76 million shares on the S&P 500 TrustSeries ETF (SPY) - Get Report .
The reason is very simple, if traders understand the new Wall Street. The hedge funds and their programed machines are in total control. Old Wall Street ways of trading are history.
The DJIA gained 59.54 points to finish at 16979.13 while the S&P 500 came within 1.5 points of a new closing high, up 4.91 to close at 1986.51. The Nasdaq was lower by 1.03 to close at 4526.48 and the Russell 2000 was down 4.96 at 1157.51.
To be blunt, it is irrelevant if the S&P sets a new all-time closing high. These record highs are nothing but talking points the media focus on because people like to talk about it.
If the SPY and Nasdaq open to the upside tomorrow, they will be in extreme overbought territory according to my algorithm process. The DJIA will be close behind but not quite there. As I mentioned in Monday's article, the Russell 2000 would be extreme overbought on Tuesday. Indeed, the Russell 2000 was set up for a sell. Those same algorithm numbers are now attached to the SPY and Nasdaq. Traders should be looking to short this no volume market on a green open Thursday.
Wednesday saw a release of the Federal Reserve's monthly minutes. The Fed governors mentioned raising rates sooner rather than later. It is not going to happen. I do not believe the Fed because it has been so wrong. As a matter of fact, I have mentioned many times to fade the Fed. I expect to see a new round of quantitative easing in the first quarter of 2015 as growth slowing will be at the forefront and the Fed will realize it has been tapering into a slowing economy. Look for Fed Chair Janet Yellen to be dovish in her Jackson Hole comments later this week.
We have now entered the "Growth Slowing" and "Inflation Decelerating" quadrant of 2014. This will be a dovish signal for the Fed.
I sold most of my Telecom Argentina (TEO) - Get Report on Tuesday for a better than 1% gain and I sold a portion of my Direxion Small Cap Bear 3x (TZA) - Get Report before the market open Wednesday for a 2% gain. I opened a new short position in Brinker Intl. (EAT) - Get Report with an extraordinarily overbought signal.
Folks, this is the new Wall Street way of trading to compete against the high frequency trading platforms. Having the edge to spot the overbought and oversold conditions is key. This can be done at www.strategicstocktrade.com.