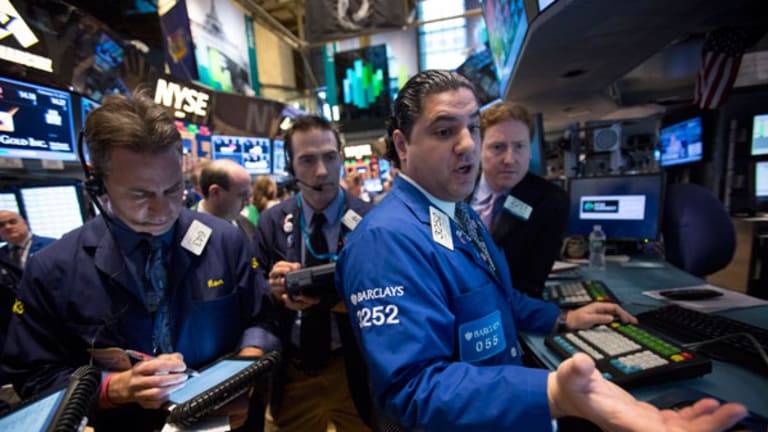 S&P 500 Hits 1H Target at 1567, Risk to 1348 by Year's End
The overall risk/reward is not favorable as the S&P 500 tests my semiannual risky level at 1566.9.
NEW YORK (TheStreet) -- While most market strategists and fundamental analysts are raising their year-end price targets for the S&P 500, I am not. I say we have reached my first-half target, my semiannual risky level at 1566.9. I predict the S&P 500 will decline to my annual value level at 1348.3 at some point by year's end.
While Wall Street tells investors that "no one can time the market," I say you can time the market! I have found that it is easier to be a market timer at a bottom than at a market top, however. This is why my current suggested investment strategy has been to raise cash to at least 50% on strength to risky levels.
In reality, fundamental analysts are trying to time the market when they raise year-end price targets, and they are calling for additional upward momentum when they call for P/E multiple-expansion.
Here's a summary of my major market-timing calls since the end of 1999:
At the end of 1999, with the
Nasdaq
at 4069, I made a market-timing call saying that I did not know how high the Nasdaq can go in 2000, but the Nasdaq will decline into the 3500 to 3000 range sometime during the year.
Also see: The Next Big Catalysts From BlackBerry >>
In March 2000, with the Nasdaq above 5000, I told investors to reduce holdings in tech stocks by at least 50%. The high was 5132 and I re-iterated my call for Nasdaq 3500 to 3000 by the end of that year. The low in May 2000 was 3043, then after a rebound to 4289 into July, the Nasdaq traded as low as 2252 in December 2000.
My next major market-timing call was to be bullish for the Nasdaq beginning in July in 2002 with the Nasdaq below 1200. I reiterated this bullish call in October 2002 with a Nasdaq low of 1109 that month.
In May 2005 I called the peak in the homebuilder stocks. In April 2006 I warned that community and regional banks would fall like dominoes. Community banks peaked at the end 2006, and the money center and regional banks in February 2007.
My mantra for the remainder of 2007 was that you can't sustain a bull market for stocks with a bear market in financials. It wasn't until October 2007 that I pounded the table with a bear market call with the
Dow Jones Industrials
above 14000. I warned that the next two thousand points for the Dow would be down, not up, and that a major bear market followed.
When stocks were crashing going into March 2009 I predicted a V-shaped bottom between March 5 and March 9, 2009. I predicted a 40% to 50% rally, but I must admit that I did not predict the full extent of the upside.
In the current stock market rally we have seen waves higher as QE3 and QE4 continued to fuel the stock market higher. While this was not unexpected, I have been warning that stocks have become too overvalued fundamentally and too overbought technically, which threatens the sustainability of the bull market.
Also see: Amazon Buys Goodreads >>
My conclusion has been that as long as Dow Industrials stay above my semiannual pivot at 14323 the upside on the S&P 500 was to my semiannual risky level at 1566.9 and the October 2007 intraday high at 1576.09 with my semiannual risky level at 965.51 on the
Russell 2000.
This scenario continues as the second quarter begins, but keep in mind that there's an 85% chance that the
Dow Transports
will decline to my semiannual and annual pivots are 5955 and 5925 on Dow Transports.
My annual value levels remain at 12696 Dow Industrials, 1348.3 S&P 500, 2806 Nasdaq, 5469 Dow Transports and 809.54 on the Russell 2000.
Here are the three ETF's to trade from the short side on strength to risky levels:
Diamonds Trust
(DIA) - Get Free Report
($145.32) traded to an all time high at $145.53 at quarter's end versus my semiannual pivot at $143.01. This week's risky level at $145.35 was tested on Thursday. We begin the second quarter with quarterly, monthly and weekly pivots at $137.01, 142.65 and $145.56. My annual value level is $126.69. The weekly chart profile is extremely overbought with its five-week modified moving average (MMA) at $142.04.
Nasdaq 100 Shares
(QQQ) - Get Free Report
($68.97) traded to its 2013 high at $69.06 on Thursday, well below my semiannual risky level at $78.39. Strength on Thursday was just shy of the weekly risky level at 69.08. We begin the second quarter with tight quarterly and weekly pivots at $68.95 and $68.80 with a monthly risky level at $69.54. My annual value level is $60.27. The weekly chart profile is extremely overbought with the five-week MMA at $68.05 with the Sept 19, 2012 high at $70.58.
S&P 500 Sector SPDR
(SPY) - Get Free Report
($156.67) first tested my semiannual risky level at $156.59 on March 14, then set a new year to date high at $156.85 on Thursday. My weekly risky level was tested at $156.78 on Thursday. My quarterly value level is $144.56 with semiannual and monthly pivots at $156.59 and $156.89 with a weekly risky level at $157.23. My annual value level is $134.74. The weekly chart profile is extremely overbought with the five-week MMA at $153.46.
At the time of publication the author had no position in any of the stocks mentioned.
This article was written by an independent contributor, separate from TheStreet's regular news coverage.
Richard Suttmeier has an engineering degree from Georgia Tech and a master of science from Brooklyn Poly. He began his career in the financial services industry in 1972 trading U.S. Treasury securities in the primary dealer community. In 1981 he formed the Government Bond Department at LF Rothschild and helped establish that firm as a primary dealer in 1986. Richard began writing market research in 1984 and held positions as market strategist at firms such as Smith Barney, William R Hough, Joseph Stevens, and Rightside Advisors. He joined
in 2008 producing newsletters covering the U.S. capital markets, and a universe of more than 7,000 stocks. Richard employs
a "buy and trade" investment strategy
and can be reached at
.