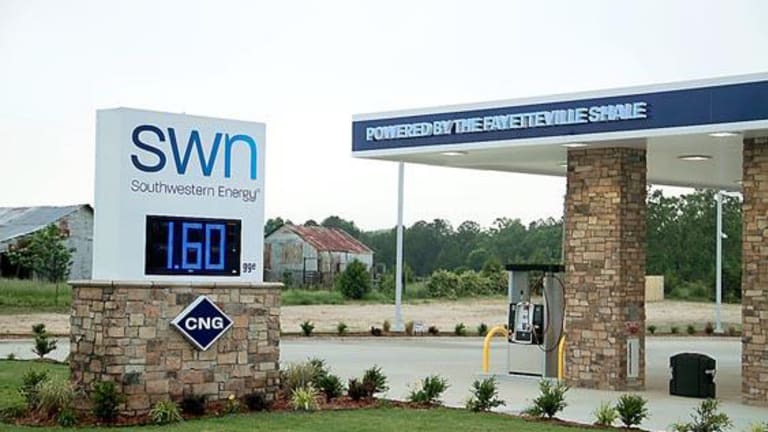 Publish date:
Southwestern Energy's Problems to Continue With Approaching Fourth Quarter Earnings
Few companies in the troubled energy sector are in worse shape than Southwestern Energy.
Few companies in the troubled energy sector are in worse shape than Southwestern Energy.
The country's third largest producer of natural gasSouthwestern Energy (SWN) - Get Report is in shambles. This stock is part of a group of distressed and "Stressed Out" stocks that TheStreet will be monitoring through these choppy markets.
As the "quick oil recovery" narrative remains miles away from reality, companies like Southwestern will continue to struggle on, with even the most patient investors showing signs of tiring. It remains a dangerous value trap. Prices are down from over $9.40 a share earlier this month to below $7.
Unless oil and natural gas rates recover, there is a 50% possibility of bankruptcy for the company within the next two years, according to the portfolio management services company Macroaxis. There are better places for your money right now.
Southwestern's upcoming fourth quarter earnings are looking abysmal.
Southwestern Energy is an independent operates in natural gas and crude oil exploration, development and production. The problem with selling natural gas and crude oil is that the prices of these products have dropped dramatically over the past year.
Henry Hub Natural Gas Front Month Futures are down 39.57% over the last one year, in step with the approximate 44% decline in crude oil rates. In about a week, natural gas prices have slipped about 8%.
Demand remains tepid.
Equally worrying is the reserve concentration risk in the Fayetteville and Marcellus Shales for the company.
Meanwhile, worries about energy companies are rising, making it prudent for you to explore different investments, such as stocks in the red-hot biotechnology sector.
With debt ratings being downgraded, this could mean that when Southwestern goes to the market to raise fresh debt, it pays a higher price to raise that loan. On Feb. 18, Moody's downgraded eight firms, including Southwestern Energy, Western Gas Partners, Hess and Murphy Oil, to junk levels.

SWN data by YCharts

Remember that Western is loaded with $4.67 billion in debt and must devise a plan to address that. The company's increasing leverage, partly due to its large Appalachian acquisitions, is another massive negative. Even as raising fresh debt to pay existing loans becomes more difficult, the company will probably try raising equity (dilution for existing shareholders). It's a slippery slope for Southwestern.
It's hardly likely Southwestern will reflect material improvement when it announces earnings on Feb. 25. Analysts have estimated that the company will post a loss of 2 cents a share compared to profits of 52 cents a year ago. In fact, it could post an even bigger loss.
Revenues are projected to drop nearly 22% year-over-year to $750 million, and the company expects total production to be in the range of 246 billion-255 billion of cubic feet equivalent. While other upstream firms like Occidental Petroleum and EQT have already reported year-over-year production increases of more than 10% each in the fourth quarter, Southwestern could report a year-over-year decrease in production -- similar to the embattled Murphy Oil.
As revenues shrink, Southwestern has no other way to survive, but to continue to cut costs -- 40% of its workforce is already on its way out -- and somehow contain Capex. The forceful cost reductions have been estimated to save up to $175 million (annualized). There are also expectations that Southwestern's 2016 Capex guidance will be in the order of $820 million.
The company's management can do little else at this time, unless energy prices rebound. At present, a recovery in these prices seems unlikely.
Southwestern could possibly head the sad way of Chesapeake Energy. In related developments, Haymaker Resources just snapped up a portion of Chesapeake's non-operated royalty portfolio for $128 million. Expect deals such as these to occur again, as companies desperately seek hard cash.
At an EV/EBITDA level of 4.10 times, Southwestern may appear to be a bargain proposition, but things are different in reality. The writing is on the wall; stay away from this troubled energy stock.
For more articles on distressed stocks to avoid, read Real Money's "Stressed Out" stocks coverage. You can find more information on the index here.

If you're looking for fresh opportunities, we've found a small-cap biotech "rocket stock" that's about to take off. UCLA researchers are stunned by a Nobel Prize-winning cancer breakthrough that's proven in clinical trials to eliminate lethal forms of cancer with a single dose. One small company owns the patent to this life-saving treatment. Now trading at about $5 a share, the stock of this innovative company is projected to surge 2,700% on an imminent FDA announcement. To download the full report, click here.
This article is commentary by an independent contributor. At the time of publication, the author held no positions in the stocks mentioned.