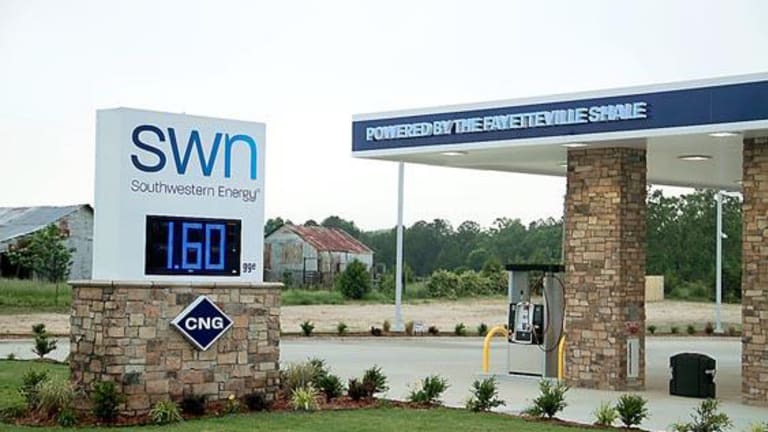 Southwestern and Chesapeake: How Long Will These Energy Stocks Scrape Bottom?
These two energy companies are beaten down, with seemingly grim prospects ahead. Are they now buying opportunities, or should you shun them until energy prices rebound? We take a look.
The energy patch has struggled all year, as oil and gas prices remain at depressed levels. Last week was particularly difficult for two energy stocks: Southwestern Energy (SWN) - Get Southwestern Energy Company Report , which fell 18% over five sessions; and Chesapeake Energy (CHK) - Get Chesapeake Energy Corporation Report , which lost nearly 17%.
So what precipitated the massive slump for these stocks? But more to the point: Is there any possibility for their future revival, or will their race to the bottom continue? The energy sector has certainly lagged the hottest stocks in the technology arena. Let's see whether these two beleaguered energy equities have a chance of rebounding anytime soon.
1. Southwestern Energy
Southwestern is an energy company whose wholly owned subsidiaries are engaged in natural gas and oil exploration, development and production, and natural gas gathering and marketing.
The stock crashed last week after Sterne Agee downgraded it to underperform, saying the company had unhedged production and an overlevered balance sheet.
As of Sept. 30, 2015, the company's long-term debt totaled $4.7 billion. After the company missed Wall Street analysts' revenue estimates for the third quarter and took a $2.8 billion pretax charge for the quarter (amid sharply lower prices for oil, gas and natural-gas liquids), analysts have been largely somber about the counter's potential. The downgrade worsened the situation.
Around three weeks ago, Credit Suisse forecast that natural gas prices would see a rise this winter -- above expectations -- and recommended a few picks (including Southwestern).
For the quarter ended Sept. 30, Southwestern posted a net loss of $1.77 billion, or $4.62 a share, compared with net income of $211 million, or 60 cents a share, a year earlier. Revenue dipped by 19% to $749 million from the $928 million in the year-earlier quarter.
Southwestern's management is striving to address the many uncertainties now plaguing the energy sector to position the firm for a better 2016. Executives have in fact said that Southwestern might not release guidance for 2016 until at least the first of the year.
On average, analysts expect adjusted earnings per share this year to fall to 26 cents from $2.27, according to Yahoo Finance. They also expect adjusted earning to decline even further in 2016, to 19 cents.
Trading at 47 times forward earnings, according to Yahoo Finance, Southwestern is an expensive proposition (even after losing 67% in 2015 so far). We predict a continued tough time for this stock; you're best bet is to avoid it for now.
2. Chesapeake Energy
If you're an investor in Chesapeake Energy, you'd like to forget 2015 in a hurry.
Nearly three-fourths of the stock price has been eroded this year in what is clearly an extended period of low commodity prices. The last few weeks have been nightmarish for the stock, to put it mildly.
The natural gas and oil exploration and production company is in big trouble. Bloomberg recently reported that nearly all the company's bonds had fallen to all-time lows. The stock is at multiyear lows.
Like Southwestern, Chesapeake was recently downgraded by Sterne Agee, which now has a neutral rating on the stock. What's worse, the firm removed its $13 price target on Chesapeake. On average, analysts expect the company to lose 17 cents a share in 2015, according to Yahoo Finance. Analysts expect the losses to increase in 2016, to 26 cents a share.
Cost control is big on the company's radar at this time, and management scrapped the stock's dividend earlier this year.
At a current price-to-book value ratio of 2.8, Chesapeake trades at a premium to ConocoPhillips (1.5) , Anadarko Petroleum (2.1) and the industry average of 1.2.
Chesapeake has a grueling task ahead of itself: The road to recovery will require a game-changing strategy and an improved macro environment for its operations. Until the energy sector gets off the floor, this stock is a very poor bet. Buyer beware.
But if you're looking for a great bet right now, we've found a small-cap tech stock that has the potential to surge 100% or more in the coming months. This is a growth story with major momentum, so it's important to learn the full details as soon as possible. The stock is trading under $8 a share, and its long-term prospects have never been better, making it a great value. I expect this rocket could take off soon, so be sure click here now and learn more.
This article is commentary by an independent contributor. At the time of publication, the author held no positions in the stocks mentioned.