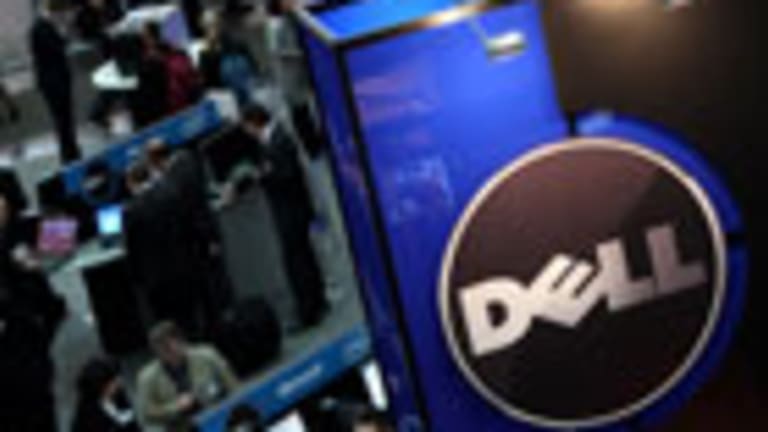 Southeastern Should Have Put a Ring on Dell
When it comes to Dell, bids from Blackstone, Icahn and Michael Dell are getting all of the attention -- but why didn't Southeastern Asset Management nab it?
NEW YORK (TheStreet) -- Dell (DELL) has been in the news for weeks -- and it is not for some sort of grounding-breaking computer system. The issue facing Dell right now is who is going to take over the company.
Right now, Dell has several offers on the table: There is one from Michael S. Dell, founder of the company and CEO, in tandem with Silver Lake Partners, one from
Blackstone Group
(BX)
and one from savvy activist investor Carl Icahn. Southeastern Asset Management had
a chance to join Icahn's proposal
, and it even considered Blackstone's, yet it did nothing.
While all eyes have been over there on Icahn, I have been reading into Southeastern Asset Management's silence. In the interest of shareholders -- it being one of the largest -- Southeastern knocked down the founder's bid as too low. Then it appeared to become an ambivalent sideliner, mulling over whose team to play on, as if it needed a wingman.
Southeastern, which is chaired by O. Mason Hawkins, owns roughly 8.5% of Dell. This puts Southeastern's ante above Icahn's and to more than half the size of Michael Dell and Silver Lake's combined stake of nearly 16%.
What makes this even more interesting is that Southeastern had originally expressed interest in joining Dell and Silver Lake in their proposed leveraged buyout.
According to Reuters
, Southeastern was expressing such interest as early as January 29, when it met with Dell, Silver Lake Partners, Alex Mandel (part of the special committee created to review the company's strategic options) and Debevoise & Plimpton LLP (the committee's legal adviser). Southeastern later
opposed the Dell/Silver Lake the deal.
As it pondered whose consortium to join, I'm not sure why Southeastern never threw its own hat into the ring, as it seems to think highly of Dell.
Early last month (February 8 to be exact)
, Southeastern issued a
public letter to Dell's Board
of Directors, in which it explained that Dell has a corporate value of $23.72 per share -- which is well above those offers currently on the table.
To put that number in perspective, right now, Dell is trading at $14.56 on a 52-week range of $8.68 to $16.85. According to Yahoo! Finance, analysts give the company a mean one-year
.
>>>>
Dell Shareholders Mull Stay or Go
>>>>
Dell Deal: Is a Fight Brewing?
Dell and Silver Lake's offer is closer to $13.65 per share. According to
is offering $14.25 per share, but notes that one option on the table could be a
stub LBO
, meaning that a large chunk of Dell would be taken private while a small percentage, maybe 20%, is left public.
Also in a letter, dated March 22, Icahn Enterprises is coming to the table with its own offer. Icahn currently owns 80 million shares or a stake less than 5%, and while he values his portion at $1 billion, or around $12.50 per share, he is offering to buy a large chunk of Dell's shares for $15 each. In his proposal, Icahn assumes Southeastern, T. Rowe Price and other large shareholders in the company will agree.
But, really, based on Southeastern's investment philosophy, the idea that the firm should have jumped into the ring on its own is not so crazy.
Let's count the ways. ...
According to
Southeastern's Web site
, it looks to volatility as an opportunity -- and what is Dell right now if not in a volatile environment? Check.
It also tends to focus its portfolio on higher-quality, highly discounted businesses and chooses longer-term investment horizons to realize that value. Obviously, it would take some time to realize the full value at Dell. Check.
The company also looks for large margins of safety, but if Dell is really discounted to the extent Southeastern claims, a large safety margin is certainly there. Check.
Southeastern also looks for a price-to-value ratio of 60% or less. Dell's current share price of $14.56, relative to Southeastern's calculated value for the company of $23.72, makes for a P/V of 61.3% -- which puts it remarkably close to the mark. A share price of $14.23 would meet Southeastern's mark. And, check.
Southeastern could have joined Blackstone's bid. It could have joined Icahn's bid. But it is too late for Southeastern to make an offer on its own, as the Friday deadline just passed.
According to Dell's Web Site
, the "merger agreement provides for a so-called "go shop" period, during which the Special Committee -- with the assistance of Evercore Partners -- will actively solicit, receive, evaluate and potentially enter into negotiations with parties that offer alternative proposals." It also states that for a competing bidder "who did not qualify during the initial go-shop period, the termination fee would be $450 million." That is a steep price to pay for ambivalence, Southeastern.
For investors, Dell could be great, if you like high-risk. This was a stock that was trading under $11 per share before takeover rumors surfaced earlier this year. Since then, it broke $13 and has been on an upward trend since.
While that trend is leveling off, expect another bounce, however brief, as regulatory papers are filed and then again as the company makes its decision. If you are going to play Dell, you are going to have to stay on top of the news or set a sale price. Alternatively, for as high as Dell's stock may go on takeover updates, it may likely fall just as low.
I believe Dell could make a decent short position, but I wouldn't expect huge returns from the wager.
--Written by Renee Butler in Seattle, WA
At the time of publication the author had no position in any of the stocks mentioned.
Follow @ReneeAnnButler
This article was written by an independent contributor, separate from TheStreet's regular news coverage.
Renee Butler is a freelance financial journalist based in Seattle. She has written hundreds of articles and blog posts on hedge funds, the financial markets, investing trends and company developments. Her articles have appeared on MSNBC, MarketWatch, the Motley Fool, The Street and Seeking Alpha, among others. Butler is a member of the National Press Club and the Society of Professional Journalists, and holds advanced degrees in business, financial management, psychology and sociology.