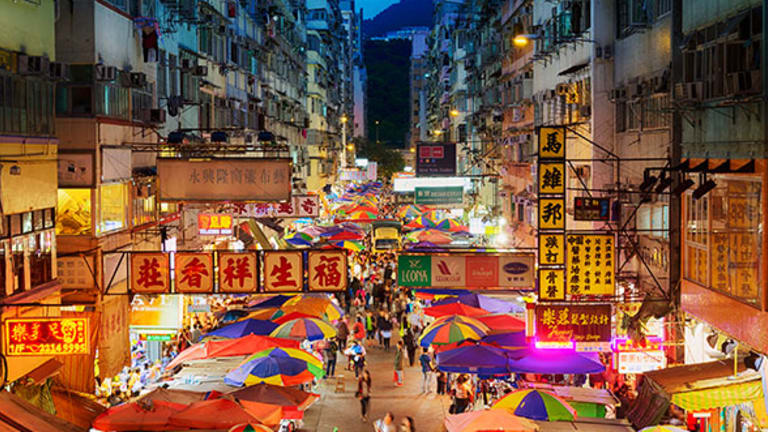 South China Sea Dispute Could Hurt American Business in China
China is protesting the voyage of the destroyer USS Lassen near Chinese-claimed territory. It may retaliate against American business.
China has little effective means to register its displeasure over U.S. Navy incursions into areas of the South China Sea that it claims other than to increase interference with American business in China. This would be in the hope that disgruntled U.S. businesses might push to moderate their government's provocations. American businesses operating in China may have to brace for a rocky road ahead.
Today China is loudly protesting the voyage by the destroyer USS Lassen near the Chinese-claimed Mischief Reef, part of the Spratly Islands in the South China Sea.
Although the U.S. is officially treating this incident as a routine demonstration of the freedom of navigation in international waters, China sees it as deliberately provocative. It is likely that the U.S. is taking this step now (for the first time since 2012) in retaliation for the alleged massive Chinese hacking of private data on millions of U.S. government employees. Apparently, recent talks in Washington between President Barack Obama and Chinese President Xi Jinping did not resolve the dispute.
President Obama has little to lose in disputing Chinese claims at this time. A tough stance against China might neutralize a potential Republican campaign point against Democratic Party leadership during the 2016 presidential campaign. Obama's action also seems to be popular among U.S. allies in the region, several of which made statements of support. U.S. officials have stated that this sort of action is likely to be repeated.
It is difficult to imagine that China could threaten armed retaliation against a U.S. intrusion. China might threaten to reduce economic cooperation with the U.S., but in this area too there is little China could do that would not injure Chinese interests as much as American business.
The more China merely protests against incursions such as this one, the less credibility additional protests will become. The Chinese government might be better off keeping quiet and not drawing attention to an issue that is not likely to be resolved in its favor. Continued verbal protests just demonstrate impotence.
Many commentators have confused the issues under dispute. Although several countries have overlapping claims within the South China Sea, the U.S. officially, and probably also unofficially, has no particular stake in the ultimate sea boundaries among the various claimants, which include not only China, but also the Philippines, Vietnam, Malaysia, Taiwan and Brunei. These various contenders vie over shares of the oil thought to lie under the South China Sea, plus fishery rights.
The real issue that concerns the U.S. is the freedom of navigation. Under the United Nations Convention on the Law of the Sea, countries may claim economic rights within 200 miles of their territory, but may regulate navigation rights only within 12 miles. The law clearly precludes counting artificial islands as territory from which the 12 mile border can be claimed. Nevertheless China is now claiming that artificial islands it has built up over submerged reefs qualify as Chinese territory near which foreign ships can legitimately be excluded. The U.S. does not recognize this right.
The next Republican Presidential debate starts at 8 p.m. ET this Wednesday, 10/28, but TheStreet.com will be covering it all week! Tune in for stories, videos, and more, and make sure to follow us at @TheStreet on Twitter for live commentary during the debate.
This article is commentary by an independent contributor. At the time of publication, the author held no positions in the stocks mentioned.