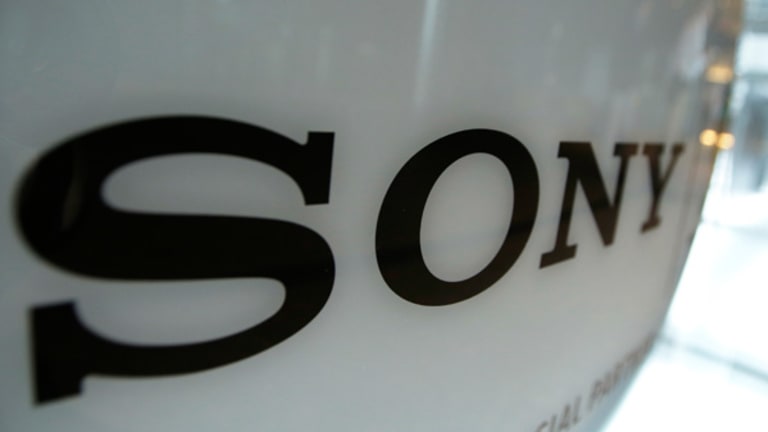 Sony's 'The Interview' Release Points to Huge Paradigm Shift for Movie Industry
'The Interview' took in $15 million in online sales during its first four days of release. It could mark a milestone for the way Hollywood studios release films.
NEW YORK (TheStreet) -- Sony (SNE) - Get Sony Corp. Report may still lose money on The Interview, but the success of the film's online distribution suggests that Hollywood's largest studios may soon begin experimenting with debuting films simultaneously in theaters and on digital platforms.
"Fifteen million dollars is a huge sum of money," Jeff Bock, senior box office analyst at Exhibitor Relations, said of the proceeds Sony collected from online rentals and sales of the The Interview in its first four days of availability.
Granted, Sony backed into the strategy of what the movie industry calls day-and-date releases, whereby a film becomes available in theaters as well as DVD and video-on-demand on the same day. It's a strategy increasingly employed by smaller distributors whose films are unlikely to have a long run at theaters. It's also used to eliminate or at least cut down on piracy. The music industry grudgingly embraced Apple's (AAPL) - Get Apple Inc. Report iTunes on the notion that the public would pay a reasonable fee to acquire songs legally rather than through an illegal file-sharing site. And the music industry has never been the same.
Similarly, the hastily arranged distribution of The Interview could end up being a milestone for Hollywood.
"This could be the start of a huge paradigm shift for major releases," said Bock, adding that lower-budget comedies (especially those with 'R' ratings) and horror films would probably work better through such arrangements than large-budget epic films with a lot of special effects, he said.
"This was the perfect storm to test something like this," he added, explaining that the major theater chains decided not to exhibit The Interview, setting up a situation whereby distribution went to individually owned cinemas in urban locations as well as digital platforms. 
The online revenue generated by the movie was especially impressive considering there was only minimal planning by Sony. With a genuine marketing plan, rather than chaotic damage control, Sony might have generated even more sales.
Then again, Sony was ironically aided by its own misfortune -- massive cyberattacks -- and by President Obama's comments that the studio made a "mistake" when it initially decided not to debut the film on Christmas out of fears about terrorist attacks.
Independent film distributors have been releasing foreign movies, documentaries and other select types of films theatrically and via VOD simultaneously for a few years now. But the major Hollywood studios have been largely unable to because the big theater chains have objected. The studios may also be nervous about cannibalizing more lucrative box office sales.
In 2011, Universal had planned to experiment with making Tower Heist, one of its major comedy film releases, available on demand to Comcast (CMCSA) - Get Comcast Corporation Class A Report customers for rental only three weeks after its theatrical release. But Universal scrapped that plan after Cinemark (CNK) - Get Cinemark Holdings, Inc. Report , National Amusements and several independent theaters threatened to not exhibit the movie in their theaters.
"When they were trying to push Tower Heist on people, they were talking about $60, which was just way out of control," said Bock. DirecTV (DTV) and DISH Network (DISH) - Get DISH Network Corporation Class A Report routinely offer select, independent theatrical titles on demand for $10-$15, he said. Cable TV providers do the same thing.
The theater chains certainly aren't going to support simultaneous theater and VOD releases of major movie releases, said Bock. "This directly cuts into their business," said Bock.
"This will be a back and forth between studios and exhibitors for the next decade," predicted Bock. The existing, traditional business model remains firmly in place for now. "It's not going to change anytime soon, but now that there's something to point to, people are going to keep talking about it," said Bock.
"It's not going to go away. Obviously what the audience wants, the audience usually gets in the end," he said. If consumers continue to demand the on-demand online release of new theatrical titles, the studios will want to figure out a way to provide that, Bock said.
Patrick Corcoran, vice president and chief communications officer at the National Association of Theatre Owners, said Tuesday, "Our attitude toward simultaneous release is unchanged." He declined to comment on The Interview results specifically.
Corcoran instead pointed to comments he made in a statement last month, in which he said: "We have covered numerous times the various fallacies inherent in the simultaneous-release business model. Movies like Margin Call, Arbitrage, and Bachelorette, touted as successful examples of the model domestically, far underperform theatrically in the United States compared to their performance internationally."
Arbitrage's distributor claimed there was no cannibalization of theatrical revenue because the moviegoing audience was different from the home audience, citing surveys showing 90% of moviegoers didn't know the movie was also available via VOD, Corcoran said. "A business model predicated on consumer ignorance does not inspire confidence," he added.
The Interview ended up making about the same amount of revenue in its first few days as it would have as part of a traditional theatrical release in the same time frame when factoring in online results and the estimated $2.8 million in revenue generated in the first four days at the 331 independent theaters that agreed to show the movie, said Bock.
Altough some people projected that The Interview would have made as much as $30 million in the same period at the box office as part of a traditional theatrical run, Exhibitor Relations had projected the film would earn in the upper teens to low $20 million range during the same time frame, he said. "And that's exactly where it came in with the online surge," he said.
Sony priced The Interview online rentals extremely low, said Bock.
"I think $5.99 was a deal most people couldn't pass up," he said. "But I think they probably would have had the same people buying it for $9.99 just because of the press that was associated with it and how this became Hollywood's big hot button film at the end of the year."
Bock added, "That's Sony pretty much low-balling their own product." But he stopped short of calling it a mistake: "I think it was a Christmas gift by Sony to audiences everywhere."
It was too soon, however, to call The Interview a hit for Sony, said Bock. "I think they spent too much initially for this comedy," he said.
The movie cost $44 million to make, according to Sony. Movie studios tend not to spend so much on comedies anymore, said Bock. Revenue from sales generated via Apple's (AAPL) - Get Apple Inc. Report iTunes wasn't factored in yet, and The Interview hasn't been released overseas yet either, he said.
This article is commentary by an independent contributor. At the time of publication, the author held no position in the stocks mentioned.