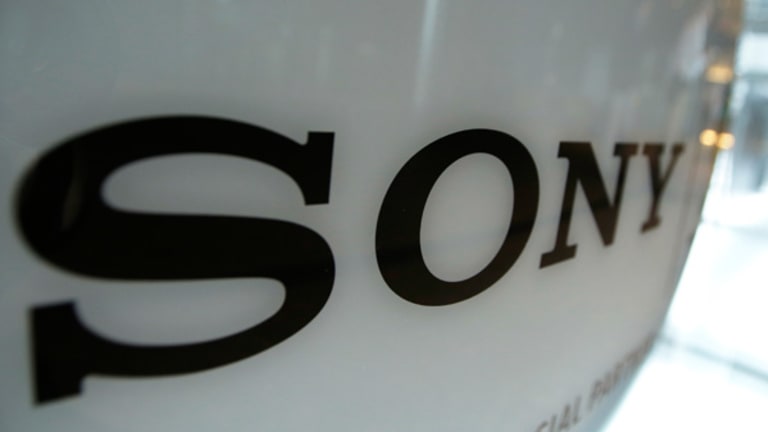 Sony Has Other Challenges Besides What To Do With 'The Interview'
North Korea's Kim Jong-Un is not the only enemy Sony must face, especially as the video game console wars evolve.
NEW YORK (TheStreet) -- As Sony undefined  contemplates when and how it might distribute The Interview, the film at the center of the massive cyber-attack that the U.S. government says was the work of North Korea, the sprawling entertainment and electronics maker has other challenges on its hands.
Chief among them is PlayStation 4, the fast-selling gaming console that represents one of the few parts of Japan-based Sony that is growing and could serve as a way out of the corporate chaos caused by the hacking scandal and continuing troubles at its smartphone maker Xperia. 
Understandably, much of Sony's immediate attention is fixed on coping with fallout from The Interview and President Obama's comments on Friday that Sony's Dec. 17 decision to table the film's debut was a "mistake." Sony reportedly is considering releasing the film on Crackle, its free video-streaming services though company officials weren't immediately available to confirm or deny the reports.
Obama on Friday confirmed reports that U.S. intelligence agencies had established that North Korea was behind the attack.
Meanwhile, Sony's gaming division, led by PlayStation4, could have as much or more effect on the Japan-based company's future performance.
This year, Sony Computer Entertainment pushed into cloud-based gaming, which could open the door to a life beyond game consoles. Rolled out in stages, PlayStation now affords consumers the option of playing some 200 titles from the PlayStation 3 catalog of games. Players can use the service with certain devices including Sony Bravia televisions and game controllers.
Importantly, China's decision to ease restrictions on the sale of gaming consoles to its domestic market represents a potential jackpot for Sony, which said it will begin selling the PlayStation4 console in the country on Jan. 11. Microsoft began selling its Xbox One in China earlier this fall.
Sony also wants its PlayStation to extend beyond gaming and become a media distribution platform to challenge payTV providers.
In November, the company introduced its PlayStation Vue cloud-based television service, which will stream live shows and other content on channels from Viacom (VIAB) - Get Free Report , Comcast's (CMCSA) - Get Free Report NBCUniversal, 21st Century Fox (FOXA) - Get Free Report , and CBS (CBS) - Get Free Report . PlayStation Vue will initially be available on PlayStation 4 and PlayStation 3 consoles in certain major cities, such as New York and Los Angeles. Sony plans to make the service, expected to go active in first quarter 2015, available on other devices, including Apple's (AAPL) - Get Free Report iPad.
At first blush, the console market looks like a very good business for Sony. PlayStation 4 worldwide consumer sales are greater than 16 million consoles. That outs Sony ahead of its chief rival, the Xbox One from Microsoft (MSFT) - Get Free Report , which as of November had sold more than 10 million units to retailers. 
However, there's an emerging market for games that don't need the pricey hardware of the console scene, and that's a reality that Sony must address. Indeed, the technology behind cloud-based gaming is improving and offers new worth for old games, says Brian Blau, research director for consumer technology with Gartner, a research and advisory firm. 
"Companies like Sony have worked out a good way for game players to get value from Sony's older back catalog games," Blau said in an e-mail. "Many of which will drop in value as the consoles that run those games get replaced by next gen."
Even with Sony's launch of cloud-based titles, Blau says this market is still young with few options for streaming games live. Microsoft and a few others have entered cloud gaming but the impact on the industry remains limited.
No one from Sony would officially discuss the plans but while the PlayStation console celebrated its 20th anniversary this month, the company continued to build its backbone for cloud-based gaming products. In October, the PlayStation Now service got its latest open beta release, for PlayStation TV, a trimmed down console and controller system.
These seem like baby steps in a new direction; Sony will need to make some longer strides to cement its cloud-gaming service as an option consumers' desire. In addition cloud-based delivery systems being fleshed out, he says game developers and publishers must figure out what makes businesses sense on their end and how to best integrate the concept of playing any game anywhere.
Of course, shaking up the way people access games might be inevitable as competition intensifies. Even with Nintendo's (NTDOY) - Get Free Report Wii U consoles as a third place pony, more rivals are getting into the game wars. Amazon (AMZN) - Get Free Report is rolling out video games for its Fire TV media player and mini-console, which was introduced back in April. Steam Machines, a brand of console-style gaming computers that connect to televisions, might further complicate this industry. Running on an operating system from game developer Valve, Steam Machines will be manufactured by various companies such as Alienware and Falcon Northwest Computer Systems.
Previously expected to go mainstream this year, the wide release of Steam Machines has been pushed back to sometime in 2015. Blau says Sony and Microsoft will keep consoles around for the foreseeable future though the market could get tricky.
"Over the next few years we may actually see the landscape of game consoles change," Blau said. "And some will use streaming to help fill in the content gaps."
Sony is still working on making its cloud-based game service available everywhere at anytime, but it's doubtful the forces that halted The Interview would want to play along.