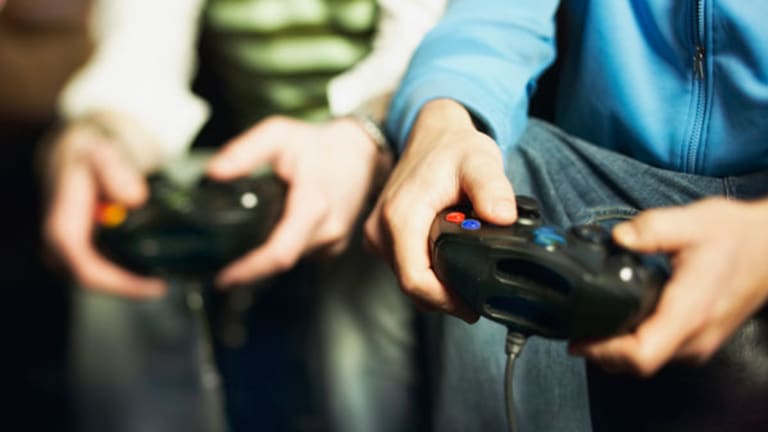 Publish date:
Sony and Microsoft Face the Third Platform
The console kings face new competition from Valve Software, which dominates gaming on the PC and is now rolling out its own hardware.
The console kings face new competition from Valve Software, which dominates gaming on the PC and is now rolling out its own hardware.
(Corrects how many units were shipped of Sony's PS/3 and Microsoft's Xbox.)
NEW YORK (TheStreet) -- While everyone is talking about the launch of the Sony (SNE) - Get Report PS/4 and Microsoft (MSFT) - Get Report XBox 1, there's a third gaming platform drawing less attention.
It's your PC.
But if you think Microsoft owns the PC gaming market, think again. If you think that platform is stable, think twice.
The PC gaming market is basically owned by a private company,
Valve Software
, and its distribution product,
 Its market share is estimated at 75%, with 3,000 games running on it, and over 65 million Steam accounts. There are versions for the Mac OSX, for mobile platforms, and Linux.
This is competitive with the installed base of Sony's PS/3 and Microsoft's Xbox, both of which had shipped over 76 million units by the end of last year. Steam should be seen as the third force in gaming, alongside
Nintendo's
Wii and Wii-U, which is finally catching on in Japan.
Valve started as a game developer. Steam's competitors,
 from
UbiSoft
(EPA: UBI) and
 from
Electronic Arts
(EA) - Get Report
, are also game developers. But Steam started accepting third-party games in 2005, when digital distribution was in its infancy, and has kept its lead.
This has given Valve immense power over gaming. You have to run Steam to run Steam games. When games finish they drop you back into Steam. If something happened to Steam or Valve, players fear they could lose access to games they've already bought.
Microsoft upset the Steam applecart a few years ago by announcing it would put its own game distribution network into Windows 8. This upset Valve CEO Gabe Newell very much. Had Windows 8 been a bigger success, this might be a bigger story, but Steam runs well under a Windows 7 compatibility mode in Windows 8, and most gamers I know have noticed little change.
What they have noticed is Newell's moves against Microsoft, specifically creation of the
, a Linux-based system supporting streaming games via a home network to your TV or tablet, and development of the
, a game machine based on the new software.
An experienced gamer I know puts it this way: "A lot of people love Valve for good reasons. Prices are very low, significantly lower than games on consoles. There are often sales. On the other hand, it's starting to feel like a monopoly," a monopoly that seeks to push users to its own platform.
"There is a huge push on Valve to switch to Linux," this gamer adds. "Some games have cosmetic dealies for playing on Linux instead of Windows. This may be their attempt to get people to switch to Linux so when they unveil their Linux OS people will use it. And it's semi-controlled by Valve and comes bundled with their digital distribution platform."
Steam is not exactly a monopoly in the same way that Windows wasn't exactly a monopoly in the view of Microsoft lawyers. It just controls most of the market. UbiSoft and EA recently announced they would make their systems compatible, but that was seen by most gamers as a sign of their weakness.. Microsoft wants to dominate Windows 8 gaming, but first it has to gain share for Windows 8.
Gamers are of two minds about Valve. "Everyone likes an underdog," says my gamer friend. "On the other hand, a lot of people don't like PC gaming being tied to Windows, so by putting it on Linux they say Valve is saving PC gaming."
Right now, the Steambox and Steam OS are going through a beta test, preparing for a launch early next year. As anxiously as your kids may be waiting for a PS/4 or Xbox One under their tree, so PC gamers are waiting on
, Jan. 15-16 in Seattle, where Valve will discuss its plans with the wider gaming industry and, according to Valve, without the press.
There, Valve is expected to announce a Virtual Reality headset, delivering 3-D gaming alongside a headset announced earlier this year called Oculus Rift.
At the time of publication the author had no position in any of the stocks mentioned.
This article was written by an independent contributor, separate from TheStreet's regular news coverage.