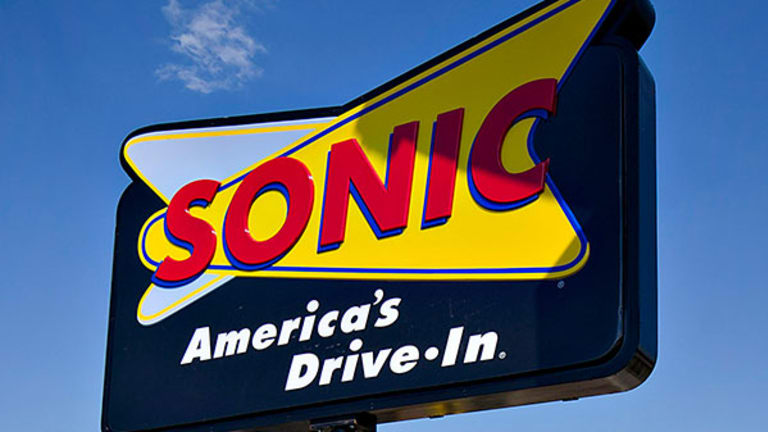 Sonic CEO Sees Recipe for Victory Over McDonald's and Burger King
While McDonald's and Burger King continue to deal with mixed performance in the U.S., Sonic is thriving. Brian Sozzi talks with Sonic CEO J. Clifford Hudson.

NEW YORK (TheStreet) -- Sonic (SONC) , known for its hot dog specialties called "coneys," "two guys" television commercials, and 1950s inspired drive-in restaurants with carhops, has developed a recipe the company feels can take on the bigger guys like McDonald's (MCD) - Get McDonald's Corporation Report and Burger King (BKW) in the fast food business.
The ingredients: clever marketing and made to order food.
"The two guys on the commercials that you see help enormously because as you are promoting different products, being able to always start with the two guys, you get instant recognition," said Sonic chairman, president and CEO J. Clifford Hudson in an interview with TheStreet.
The absence of charismatic brand ambassadors in the marketing of McDonald's and Burger King has allowed Sonic to carve out a place on television with its "
" -- two middle-aged men sitting in a car at a Sonic drive-in and bantering on the latest new product or mouth-watering promotion. 
Ronald McDonald and his sidekicks Grimace and Hamburlgar have all but vanished from the TV airwaves and inside of McDonald's restaurants, amid outcry the characters promoted the ingestion of fattening food amongst children.Must Read:IHOP-Applebees CEO Stewart Prepares to Counter TGI Friday's, Darden

Burger King dethroned its somewhat creepy "King" mascot in 2011, as it never connected with customers.
That leaves Sonic with a clear avenue to sell its own brand. The effect has helped Sonic produce stronger same-store sales than McDonald's, Burger King, and Wendy's this year. For the 12 months ended Aug. 31, Sonic's system-wide same-store sales increased 3.5%, including a 3.5% same-store sales gain at franchise drive-ins and a 3.5% improvement at company-owned drive-ins. Year to date, McDonald's has posted a 2.2% decline in its U.S. same-store sales, while Burger King and Wendy's has notched 1% and 1.6% increases, respectively.
Sonic's sales trends are better compared to its larger competitors, according to Hudson, proving its ability to grab a share of a highly competitive market.
"Given the challenging environment, the customers are not coming because of an improving economy, they are coming because we stealing share from our competition," remarked Hudson. He added, "We are stealing that share in a variety of ways, different day parts, different product lines, and from different competitors." Citing Sonic's study of credit card transactions when possible, Hudson mentioned that "if we can get someone to come to us, we can get them to come back."
But catchy nationwide marketing and nostalgia-inducing drive-ins have be coupled with quality product, meeting the ever-changing preferences of consumers. Sonic has a long-standing policy of successful order customization that by itself sheds light on the challenges McDonald's and other pre-cooked fast food outlets.
"The reason why that works very well for us is that our kitchen is still set up the way it started 60 years ago when our founder Troy Smith started the concept -- and that was, all the food was made to order," noted Hudson on the topic of order customization. Hudson continued, "The customer, in our case, is not coincidental to the food preparation process, they drive the preparation process. For some of our competition that is not true, they are estimating what the needs are going to be and then make the food beforehand."
McDonald's, according to Bloomberg, reportedly began testing a build-your-own-burger initiative in September at four of its Southern California restaurants. The test allows customers to choose burger toppings such as jalapenos and tortilla strips.
As for what's on Sonic's plate over the next year? The entrance into new states, lower calorie foods and drinks, and maintaining its close relationships with franchisees as it rolls out assorted technologies are high on the priority list.
¿
On Nov. 5, Sonic took the wraps off its culinary innovation center. The $1 million investment by the company will be used to test new ideas, equipment, recipes and products.
"We are working to have products in each product line that has that kind of (healthy) appeal, if you want something that is a little lighter, low calorie," said Hudson when asked about future low calorie menu options. The company recently introduced low calorie, hand-crafted sodas in a variety of flavors. Ranging from 5 to 50 calories, customers could choose from standard flavors like peach and raspberry, as well as various concoctions such as blackberry-pineapple.
Sonic is not alone in its thirst to lighten up the calorie counts on its menu. Yum Brands' (YUM) - Get Yum! Brands, Inc. Report Taco Bell has a "cantina" line of protein-rich salad bowls and sit-down restaurants TGI Friday's and DineEquity's (DIN) - Get Dine Brands Global, Inc. ReportApplebee's offer smaller plate appetizers.
The easier-on-the-waistline food from Sonic coincides with its accelerated growth plans. Sonic currently does business in 44 states, with about 10 states accounting for 60% to 70% of its sales. Hudson pointed to Sonic's potential to open new locations along the West Coast and Florida in a drive to add 1,000 new locations in the next 10 years.
"We anticipate in the near future we will go into a 45th state, I think that will be Rhode Island," said Hudson.
In total, Sonic projects it will cut the ribbon at 50 to 60 restaurants over the next 12 months after opening 40 in its just completed fiscal year.
Keeping its relationships with franchisees in good-standing will be pivotal to Sonic's goal of a faster pace of openings, especially as 900 franchised stores are scheduled to convert to a higher royalty rate at the beginning of its new fiscal year and as new customer-oriented technologies go live.
Hudson said, "There is no initiative that we will pursue without significant franchisee engagement, and that's true whether it's physical facilities, technologies, and new product promotions."
Sonic plans to start implementing a new point-of-sale system at franchised restaurants in coming months, and adding functionality to its mobile app in order to engage customers when they are off its lot.
In recent past, McDonald's has damaged its relationships with franchisees, possibly impacting customer service, by asking it to shoulder costs for extensive remodels to restaurants, the addition of McCafe coffee machines, and to adapt to an expanding menu.
"We work to have a high degree of alignment," Hudson said, "and that's not by cracking the whip. That is by engaging franchisees in the development of initiatives in the first place."