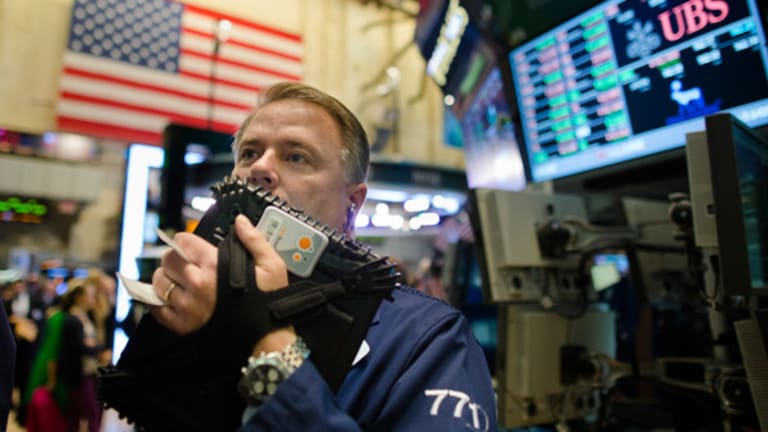 Sometimes Leasing a Stock Is Better Than Buying
With the advent of sub-penny per share and sub-dollar option trading costs, new trading strategies became available.
NEW YORK (TheStreet) -- Wouldn't it be fantastic if you could buy a high-yielding stock the day before trading ex-dividend and sell it the next day for the same price while still receiving the dividend?
Since stocks started trading on exchanges, investors have looked for ways to do just that. Because a stock, in theory, should begin trading at the previous day's close minus the dividend payment on the ex-dividend date (on the day the owner is no longer entitled to the next dividend payment) investors didn't think there was an advantage.
Newer strategies became available when options became popular along with falling transaction costs. With the advent of sub-penny per share and sub-dollar option trading costs,  new trading strategies became available. By simultaneously buying a stock and selling an in-the-money call option, investors hoped to be able to get their cake and eat it, too. They sell a call option to hedge against price movements in the stock.
The technique became popular enough that the term "dividend capturing" was coined to describe the practice.
Dividend capturing is a strategy I use and, while it's not perfect or risk free, when executed properly under the right conditions does provide an edge. The problem for most people is that it isn't executed properly.
The market is efficient and most of the time the option sale doesn't provide enough premium to warrant the trade. In fact, sometimes enough investors are trying to capture a dividend and offer enough call options for sale that they drive the option price low enough that option becomes "too cheap" and they create a different opportunity for someone to take the other side.
Options already have dividend payments calculated into their "normal" fair market value, but when aggressive dividend capture option sellers tilt the scales too far, it becomes advantageous for to buy an option instead of the underlying stock.

Think of it as renting a stock instead of buying it. If the stock price moves lower, your potential loss is the same, up to the amount of premium you paid, but if the stock moves higher, you're able to receive all or almost all of the gain.
Let's look at the following real world example for someone who already wants to buy Pfizer (PFE) - Get Pfizer Inc. Report. In December, Pfizer declared a 26-cent dividend payable March 4 for shareholders on Feb. 4. If you buy Pfizer on Feb. 5, the ex-dividend date, you're out of luck in regards to receiving the dividend.
You can buy shares for about $31.17 a share as of Thursday's closing price. You could also purchase a February $29 call option that expires in 35 days for about $2.22. The difference between $31.17 and $2.22 is only five cents. In other words, for only a nickel in time premium, you can receive the same amount of gain as a shareholder for the next 35 days at a cost of a nickel. Plus, if Pfizer declines in price for whatever reason, the maximum you can lose is $2.22, unlike a shareholder risking the full $31.17.
As the date for Pfizer's ex-dividend approaches, shareholders that own it are less likely to sell and investors that want to own it are more likely to buy before the ex-dividend date all else being equal from my experience. Intuitively it makes sense as well as dividends are a motivating factor in any investment thesis. The natural "lifting" effect is fully able to be capitalized through a call option. Also, keep in mind that there isn't a rule that says you must hold the option until the ex-dividend date. If Pfizer moves up $2.40 and your option doubles, you can take your money and run.
Eli Lilly (LLY) - Get Eli Lilly and Company (LLY) Report is another current example to consider if you're already interested in buying it. Eli Lilly pays 49 cents and trades ex-dividend on Feb. 12. As of this writing, you can buy shares for $55.07 or buy a February $50 call option for $5.20. The time premium for over a month of control is only 13 cents. A very small price to pay all things considered.
At the time of publication, Weinstein had no positions in securities mentioned.
This article represents the opinion of a contributor and not necessarily that of TheStreet or its editorial staff.