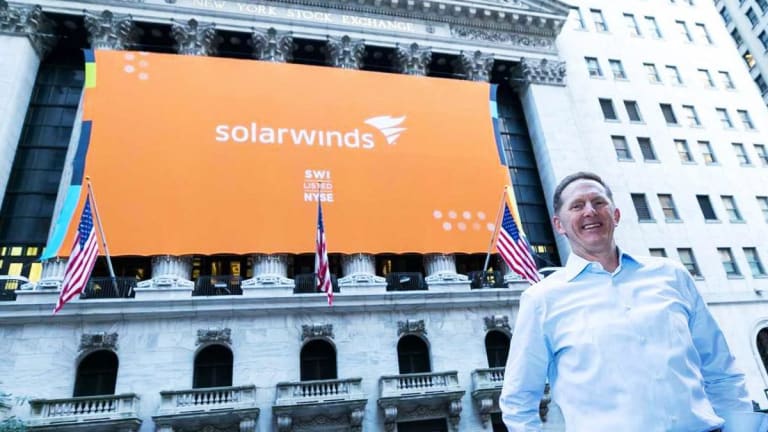 SolarWinds CEO: We Manage More of Cisco's Products Than Cisco Does
In a wide-ranging talk with TheStreet, the CEO of the IT management firm that just went public again discussed cloud opportunities, the competition, IT spending trends and more.
SolarWinds  (SWI) - Get SolarWinds Corp. Report CEO Kevin Thompson isn't at a loss for words when talking about his company, its growth outlook and its many rivals.
On Friday, SolarWinds, which provides numerous software tools used by IT pros to manage their infrastructures, went public for the second time in its history. The company priced its IPO at $15, below an original price range of $17 to $19, and closed on Monday at $15.44. That leaves the company with an enterprise value (market cap plus net debt) of about $5.8 billion, or about eight times 2017 revenue of $728 million.
By comparison, the previously public SolarWinds was acquired for $4.5 billion in early 2016 by private equity firms Silver Lake and Thoma Bravo and subsequently saw healthy growth as a private company. Following Friday's IPO, the two firms each own approximately 44% of SolarWinds, according to the company.
TheStreet recently had a chance to talk with Thompson, who has been SolarWinds' CEO since 2010 and has worked there since 2006. Here's a recap of some of the topics discussed during a fast-moving conversation.
SolarWinds' Diverse Customer Base
Thompson was eager to stress that SolarWinds, which has more than 275,000 customers, has strong revenue exposure to both large enterprises and smaller businesses. "We're not just a small business company, we're not just a mid-market company, we're not just an enterprise company," Thompson said.
Among the Fortune 500, 499 firms are said to use SolarWinds's products. Some of these deployments are much larger than others, since SolarWinds depends heavily on a "land-and-expand" sales strategy through which the company banks on small deployments becoming larger over time. Thompson claims SolarWinds has "many, many hundreds of examples of large companies that started out with sub-$5,000 transactions," but which wound up buying millions of dollars worth of SolarWinds's products.
He compared this approach to sales growth to that of Atlassian (TEAM) - Get Atlassian Corp. Plc Class A Report , a provider of collaboration tools that are widely used by developers and other IT pros, and which shares many customers with SolarWinds. "[W]e think about the world in a similar way," Thompson says.
Low Sales and Marketing Spend
SolarWinds' sales strategy is a major reason why its GAAP sales and marketing spend was only equal to 26% of its revenue -- a much lower percentage than what many business software peers report -- during the first six months of 2018. Looking at sales spend in particular, Thompson says that SolarWinds' sales costs as a percentage of the dollars that it books is less than 10%.
"We sell from the inside only," he adds. "We don't have any outside sales guys. We don't have any consultants or professional services. We never customize our software."
Meanwhile, SolarWinds's "viral" marketing strategy, which leans heavily on word-of-mouth among IT pros, helps keep marketing spend down. The company has over 150,000 registered members for its THWACK online community.
Competition from IT and Software Giants
SolarWinds has a long list of notable competitors. It includes traditional systems management software players such as CA Technologies (CA) - Get CA, Inc. Report (set to be acquired by Broadcom (AVGO) - Get Broadcom Inc. Report ), BMC Software and IBM (IBM) - Get International Business Machines Corporation Report , as well as the tools that companies such as Cisco Systems (CSCO) - Get Cisco Systems, Inc. Report  and Microsoft (MSFT) - Get Microsoft Corporation Report  provide for managing their own products. SolarWinds also competes against the cloud-based offerings of newer players such as New Relic (NEWR) - Get New Relic, Inc. Report and Cisco's AppDynamics unit.
SolarWinds, whose revenue grew 17% annually during the first six months of the year, is more than holding its own in this environment. The company claims it's now the No. 1 player in network management software, the No. 4 player in systems management (trailing Microsoft, Splunk (SPLK) - Get Splunk Inc. Report and IBM) and also a leader in remote monitoring/management and cloud management.
With regards to competition from firms providing tools to manage their own products, Thompson claimed that both the quality of Solarwinds' offerings, and their ability to manage products from multiple vendors, are differentiators. "We manage many more Cisco devices than Cisco does itself," he asserted.
Microsoft is a holding in Jim Cramer's Action Alerts PLUS member club. Want to be alerted before Jim Cramer buys or sells MSFT? Learn more now.
Cloud Adoption and Competition
When asked about the impact that the adoption of public cloud platforms such as Amazon Web Services (AWS) and Microsoft Azure is having on SolarWinds, Thompson declared it to be an unequivocal positive. "Public cloud has been an addition to the volume of IT infrastructure deployed today," he said.
At the same time, Thompson estimated that public clouds (though growing fast) only account for 13% of deployed IT infrastructure today, which still leaves a large market for managing on-premise environments. He also noted SolarWinds's efforts to both update its on-premise software tools to support public cloud management, and to create products that can be deployed on public clouds. "I don't really care where you build your infrastructure, and I don't care how you need it to be managed," he said.
On the subject of competition from cloud management tools that the likes of AWS and Azure provide for their clients, Thompson once more argued that the multi-vendor products delivered by third-party software firms can do a better job of meeting customer needs. "In the history of IT, the provider of the infrastructure has never been a good manager of that infrastructure," he claimed.
Going forward, it's worth keeping an eye on whether the adoption of serverless computing services from cloud giants has any impact on the use of management tools from third-party vendors. Contrary to its name, serverless computing still requires servers, but it offloads the provisioning and management of server virtual machines to the cloud provider.
Subscription Revenue Growth
Like many other software firms, SolarWinds' revenue mix has been shifting towards subscriptions and away from traditional software licenses and maintenance revenue. This has been fueled by strong growth for both management tools deployed on public clouds, as well as subscription-based offerings sold by managed service providers (MSPs).
However, with SolarWinds still selling plenty of traditional licenses to IT pros, the pace of its shift towards subscriptions hasn't been as rapid as what many other software firms have seen. Of the company's revenue during the first six months of the year, 32% came from subscriptions, and Thompson indicated this number is expected to grow by 1-to-3 percentage points per year.
IT Spending Trends
This year has been a pretty strong one for IT spending, and though worries about interest rates and trade tensions have recently flared up, Thompson doesn't see any sign that conditions are worsening.
"[A]s I look out over the next 15 to 18 months, I see no indication that there's going to be any change in the IT spending trend," he said, while noting that both "external data points" and discussions with customers suggest spending remains healthy.