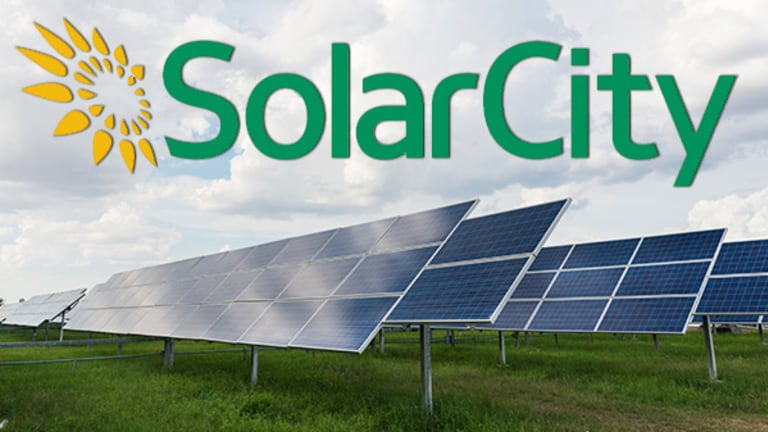 Publish date:
SolarCity's Dim Results Present Other Buying Opportunities
Factors tearing at the shares of residential installers like SolarCity could present a buying opportunity for promising industry subsector players, such as SolarEdge Technologies.
Factors tearing at the shares of residential installers like SolarCity could present a buying opportunity for promising industry subsector players, such as SolarEdge Technologies.
SolarCity's (SCTY) less-than-stellar earnings report Tuesday is weighing on the solar energy industry, dragging down top rivals including Vivint Solar (VSLR) - Get Report. And though revenues were up at Elon Musk's SolarCity, the companies watched their stocks tumble as investors continued to show their impatience with costly customer acquisition and rampup of these company's operations.
Still, the depressed solar industry may still present buying opportunities, not only in residential solar companies like SolarCity, but also companies that help service companies including Israeli solar power tech manufacturer SolarEdge Technologies (SEDG) - Get Report.
For the third quarter in a row, SolarCity's shares took a beating following an earnings release in which it reported a net loss attributable to shareholders of $25 million, or 25 cents per share, compared to a loss of $21.5 million, or 22 cents per share, a year earlier.
The solar power systems provider, which is backed by Musk, the founder of Tesla Motors (TSLA) - Get Report founder, saw revenues for the first quarter rise 81.6 percent to $122.6 million, while total operating expenses rose to $226.9 million from $147.4 million in the same period last year.
As a result, SolarCity stock tumbled 18% in pre-market trading, and continued that precipitous decline Tuesday, down around 25% to below $17 per share. 
This is becoming an unsettling trend for SolarCity, which saw its stock fall by as much as 35 percent in February following its fourth quarter earnings results when it failed to prove to investors it was becoming a more cash-flow positive entity.
SolarCity's recent woes are not solely its own, as share prices throughout the residential solar installation sector, including for rivals Sunrun (RUN) - Get Report andVivint Solar, were down Tuesday and have slumped since late April, but industry followers demonstrated on a conference call Monday that they continue to have little faith in SolarCity's pay-now-earn-later business model.
"SolarCity seems to be faced with re-proving the merits of their business model each quarter - facing either operational, regulatory, capital, or competitive challenges - in addition to painfully, yet gradually, transitioning the strategy more towards value than growth, causing significant ownership rotation," Credit Suisse analyst Patrick Jobin opined in a Monday note. "This quarter is no different."
Jobin said he is taking a constructive stance for his outlook, but admitted Monday that capital challenges facing the company will force investors to re-evaluate the merits, and valuation, of SolarCity's business.
Overall, analysts were a bit harsh on the company's earnings call, according to TheStreet's founder Jim Cramer. But Cramer did warn Monday that SolarCity "is a company that I regard as in a first-class crisis that acts as if everything is fine."
While investors may feel the need to be cautious of SolarCity, industry followers suggest similar woes may be putting an undue damper on otherwise solid stocks in the space. 
SolarEdge is another player who has been chewed up in the market following the Monday release of its fiscal third quarter financial report, despite posting better-than-expected per share earnings and a company record for sales. 
Earnings per share were 46 cents compared to analysts' consensus of 37 cents, while revenues were more than $125 million. Some analysts reacted a bit more favorably to SolarEdg's earnings, however, implying the depreciated stock value may present a good buying opportunity. 
"SolarEdge has managed to beat its guidance even as others in the industry are plagued by commoditization and slowing growth," Canaccord Genuity analyst Jed Dorsheimer noted Monday, reiterating its BUY rating for the stock. 
The company follower implied that the company's fourth quarter guidance of sales between $125 million and $134 million and gross margins between 29% and 31% falling short of the Street's expectations negatively impacted its stock. But he cautioned that "the stock's selloff is overdone in sympathy with industry woes."
"Although we feel the need to remain cautious and leery of future volatility on increased competitive and pricing pressures, SolarEdge has plenty of runway with increased automation, new product introductions, and a scaling commercial business," he said. 
Meanwhile, Barclays analysts Jon Windham and Daniel Ford wrote Monday that continued "negative investor sentiment around large U.S. residential installers and potential net-metering" remains a "key near-term risk" for investors of SolarEdge. 
Nevertheless, the company followers were optimistic that "SEDG's inverter/optimizer solution is well positioned for further share gains in the residential/commercial solar segments" and said SolarEdge remains the firm's "preferred exposure to the distributed solar market."