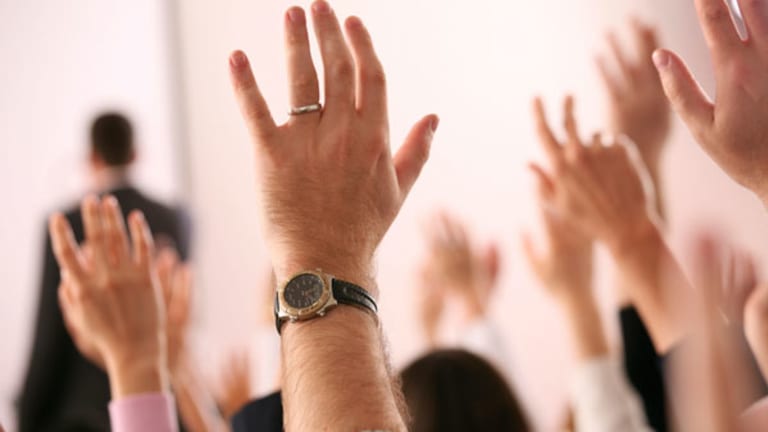 Solar Stocks: What's the Best Defense in 2011?
Is there a way to play the solar supply chain in 2011 that will insulate investors from the worst-case scenario?
(Solar story updated for Credit Suisse downgrade of solar sector)
NEW YORK (TheStreet) -- Investors are stepping off the gas after a healthy run for the solar sector in the latter part of 2010. Few of the solar supply-chain points have been getting much new investor money as a result of beat-and-raise quarters. Is there a way to play solar on a sector basis as opposed to company-specific basis that might give investors a read into more protected strategies even in a slowing market?
For all the solar company attempts to show that demand and pricing remain stable for the first half of the new year, investors seem content to wait on actual evidence to show up in December. Whether it's an inverter company beating and raising, a module maker, or a solar cell or wafer player benefiting from current pricing strength, doubts persist about 2011.
>>Solar Winners: LDK Rallies Alone
The latest negative sign for solar in 2011 came courtesy of Credit Suisse on Wednesday morning. Credit Suisse solar analyst Satya Kumar downgraded the solar sector from overweight to market perform. The headline of the Credit Suisse analyst's 2011 solar thesis report said it all: Strong supply growth appears set to overwhelm demand trends.
>>Solar Losers: Credit Suisse Call Sends Sector Slipping
"From a cyclical standpoint, we are unable to reconcile the supply growth with our still optimistic demand expectations, and hence we think there has to be a period of stock weakness," Credit Suisse analyst Satya Kumar wrote on Wednesday morning.
It's at least worth noting that Credit Suisse was out ahead of the last bullish call on the solar outlook, projecting a 2010 market of up to 12 gigawatts at a time when the market sentiment was bearish on the sector. Credit Suisse had the 2010 bull outlook right, and solar stocks sold off broadly on Wednesday morning after CS called for a reversal of the supply/demand balance in 2011, as the intra-day chart above of the solar index shows.
So is there a defensive posture in solar?
Vote Now on Solar Stock Picks 2011
Solar Stocks: What's the Best Defense in 2011?
In downgrading the sector, Credit Suisse kept only one buy rating, on
MEMC Electronic Materials
(WFR)
. CS argued that, "WFR is the only stock where we retain our Outperform, as we expect the company's semiconductor exposure should limit downside."
In the inverter space,
Power-One
(PWER)
reported another blow-out quarter and upped its guidance, and yet, pessimism about sustainable earnings has piled on the Power-One trade ever since its earnings. In the past month, Power-One shares are down by 8.5%.
>>Solar Losers: 5 Keys to the Power-One Selloff
The bear argument on Power-One -- that its core European market is due for a big fall next year and it can't make up the slack elsewhere -- doesn't impact a solar inverter company focused on the large-scale utility market in the U.S., like
SatCon
( SATC). SatCon shares are up in the past month by 10%, though year-to-date, the rise in SatCon shares is at a level less than half the 118% rise in shares of Power-One.
At a more general level, there are arguments made that inverter companies are more defensive plays than other companies in the solar supply chain, because they will absorb less of a declining average sales price dynamic than, for example, module makers where commoditization of product is much more advanced as a trend.
Still, at some point, pricing and margins can't be defended if a market enters into a major glut situation. This is what IMS Research is predicting for the inverter space in a new report. IMS Research estimates that inverter capacity will reach 30 GW by the end of 2010, and inverter companies are adding capacity of 40% for 2011. The overall PV market is expected to be flat in 2010, though, and the key market of Germany could be down by several gigawatts.
IMS Research argues in its new report that it seems likely that double ordering by panicky customers in 2010 has set up inverter companies for a big fall. Inverter suppliers will begin to see major order cancellations and large price drops in early 2011. A slow first quarter, when seasonality kicks in with the German winter, and the overhang of excess supply from the end of 2010, could lead to intense pricing pressure in the inverter space.
In the solar module market, whether the company reporting was
First Solar
(FSLR)
, focused increasingly on its solar project pipeline, or Chinese solar module upstart
Solarfun Power
( SOLF), the response has been the same from investors: a selloff.
Vote Now on Solar Stock Picks 2011
Solar Stocks: What's the Best Defense in 2011?
There are plenty of particulars to choose from in the reports, from Solarfun announcing a dilutive secondary offering to First Solar delaying some project plans that had previously been anticipated to sell before the end of the year.
>>Solar Losers: 4 Keys to the First Solar Selloff
Yet with feed-in tariff support still uncertain headed into 2011 in key markets like Italy -- where U.S. companies like
SunPower
( SPWRA) have major exposure -- and the Treasury cash grant program in the U.S. heading for expiration at the end of 2010 -- which led First Solar to start building a project it hasn't even sold yet -- the project pipeline play in solar is full of risks, beyond the inevitable project delays, lumpiness of revenue bookings, and margin deterioration.
At a more basic level of debate about the module market is whether the Chinese solar model of spurning any project acquisitions and focusing on one-off module sales based on driving costs lower and lower will be the winning strategy. On the other hand, if the European residential market falls off a cliff in terms of pricing and other markets don't make up the slack, solar module makers might be better off with a defensive project pipeline into which they can sell modules. If the sector is oversupplied, better to have a captive sales channel, or so the thinking goes.
Polysilicon prices were at all-time lows in 2010, too, leading to a greater cost advantage for the Chinese module makers. That advantage is going away in 2011, and cost-cutting initiatives will have to be more organic. More Chinese module makers are ramping up internal production of polysilicon, such as
Yingli Green Energy
undefined
and
LDK Solar
(LDK)
, but it's a race against the clock in terms of ramping up polysilicon production versus spot market buying and long-term contract purchases.
All bets seem to be off headed into 2011, yet if there's one group within solar that's got the advantage right now, it's been the input players, wafer companies like
ReneSola
(SOL)
and LDK Solar, with wafer pricing as tight as can be.
JA Solar
(JASO)
, likewise, has benefited from tight supply in the cell market. JA Solar and ReneSola both sold off this week after beat-and-raise quarters.
Yet LDK Solar is up 34% in the past month, and even after falling from a new 52-week high reached on Tuesday, it's showing the resurgence of at least one formerly out-of-favor input player. In LDK's case, it may have as much to do with its ever-risky balance sheet being less of a concern to investors right now, as it does the input pricing strength.
These companies, including LDK, are also moving up the chain of vertical integration as the short-term input pricing strength isn't seen as a long-term way to sustain earnings in solar. Wafer pricing, in particular, is expected to not see conditions like it saw in 2010 in the next year. Input costs are expected to hit the less vertically integrated solar module companies in the fourth quarter, before the pricing peak ends. JA Solar has forever been nagged by bear arguments that as a middle man it will ultimately get squeezed by its reliance on cell pricing strength.
LDK Solar has plans to produce 800 megawatts of modules next year. ReneSola has plans to increase module shipments by 48% next year. LDK sold just over 90 megawatts of modules in the third quarter and has plans for sales of roughly 120 MW to 130MW of modules in the fourth quarter. Are these input players on the road to vertical integration headed for better blended margins, or are they simply being overaggressive given potential overcapacity in 2011?
Vote Now on Solar Stock Picks 2011
Solar Stocks: What's the Best Defense in 2011?
Looking at the various points of intersection on the solar supply chain is just one way of thinking about the space, and it's a tenuous argument as far as a stock picker's mindset. Just look at the example of
STR Holdings
(STRI)
. The maker of the solar encapsulant used in module manufacturing has been a niche way to play the solar space without making a bet on any solar cell, wafer or module maker. It also doesn't matter to STR Holdings whether a module is thin film or crystalline silicon.
STR Holdings ran up to $27 this year as the "agnostic bet" in solar, yet it's still a bet on solar demand -- or in the least on the company's ability to maintain competitive positioning in a market that is ripe with low-cost competition and sudden commoditization of products made by former "untouchable" leaders. STR Holdings' third quarter earnings turned out to be the "spooky" event for investors, setting of all kinds of alarm bells about this former "agnostic" solar play about to lost its lead in the race. STR Holdings shares are down more than 20% since its earnings last week, though it was also trading at what some solar analysts considered a frothy valuation.
Ultimately, the points of intersection within the solar supply chain raise the question, is there a way to play solar that will better insulate investors in 2011, and that is theme-based rather than company-specific?
What's your favored strategy for solar stocks on a supply chain-specific basis?
-- Written by Eric Rosenbaum from New York.
RELATED STORIES:
>>Solar Winners: LDK Rallies Alone
>>Solar Losers: 4 Keys to the First Solar Selloff
>>Solar Losers: 5 Keys to the Power-One Selloff
>>Solar Winners: Time to Take the Money and Run?
Follow TheStreet.com on
and become a fan on
Copyright 2009 TheStreet.com Inc. All rights reserved. This material may not be published, broadcast, rewritten, or redistributed.