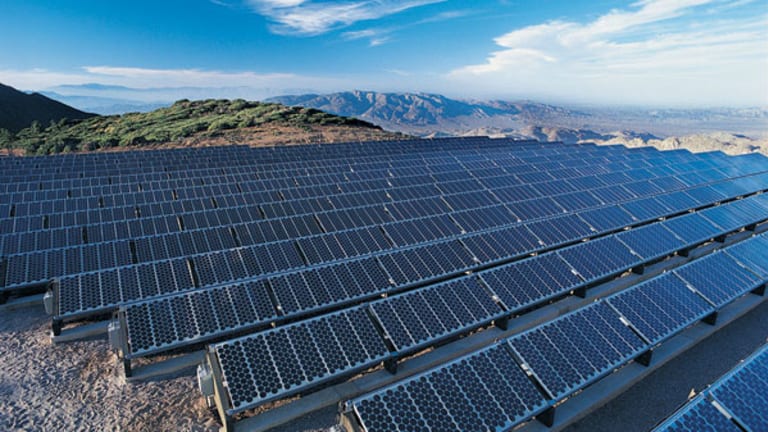 Solar Energy Stocks Get Second Wind Following 2012 Collapse
The solar energy sector has been making some big noise for investors since bottoming out in 2012.
The solar energy sector has been making some big noise for investors since bottoming out in 2012.
NEW YORK (TheStreet) -- The current recovery is about energy, just as the stagflation decade of the 1970s was about energy.
But while the collapse of solar stocks early this decade sent most investors rushing back into easier-to-understand fracking plays, the sector has recovered.
The two exchange-traded funds that track solar energy, the Guggenheim Solar ETF (TAN) - Get Report and the Market Vectors Solar ETF (KWT) , invest globally and are both up more than 100% since May 2012. Specific U.S. stocks that remain in the sector have done even better: First Solar (FSLR) - Get Report is up 344% since May 2012, and SunPower (SPWR) - Get Report, now mostly owned by Total (TOT) - Get Report, the French oil giant, is up about 500%. Since its December 2012 IPO, SolarCity (SCTY) has gained 344%.
The industry leader for gains, however, is SunEdison (SUNE) , the former MEMC, which produces silicon wafers, a basic material for polysilicon panel production. Over the last two years its shares have gained more than 1000%, coming back from the dead to their current price around $19.50.
First Solar, the longtime bellwether of the group, makes its solar panels from cadmium-telluride, a byproduct of mining. At one point General Electric (GE) - Get Report seemed poised to enter the business, but last year it backed out and sold its patent rights to First Solar, in exchange for common stock.
Since then First Solar has followed investor fashion. Sales shrank last year, by about 18%, but profits ballooned, to $3.70 per share. The first quarter of 2014, ending in March, saw sales up 25% on a year-over-year basis, and profits were almost twice what they had been.
SunPower, which had been a big money-loser in 2012, earned a profit of $95.59 million, or 70 cents a share, in 2013, and another $65.04 million, or 42 cents per share, for the first quarter of 2014. The company's focus is on high-efficiency polysilicon panels, which turn as much as 20% of solar energy striking them into electricity.
SolarCity is not a panel producer but an installer of panels. The idea is that by doing solar leases with homeowners and businesses, it creates assets for itself and for bondholders.
It is foolish to expect profits from a company whose business is piling up assets, during the piling-up stage, and SolarCity is no exception. In 2013 it actually lost about $1 for every $3 in revenue, and during the first quarter lost $1 for each $4 in revenue.
The idea is that its leases will pay off in the form of power over time, just as people who build skyscrapers lose money while they're building but wind up with powerfully performing assets once the skyscrapers are built.
SunEdison's financial results would seem to offer little reason for investor optimism, but it has become a favorite of well-known hedge funds, with Steve Cohen, David Einhorn and Leon Cooperman all holding stakes in the firm.
The financial turnaround they anticipate has yet to take place. For the first quarter of 2014 the company reported an operating loss of $78.1 million on revenue of $546 million. There was a small gross profit reported, $47.2 million.
But this is a busy boardroom. Its wafer business was spun out this month as SunEdison Semiconductor (SEMI) , and its stock has managed to hold its $13 IPO price. Meanwhile, the strength of its backers is squeezing the shorts, despite the underlying losses, and the stock is continuing to gain.
If the solar sector today has a problem, it is that it doesn't have more good plays. The crash early in the decade decimated the U.S. portion of the sector, and there aren't enough survivors, especially in the leasing space where SolarCity lives, to create great new opportunities for investors.
Expect that to change. The sector is seeing growth, and costs are in line. A 30% investment tax credit for panels will expire at the end of 2016 unless it's extended, but true "grid parity" should be achieved in many states by that date, according to the Institute for Local Self Reliance.
Solar's second wind seems to have some staying power.
At the time of publication the author owned shares of GE. 
This article represents the opinion of a contributor and not necessarily that of TheStreet or its editorial staff.
>>Read More: Laudani: Cautious Optimism on First Solar
>>Read More: You Want IBM's Cloud? You'll Have to Pay for Watson First