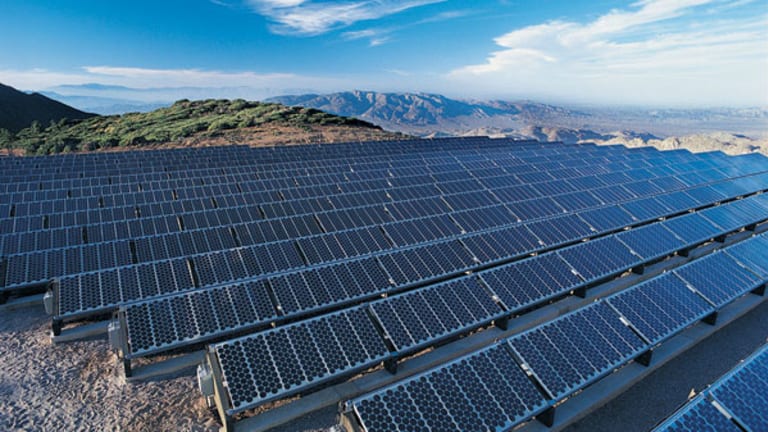 Solar Beyond Grid Parity
Costs for solar power are falling faster than anyone expected even a few years ago. But there's a flip side to energy abundance.
NEW YORK (
) -- Adapting to abundance can be as tough as adapting to shortage.
When I left Houston, on June 1, 1981, the economy was riding high on $50/barrel oil. There were construction cranes everywhere along I-610, with billboards advertising health treatments and new condos.
Driving through around Christmas of 1984, I saw a completely different scene. Houston was in depression. Potholes filled the highway, and billboards now advertised churches or stood unrented. The sour smell of broken dreams hung everywhere.
Back at my new home in Atlanta, these were happy days. Atlanta is a trading center, and trade was booming. The decade-long real estate recession that began in 1974, just as Houston took off, had finally ended. It was truly morning in America. Just not in Texas.
I thought about those scenes on Friday after looking at
showing the manufactured cost of solar panels is going down even faster than expected, and could reach 36 cents/watt by 2017.
This led me to a map produced by the Institute for Local Self Reliance
, showing the market impact of various prices for installed solar panels. (Manufactured cost is one thing. What you buy is the installed cost.) The map showed average installed prices of $3.72/watt for 2013, and a fairly small market.
But I had just called a friend who's in the business, asking about his own bids on slightly larger projects, the kind that can be installed on convention centers or next to factory buildings. What price was he quoting for installed panels? I asked. The answer came back quickly, about $2.50/watt -- and he wasn't the winning bidder.
Plug that price into the ILSR map and you get a vastly different picture. At that price Georgia could sustain a market of almost 6.3 Gwatt. Grid parity would have been achieved in all but four to six states.
None of this assumes big breakthroughs in technology. The GTM report indicates costs will be cut, incrementally, in several areas to reach that 36 cent/watt price.
Yet, breakthroughs are coming.
Stuart Wenham, former chief technology officer for
Suntech Power
(STP)
, one of the Chinese companies blown out in the recent market shake-out, told the
Sydney Morning Herald
he has found a way to cover up defects in silicon using hydrogen atoms, which will allow low-quality silicon wafers to perform like high-quality wafers and raise efficiency
That's a 23% efficiency for garden variety, polysilicon solar panels -- not terribly different from those you can buy at
your local Lowe's (LOW) - Get Lowe's Companies, Inc. Report
right now.
Then there are new materials, like nanowires made of gallium-arsenide,
, and solar cells you can print,
as described by BusinessGreen.
Reneweconomy.com.au
recently wrote about
and Maryland's Ronald Ace has told
McClatchy Newspapers
he has another new technology
that could revolutionize the space.
Back in April the Department of Energy's ARPA-E group held a two-day conference on
"Solar Beyond Grid Parity."
There are huge opportunities here, in storage, in power management, in smart grid technologies that either supplement our electric grid or in some cases replace it.
But there is a flip side to energy abundance. If you're an investor, you need to be ready for that. You don't want to end up like Houston did in 1984. Or the way Houston could end up again, if we pretend this rising tide of energy abundance is just a pipedream, not something that's in the pipeline.
At the time of publication the author had no position in any of the stocks mentioned.
This article is commentary by an independent contributor, separate from TheStreet's regular news coverage.