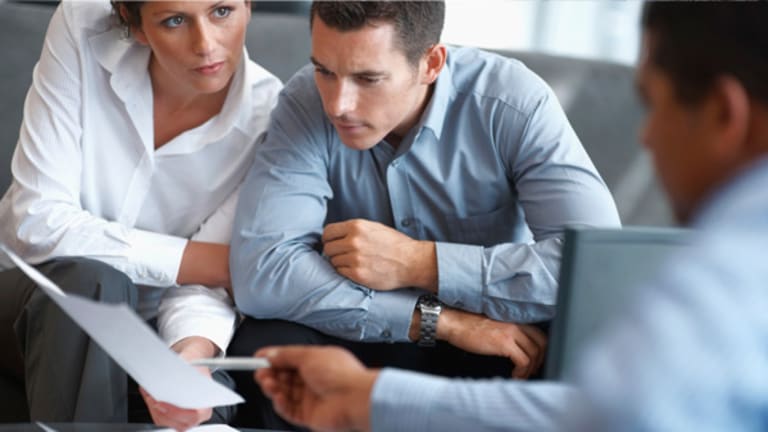 Sokol Serves Up Buffett for SEC: Today's Outrage
David Sokol is daring regulators to go after Warren Buffett and his former employer Berkshire Hathaway.
BOSTON (TheStreet) -- So let me get this straight: There is a job vacancy at a prestigious investment company where I can get access to a list of potential acquisitions prepared by investment bankers, I can trade on these ideas in my personal account, and I can profit on these investments by influencing what my boss ends up buying? Where do I sign up?
It's almost as if David Sokol is daring the
Securities and Exchange Commission
to take a harder look at Warren Buffett and
Berkshire Hathaway
, essentially offering up the bulletproof billionaire investor on a silver platter to regulators.
And they'd be stupid not to.
In a statement late Wednesday, Buffett announced Sokol's surprise resignation, disclosing that Sokol had purchased roughly $10 million in shares of
Lubrizol
(LZ)
before Berkshire acquired the chemicals company for $9 billion. Sokol, who had been chairman of several Berkshire subsidiaries, earned a nearly $3 million profit on the trades.
Buffett defended Sokol's purchases of Lubrizol, saying they were made before any discussions of a Lubrizol buyout were discussed. Buffett also pointed out that Sokol would have no voice in Berkshire's decision in buying the company. He even made it a point to say that Sokol's actions were not unlawful.
It doesn't appear that Sokol has the same loyalty for his former boss. Sokol became interested in Lubrizol after
Citigroup
(C) - Get Report
bankers
approached him with a list of possible transactions
last year, according to a regulatory filing. Sokol made personal purchases of Lubrizol before suggesting the company to Buffett.
Sokol's trades were an introductory course on how to front-run your company's portfolio. Common sense should have told Sokol to sell his stake in Lubrizol before passing the idea along to Buffett. Any other investor at a firm would have been found out and fired on the spot for front-running a portfolio.
Shockingly, Sokol doesn't seem to think what he did was improper.
on
CNBC
Thursday morning, Sokol insisted he never had inside information on the Lubrizol deal and that he never expected Buffett to move as fast as he did on the deal. Given the opportunity again, Sokol claims he'd still invest in Lubrizol but he wouldn't have passed the idea along to Buffett. That's akin to admitting guilt.
If Sokol does go down, he won't go down alone. In the interview with
CNBC
, Sokol claims other Berkshire executives held stock in companies that were targeted for an investment or acquisition. Sokol then called out Charlie Munger, Buffett's right-hand man at Berkshire, saying that Munger had a stake in Chinese automaker
BYD
before he recommended the company as an investment opportunity.
Regulators would be irresponsible if they didn't examine Berkshire now, considering the litany of questions prompted by Sokol's revelations. Was Lubrizol the only stock on Citigroup's list that Sokol also purchased? How many other lists have been generated and used in this same fashion? Does Berkshire even have a compliance department? Why does the company not have a restricted list?
Perhaps Sokol expects that the SEC will sit idly by. After all, Berkshire didn't fear retribution from the SEC when it pushed back after regulators looked more closely at how Berkshire wrote down investment losses.
After questioning from the SEC, Berkshire recorded nearly $1 billion in impairment charges on
Swiss Re
,
U.S. Bancorp
(USB) - Get Report
and
Sanofi-Aventis
(SNY) - Get Report
in the fourth quarter. However, the company refused to write down unrealized losses on its two biggest holdings,
Wells Fargo
(WFC) - Get Report
and
Kraft Foods
(KFT)
.
How this ultimately plays out is of great interest to me, as Sokol's actions are everything I've been taught to avoid and disassociate from. As a candidate in the CFA program, my first lesson in the entire curriculum involved ethical and professional standards. Sokol apparently skipped this realm of study.
The
highlights loyalty as a duty to clients as well as to employers. Sokol could very well have violated several other standards of professional conduct, including professionalism, integrity of capital markets and, of course, conflicts of interest. I've been taught from day one in the program that you should not trade on your own personal account when managing someone else's money. Investment firms typically have safeguards in place to prevent front running trades, although they seem nonexistent at Berkshire.
It's now up to the SEC to probe Sokol and take a closer look at Buffett's books. The SEC declined to comment about Sokol's trading disclosures with
TheStreet
, although the commission is reviewing Buffett's letter regarding Sokol's resignation and is considering whether to launch an investigation, a person familiar with the matter told
The Wall Street Journal
late Wednesday.
If the SEC does nothing, investors will lose whatever faith they have left in the regulator. In that event, perhaps I will apply to work at Berkshire Hathaway. Being employed by the Oracle of Omaha looks to be the best gig in the world, especially when a whisper in his ear can earn you $3 million in a matter of days.
-- Written by Robert Holmes in Boston
.
>To contact the writer of this article, click here:
Robert Holmes
.
>To follow Robert Holmes on Twitter, go to
http://twitter.com/RobTheStreet
.
>To submit a news tip, send an email to:
.
Disclosure: TheStreet's editorial policy prohibits staff editors, reporters and analysts from holding positions in any individual stocks.