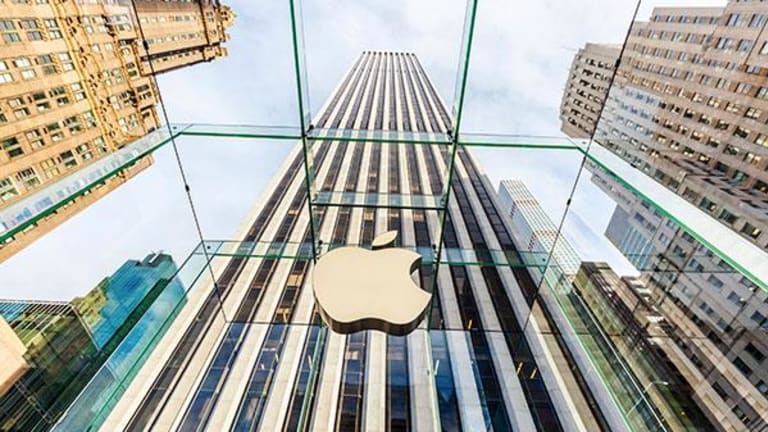 SoftBank's Acquisition of ARM Creates Big Opportunities for Apple
Apple's investment in China's Didi Chuxing, a competitor of Uber, creates a link with SoftBank, which recently acquired ARM, creating opportunities for the iPhone and in Apple's self-driving car endeavor.
Apple's (AAPL) - Get Report investment in China's Didi Chuxing, a competitor of Uber, creates a link with SoftBank in this market and in Apple's unofficial self-driving car endeavor.
Apple's investment also has the potential for increased sales of iPhones in China and India. In addition, Apple's relationship with SoftBank, which recently announced an acquisition of ARM Holdings, could resuscitate its relationship with the Chinese government over iBooks and iTunes.
Apple is a holding in Jim Cramer's Action Alerts PLUS Charitable Trust Portfolio. See how Cramer rates the stock here. Want to be alerted before Cramer buys or sells AAPL? Learn more now.
"Automotive is another example where because of what you can economically build in silicon there is an opportunity to make cars smarter, safer, use less fuel and just better. That comes about through having computers embedded in cars," Simon Segars, the chief executive of ARM  said in an interview, with The Guardian in February.
"If you extrapolate that further, you can get the car doing things for itself. The ultimate goal of self-driving cars I think is a few years away," Segars said.
"A self-driving car is going to need a lot of computer power in it, a car becomes a super computer on wheels," he said.
SoftBank's acquisition of ARM provides an entrance into the self-driving car market.
ARM holds a 5% share of the automotive chip market, but it has a 95% share of the automotive applications processor market and 30% of the embedded intelligence market, according to the company's first-quarter roadshow presentation.
One of ARM's key licensees in this area is NVIDIA. 
NVIDIA's DRIVE PX is the world's most advanced autonomous car platform, combining deep learning, sensor fusion and surround vision, according to the company.
DRIVE PX can fuse data from 12 cameras, as well as lidar, radar and ultrasonic sensors. This allows algorithms to accurately understand the full 360-degree environment around the car to produce a robust representation, including dynamic and static objects.
Didi Chuxing, the Chinese ride-hailing company formerly known as Didi Kuaidi, said in May that it received $1 billion from Apple, which was the largest single investment that the company has ever received. Didi Chuxing is Uber's biggest competitor in China, claiming 87% of the private ride-hailing market share with more than 300 million users across 400 cities.
According to CrunchBase, Didi Chuxing has 16 investors besides Apple:
The company highlighted is SoftBank, which announced the acquisition of ARM on Monday for $32 billion.
Last year, SoftBank contributed to Kuaidi Dache's $600 million Series D round. In February, the two main ride apps, Didi Dache and Kuaidi Dache, merged to form Didi Kuaidi, which became Didi Chuxing.
The company re-branded itself to appeal to a wider audience.
"Didi Chuxing is a much more broad concept. Chuxing means travel, commute in Chinese," said company President Jean Liu.
When Apple made the announcement for the investment in Didi Chuxing in May, Chief Executive Tim Cook said in an interview that he saw opportunities for Apple and Didi Chuxing to collaborate.
"We are making the investment for a number of strategic reasons, including a chance to learn more about certain segments of the China market. Of course, we believe it will deliver a strong return for our invested capital over time as well," Cook said.
He was likely including the Chinese government.
By investing in Didi Chuxing, Apple is also positioning itself for an alignment or realignment with China. It is one of the few times that Apple made an investment in a company rather than an outright acquisition.
Apple is showing the Chinese government that it wants to be a partner in China's future. The Chinese word is Guanxi, the system of social networks and influential relationships that facilitate business and other dealings.
In mid-April, China shut down Apple's iBooks Store and iTunes Movies. One month later, Apple invested in Didi Chuxing.
Another takeaway from the investment is that the Chinese taxi-hailing infrastructure is based on smartphone apps, and Didi Chuxing is one of the largest smartphone-based transport services. That could mean the potential for an iPhone in every Didi Chuxing car.
The investment by Apple as part of Didi Chuxing's investment by SoftBank has another important takeaway.
According to an article in Forbes last December, "India's most popular cab-summoning app startup Ola, China's foremost cab hire start-up Didi Kuaidi, San Francisco-based ride-sharing app Lyft and Singapore's GrabTaxi will offer seamless ride-sharing coverage for travelers in India, China, South East Asia and the United States. India and China are the world's fastest-growing ride-sharing markets, while the United States is the world's biggest."
The article continued, "The four start-ups have Japan's SoftBank in common, directly or indirectly. SoftBank has investments in Ola, GrabTaxi and Didi Kuaidi. SoftBank-backed Alibaba has funded Didi Kuaidi, which has invested in Ola, Lyft and GrabTaxi. In a sense, it is now becoming an Uber versus SoftBank battle in the global cab-sharing arena."
The door is now swung open for Apple to not only access the taxi-hailing Chinese market but the markets in India, Singapore and the U.S.
India is important to Apple, with second-quarter iPhone sales rising 56% in that country. But India is a price-conscious market with nearly 70% of the smartphone sales below $150, and iPhones are priced significantly higher than that.
The complex relationship between Apple, SoftBank and Ola could lead to further iPhone sales, not only through the potential for "an iPhone in every Ola" but through a realignment in Apple's strategy in India.
The investment by Apple in the Chinese taxi-hailing market opens up endless possibilities for the company, including revenue generated in that market, greater iPhone sales in China and India, a more positive and profitable relationship with the Chinese government, and an opportunity to realign its strategy in India.
The synergy between Apple and SoftBank, through its acquisition of ARM, opens the door to a closer relationship between Apple and ARM's chip set capabilities for the self-driving car that Apple hasn't officially announced.
This article is commentary by an independent contributor. At the time of publication, the author held no positions in the stocks mentioned.