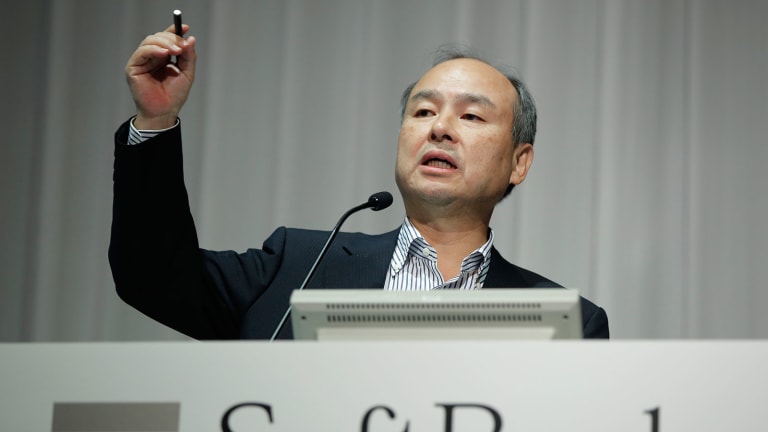 SoftBank Posts 19% Net Profit Growth After Alibaba, Supercell Sales
Founder and CEO Son says he sees a sharp recovery in subsidiary Sprint.
SoftBank (SFTBY) said net profit  jumped 19% in the first quarter after the Japanese telecom giant sold its investments in Alibaba Group, (BABA) - Get ReportGungHo, and Supercell.
The earnings report comes after SoftBank on July 18 announced it would acquire U.K. chip designer ARM Holdings for about £24.3 billion ($31.9 billion).
Net profit for the three months through June 30 rose to ¥254.2 billion ($2.42 billion) from ¥213.4 billion, on 3% revenue growth to ¥2.12 trillion from ¥2.07 trillion. The Tokyo-based telecom and Internet conglomerate also said the ratio of net interest-bearing debt to Ebitda will increase to 4.4 times from 3.8 times at the end of March following the ARM purchase.
During the three months, the company, led by founder and CEO Masayoshi Son, sold off a string of assets to cut debt. The selloffs included investments in Chinese e-commerce company Alibaba Group, most of its stake in Tokyo-based game maker GungHo, and all of its holding in Finnish game developer Supercell.
SoftBank's costly acquisition of ARM raised eyebrows but Son said he sees a significant growth prospect for the semiconductor intellectual property company. Son said the acquisition was aimed at capturing opportunities emerging from a shift of focus in the technology arena, from mobile Internet to Internet of Things, an area which ARM has poured resources into. ARM's board of directors unanimously agreed to the takeover.
On Monday, second-quarter results for SoftBank subsidiary Sprint (S) - Get Report showed that revenue came in slightly ahead of market expectations as the American telecom gained net phone subscriptions and kept churn rates, or customer defections, at a record low.
Son told reporters that prospects had become clearer for a sharp recovery at Sprint, which had been a drag on the group so far.
 SoftBank's first-quarter results were announced after the market closed in Japan. SoftBank's shares closed down 1.03% at ¥5,366. Sprint shares closed down on Wednesday down 7.4% at $5.79.