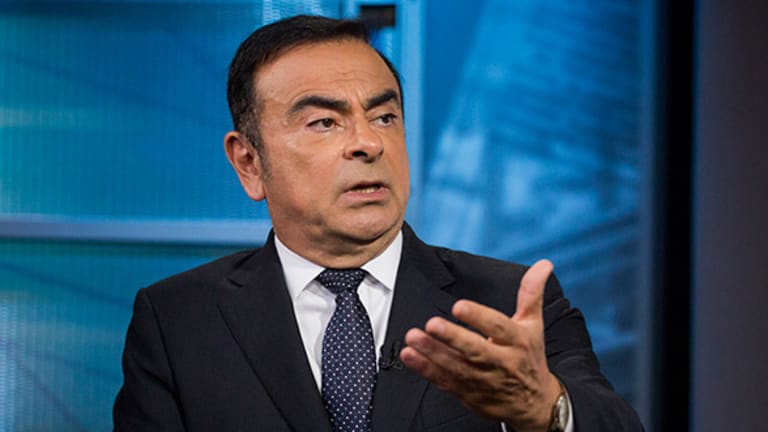 Publish date:
Socialist French Government Stands Down on Meddling in Renault-Nissan Alliance
The successful global automaking venture faces a threat if the power relationship is altered. CEO succession may be at the heart of government's moves.
The successful global automaking venture faces a threat if the power relationship is altered. CEO succession may be at the heart of government's moves.
The French socialist government of President Francois Hollande, whose popularity rating has sunk to below 25%, may be coming to its senses by toning down its meddling in Renault's (RNSDF) automotive alliance with Nissan (NSANY) .
Over the weekend, Prime Minister Manuel Valls took to the airwaves to assure listeners that France "wants to conserve the alliance." Valls added: "We don't want a merger" between French automaker Renault and Japan's Nissan. 
Emmanuel Macron, economy minister, added on Tuesday that France intends to reduce to its stake in Renault to 15% from nearly 20%, although he favors "operational integration" between the two companies, a meaningless stipulation since the two already share substantial resources, designs, parts and personnel. 
The government's rethinking of its interference with the highly successful collaboration between the two automakers is welcome. The French left, which favors the nation's 35-hour workweek and increasing government control over manufacturing and the economy, naturally is upset and could assert itself once more, which would be a shame. 
Carlos Ghosn, CEO of both Renault and Nissan, has achieved a remarkable international partnership between two car companies, separated by national culture while linked by the need to create economies of scale. Renault owns nearly half of Nissan and controls the latter; Nissan owns a non-voting stake in Renault and has grown financially prosperous. Together they have a market capitalization of about $77 billion. 
A glance at France's Citroen and Italy's Fiat shows that automakers unable to forge global mergers or alliances with global scale are bound to struggle. But it's also true that global mergers can be prone to spectacular failure, as DaimlerChrysler proved. 
Renault offered a unique approach in 1999, when it rescued Nissan from the brink of bankruptcy. Ghosn, of Lebanese and Brazilian extraction, devised the alliance between the two, allowing some autonomy for each company while insisting on cooperation. Many predicted disaster when Ghosn confronted such fundamental aspects of Japanese workplace culture as the concept of lifetime employment.
Japan's government hasn't tried to undo the relationship.  But the latest moves by France to increase control are alarming to the Japanese, who don't want to see their company absorbed by Renault. 
The alliance arguably has saved many French jobs, bolstered French manufacturing prestige, and afforded Renault access to Nissan's engineering and design expertise. Why, then, did France raise its stake in Renault and pass a law that would double its voting power in the company? To give the government effective veto power in Renault's boardroom? 
The answer may lie with concern for Renault's future. Ghosn, 61, shows no signs of preparing for retirement. But his eventual departure will stress-test the alliance and the management skills of his successor. Meantime, Nissan has grown out of its role as junior partner and become the more valuable of the two companies, at least in terms of market capitalization. The French government may be attempting to forestall a breakup that would leave Renault isolated. 
A number of potential successors to Ghosn have left Renault for various reasons during the alliance's 16-year history, making CEO succession unclear. Jose Munoz, the head of Nissan's North American operations, looks like a leading candidate at the moment. A solid, deep leadership cadre and a transparent succession plan might be the alliance's best defense against well-meaning French politicians.
Doron Levin is host of "In the Driver Seat," broadcast on SiriusXM Insight 121 on Saturday at noon, repeated Sunday at 9 a.m.
The writer has no financial interest in the aforementioned companies.