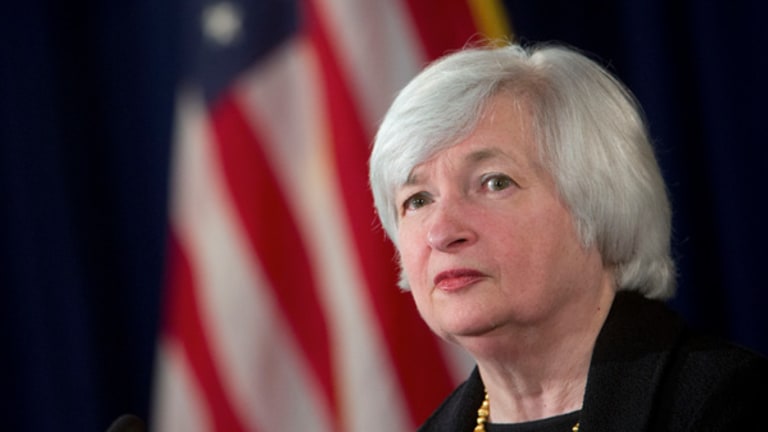 So When Are Rates Rising? How to Handicap the Fed's Latest Message
If oil prices and Europe stabilize, rates could start rising after the April 28-29 meeting. But here's why June is still more likely as a start to higher rates.
NEW YORK (TheStreet) -- The Federal Reserve's policy statement had a little something for everyone Wednesday. While keeping the "considerable time" pledge on raising interest rates, the central bank also said it would be "patient."
In case there was any confusion, Fed Chair Janet Yellen pointedly said the change in language didn't signal "a change in policy." But investors weren't so sure. Stocks initially rallied sharply, then trimmed some of their gains, then rallied again. Bond yields initially fell, then rose.
The key, perhaps, was Yellen's comment  that the Fed would be patient for "at least the next couple of meetings." That means a rate hike could come any time after March. If oil prices and Europe stabilize enough that the Fed can focus mostly on the the U.S. economy, rates could start rising after the April 28-29 meeting. But the best bet is probably still June. Only if the global scene looks chaotic next spring would the Fed wait until September.
The case for an April move turns on U.S. economic data for the next two quarters, independent economist Joel Naroff said.
Naroff, who has been toward the bullish end of forecasts pretty consistently since 2012, thinks that consumer spending will rise as much as 3.5%, annualized, in each quarter, up from an average of 2.35% the last two quarters. And that could make the Fed move as soon as April.
A lot depends on gasoline prices, he says. The average family is expected to spend $544 less on gas next year than this year, which means as much as $100 billion more in consumer spending, Naroff says.
Consumer spending on goods already is rising almost 4% a year, so the extra money could bolster spending on services, he adds.
The services sector -- which makes up three-quarters of the U.S. economy -- includes everything from restaurants like Dave & Buster's (PLAY) - Get Dave & Buster's Entertainment, Inc. Report and Cheesecake Factory (CAKE) - Get Cheesecake Factory Incorporated Report to vacation-related businesses like Priceline (PCLN) and Expedia (EXPE) - Get Expedia Group, Inc. Report , as well as airlines like Southwest (LUV) - Get Southwest Airlines Co. Report and hotel chains like Marriott International (MAR) - Get Marriott International, Inc. Class A Report .
"We could have a really big first quarter," Naroff said. "You've got pressures on wages building. When will they burst?"
The wrinkle: There's no press conference scheduled after the April meeting, and the Fed usually makes big changes when it has a chance to explain them. But a reporter asked Fed Chair Janet Yellen about that, and she was very emphatic that officials could set a press conference if they needed to.
Before this week's meeting, most economists thought the Fed would move in June, and that's probably still true.
The case for June is that it will take about that long for the labor market to firm enough to begin pushing wages higher, Barclays' Michael Gapen wrote Thursday.
"The timing and pace of the tightening cycle in 2015 will be driven by conditions in labor markets, as opposed to developments in actual inflation," Gapen said. He expects rate hikes to accelerate only in 2016, as unemployment improves faster than the Fed projects.
The case for September begins with a question: where's the inflation that will make the Fed act?
There's little reason for the Fed to push rates higher sooner, Bank of America Merrill Lynch's Michael Hanson argues. He noted that the members of the Fed's Open Market Committee lowered their 2015 and 2016 inflation forecast yesterday. He also thinks the disagreements within the Fed about rate policy will tend to make them change policies more slowly.
One thing he didn't mention, but Sterne Agee's Lindsey Piegza did: the composition of the Committee's voting membership gets notably more dovish in 2015. Philadelphia Fed President Charles Plosser and Dallas Fed President Richard Fisher both end their terms as voting members at year-end, and have been the committee's leading advocates of higher rates, sooner. The only true hawk next year will be Richmond Fed President Jeffrey Lacker, she added.
With the meeting in the history books, investors need to remember two things.
First, the Fed is still "data-dependent." If you want to know what the Fed will do, watch the data. Especially, watch the inflation data. Signs of inflation pushing past a 2% annual rate would be the surest trigger for rate hikes sooner.
Signs that Europe is getting strong enough to not need quiet help from the U.S. would also point to earlier U.S. hikes.
Second, higher rates are no disaster for stocks, despite conventional wisdom that easy money sparked the current bull market. As Sam Stovall of S&P Capital IQ has noted, stocks usually rally after rate hikes for a simple reason -- they happen when the economy is doing well and businesses are making more money.
This article is commentary by an independent contributor. At the time of publication, the author held no positions in the stocks mentioned.