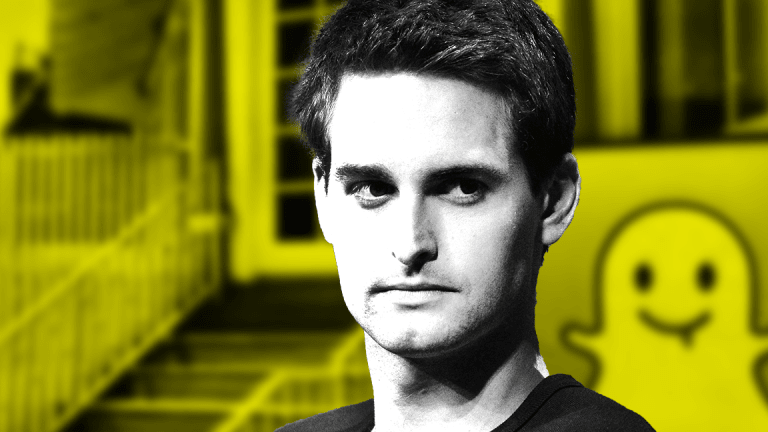 Snap Will Need to Raise Cash By 2020 Unless It Makes Some Big Improvements
The Snapchat parent is expected to continue seeing heavy cash burn in 2019. To prove analysts wrong, it will probably have to improve both revenue growth and its cost structure.
While it's premature to declare that Snap (SNAP) - Get Snap, Inc. Class A Report can't survive as a public company, it clearly has some major financial issues to fix.
Snap's shares, already hurting this year following disappointing Q1 and Q2 reports, tumbled two weeks ago after MoffettNathanson analyst Michael Nathanson forecast the company's cash burn will require it to raise money as soon as mid-2019. He also slashed his 2019 and 2020 revenue estimates for Snap, citing user growth pressures and slower average revenue per user (ARPU) growth.
The stock has remained at depressed levels since, ahead of Snap's Thursday Q3 report. Shares are down 53% on the year, and 60% from their $17 early-2017 IPO price.
Will Nathanson's forecast about cash burn prove accurate? Perhaps, although Snap might be able to hold off on raising capital for a little beyond mid-2019, depending on how it executes in the upcoming quarters.
At the end of June, Snap had $1.57 billion in cash, and no debt. However, in spite of recent job cuts, the company is still burning cash at a pretty healthy clip, thanks in large part to the massive checks it has to cut to Alphabet/Google (GOOGL) - Get Alphabet Inc. Class A Report and Amazon.com  (AMZN) - Get Amazon.com, Inc. Report for handling its cloud infrastructure needs. Supporting large quantities of consumer-generated video isn't cheap for anyone, and it's even more expensive when one has to rely on a third party for it.
Snap's cash burn totaled $502 million during the first six months of 2018, and is expected on average by analysts to total $217 million and $157 million in Q3 and Q4, respectively. In addition, Snap's 2019 free cash flow (FCF) consensus currently stands at negative $617 million.
Were those FCF estimates to prove accurate, Snap would burn slightly less than $1 billion in cash from mid-2018 to the end of 2019. Although one has to assume Snap would want to raise cash at least a few months before its coffers run dry, such a cash-burn rate would allow the company to avoid raising capital until 2020, should it wish.
Of course, it's worth keeping in mind that Snap is also expected to grow its revenue 35% next year to $1.55 billion. And that its daily active user (DAU) count, which fell by three million sequentially in Q2 to 188 million (the company blamed its recent redesign, but Instagram is also clearly a headwind), is expected to grow by 16 million from mid-2018 to the end of 2019.
If Snap's revenue only grows by, say, just 15% next year due to DAU pressures and the challenges of scaling an online ad business in Facebook (FB) - Get Facebook, Inc. Class A Report and Google's shadow, its cash burn could easily be worse than what analysts currently expect.
Moreover, if Snap happens to be seeing major user and/or revenue growth pressures while continuing to bleed cash at a healthy pace, one can count on equity and/or debt investors insisting on getting very favorable terms for any capital raise -- assuming a capital raise is possible at all.
If Snap can't raise capital at any kind of semi-reasonable terms, the company's best bet might be to put itself up for sale. In which case, Google might be the most plausible white knight, given its ability to improve Snap's cost structure and grow its ad sales.
On the flip side, Snap, whose non-GAAP operating expenses totaled about $500 million during the first half of the year, does arguably have some room to cut costs further. And with the company only producing $2.21 in average revenue per North American DAU in Q2, in spite of averaging over 30 minutes of daily usage, there's certainly more room to improve monetization by growing sales of both its Snap ads (video ads run against Snapchat Stories content) and its "sponsored" lenses and filters, which users can attach to photo and video messages.
Notably, in a recent employee memo in which he thoughtfully outlined Snap's product strategy and owned up to recent mistakes, CEO Evan Spiegel declared that Snap aims to be profitable for the whole of 2019. For comparison, Snap's 2019 analyst EPS consensus is currently at negative $0.91, and its non-GAAP net income consensus at negative $520 million.
However, with CFO Tim Stone stating on the Q2 earnings call that Snap's headcount at the end of 2018 will be "relatively consistent" with headcount at the start of the year, major cost reduction are unlikely in the near-term unless management has had a change-of-heart about its spending plans since August.
And while Snap does have room to improve ARPUs, the scale and data advantages possessed by Facebook and Google's ad businesses remain considerable. Moreover, Facebook is starting to get serious about monetizing its Snapchat Stories clones, a move that presents a fresh challenge for Snap's ad business. And as Spiegel hinted in his memo, claiming a larger share of social ad budgets could prove challenging if Snap isn't seeing healthy DAU growth.
Ultimately, Snap's financial story still features quite a few big unknowns. While it's not hard to imagine the company's cash burn being better than what analysts model if the firm cuts costs and gets better at monetizing Snapchat, it's also not hard to imagine it being worse, given the challenges posed by rivals and Snap's cost structure.
And should analyst expectations for cash burn be close to accurate, it's only a matter of time before Snap has to raise capital or put itself on the block.