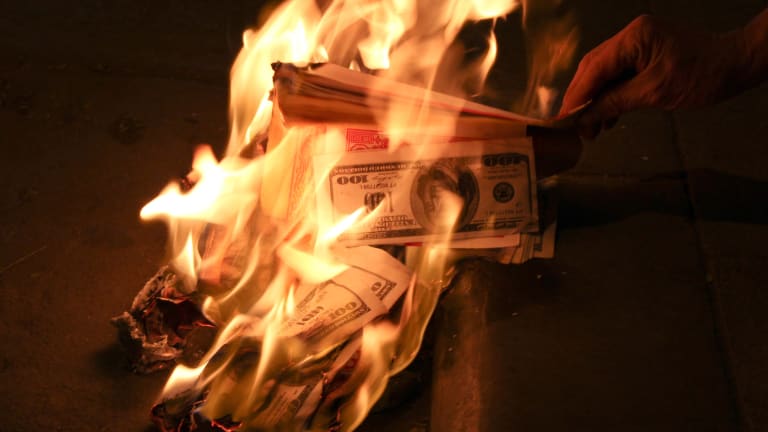 Snap's Possible Worst Day Ever, Blue Apron's Crash Thursday's Hot Tickers: SNAP, FB, DIS, APRN
These are the hot names in the market.
Forget low summer trading volumes, everyday is hot in the stock market. At least when it comes to this daily post. 
Disney Still in Focus
Disney (DIS) - Get Walt Disney Company Reportshares took a dive on Wednesday after it stuck it to Netflix (NFLX) - Get Netflix, Inc. Report and reported mixed third quarter results. While a similar drop is unlikely on Thursday, that doesn't mean the company's performance isn't very much in focus. TheStreet took a look at the cost for a family of attending Disney as the company called out higher prices for food and hotels within its parks segments. The cost increases are starting to pile up, and one has to wonder when families simply seek out lower cost vacation alternatives. 
An AirBNB on a good location sounds fun, no?
Disney shares traded down 1.03% to $101.77 midday Thursday.
Read full story here. 
Showtime for Snap
Snap Inc. (SNAP) - Get Snap, Inc. Class A Report will have a lot to prove when it reports second-quarter results after Thursday's closing bell.
Wall Street expects Snap to report a loss of 30 cents per share on roughly $186 million in sales. Daily active users are expected to increase modestly to 174 million, compared to the 166 million it had during the previous quarter. That number still pales in comparison to the 250 million daily users on Facebook's Instagram Stories -- its copycat version of Snapchat Stories, which allows users to post videos or images that disappear after 24 hours. Instagram Stories is also growing at a much faster clip than Snapchat Stories, adding 100 million new DAUs since January.
Investors will be laser focused on whether the newly public social media company can demonstrate user growth, narrowing losses and momentum in its advertising business. On top of that, Snap also faces pressure to show that it's successfully fending off competition from Facebook Inc. (FB) - Get Meta Platforms Inc. Class A Report , which has mimicked feature after feature from its younger social media rival.
Facebook Top Exec Sheryl Sandberg: 'No Tolerance' For Sexual Harassment
But some have begun to acknowledge that Snap isn't going to grow as fast as Facebook or Instagram. Snap CEO Evan Spiegel's user strategy seems to indicate this. On the company's first-quarter earnings call, Spiegel and other executives said Snap isn't concerned with entering developing markets right now; instead, Snap is focusing on core geographies like North America and Europe, where engagement has proven to be consistently high.
Snap stock traded down 0.15% to $13.54 midday Thursday.
Read full story from TheStreet's Annie Palmer here.
Oh Tesla
Tesla (TSLA) - Get Tesla Inc Report has all sorts of thinks crackling in the fire. 
Tesla is developing a long-haul, electric semi-truck with autonomous driving capabilities that move in "platoons" and automatically follow the direction of a lead vehicle, Reuters reports.
The electric carmaker is said to be nearing the completion of a prototype of the trucks, according to an email obtained by Reuters between Tesla and the Nevada Department of Motor Vehicles.
TheStreet explains why these robot trucks sucks for billionaire Warren Buffett. 
Tesla stock traded down 1.2% to $359.16 midday Thursday.
It's Showtime for One of the Hottest Stocks on the Planet, Too
Fueled by its exposure to Bitcoin mania, shares of chip-maker Nvidia (NVDA) - Get NVIDIA Corporation Report have skyrocketed more than 60% this year. That puts pressure on execs to deliver big-time when the company reports second quarter earnings on Thursday after the close. 
Those betting on Nvidia as a result of Bitcoin may want to reconsider their holdings after such a stellar run. TheStreet runs through why the initial coin offering market could be on the verge of exploding. 
Yes, exploding in a bad way. 
Nvidia shares traded down 3.47% to $166.18 apiece midday Thursday.
Read full story here. And in the meantime, learn about Bitcoin and Nvidia by watching this one. 
Watch Your Back, YouTube
Facebook (FB) - Get Meta Platforms Inc. Class A Report will launch Thursday its foray into premium video, unveiling a new "Watch" tab on its mobile app. Watch out, YouTube owner Alphabet (GOOGL) - Get Alphabet Inc. Class A Report .
The new tab will be available to select users in the U.S. from Thursday before it is released more widely and feature professionally produced short-form content from partners including, A&E, Hearst, Major League Baseball and National Geographic.
Facebook stock traded down 1.93% to $167.88 midday Thursday.
Read full story by TheStreet's Lisa Botter here.
Be Worried About Blue Apron
The market first cheered Blue Apron's (APRN) - Get Blue Apron Holdings, Inc. Class A Report better than expected second quarter loss. But, then shares reversed and are now tanking more than 15%.
Beneath the surface there are serious concerns. 
For example:
The company continues to burn through cash at an alarming rate. 
The company slashed marketing expenses from the first quarter, and the number of customers subsequently dropped 9%. 
The use of even more premium ingredients to satisfy lazy millennials clipped profits. 
Watch: Jim Cramer on What Amazon-Whole Foods Means for Blue Apron
If you want to lose money, this is the stock for you.
Blue Apron stock nosedived 16% to $5.28 per share midday Thursday.
More of What's Trending on TheStreet:
These 11 Cars Embarrassingly Lose Half Their Value in Three Years
Snap's 'Make or Break' Moment Has Arrived
Apple to $2 Trillion