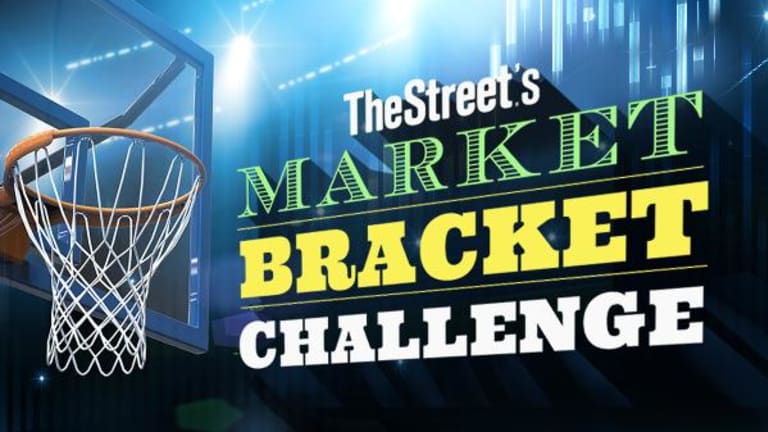 Publish date:
Facebook Squanders Snap's Title Hopes, Nike Advances: Challenge Update
Here's your update through four rounds of action in TheStreet's Market Bracket Challenge.
Here's your update through four rounds of action in TheStreet's Market Bracket Challenge.
After a tough four rounds, we are down to four stocks remaining in TheStreet's Market Bracket Challenge, and the intensity isn't letting up.
The Cinderella story has ended for Snap (SNAP) - Get Report , with tech heavyweights Apple (AAPL) - Get Report  and Facebook (FB) - Get Report advancing along with apparel company Nike (NKE) - Get Report and genetic-testing company Illumina (ILMN) - Get Report  to the Round of 4.
Apple, a holding in Jim Cramer's Action Alerts PLUS charitable portfolio, is the highest-ranked stock remaining in the tournament as a five seed and moves on to the Round of 4 to take on Nike, while Facebook and Illumina will spar in the other semifinal matchup. The matchups will be decided by the sheer percentage increase from the start of trading Thursday through the close of trading Friday.
But to really analyze the next round, let's look back at the highlights, and lowlights, from the Round of 8:
Facebook's Copycat Tactics Mute Snap's Epic Run (SNAP vs. NKE) & (FB vs. HD)
Though the matchup in TheStreet's Challenge was Snap vs. Nike, all eyes over the past two days have been on Snap's bout with Facebook. Snap shares took a dive on Tuesday and didn't recover enough in the second half (Wednesday) after Mark Zuckerberg's social media empire launched its latest attack on the fledgling, self-described camera company.
Snap closed down nearly 3.7% over the past two days of the tournament, reversing gains of nearly 5% on Monday that were spurred by a slew of bullish notes from more than a dozen of Snap's underwriting banks. News Wednesday that Snap would be the home of exclusive Olympic-themed content during the 2018 Winter Olympics via a deal with Comcast's (CMCSA) - Get Report NBCUniversal unit did help bolster the stock a few percentage points, but not enough to move the needle.
The copycat tactics for Facebook were enough to propel the company to victory in its own Challenge matchup against Atlanta-based home improvement chain Home Depot (HD) - Get Report . Humiliation is your opponent asking where the ladders are so they can cut down the nets. Sorry, Home Depot.
Apple Gives CBS a Black Eye, Illumina's Bulls Charge (AAPL vs. CBS) & (ILMN vs. SWKS)
The house that Jobs built is heading into the tournament's semifinal round after tackling CBS (CBS) - Get Report , the host network of that other tournament going on right now, in the Round of 8. It's been all quiet in midtown Manhattan for CBS as there really hasn't been a trading catalyst for the company of late. Meanwhile, Apple has been on a tear after one analyst recently suggested the company could be worth $200 per share in the not-so-distant future, and critics already are saying that the Cupertino, Calif., tech company shouldn't be worried about the new competition from Samsung.
Skyworks was proving the bears wrong and marching right along though our bracket of 64. But the company's 0.08% loss over the past two days did little to help against Illumina, which finished the two-day span in the black. Illumina is a company that is bucking the health care trend of despair and is actually performing well. Illumina will take on Facebook for the right to play in the final.
Related Content:
Snap Continues to Prove Committee Wrong; Apple Hangs on in Duel With Micron
Snap's Cinderella Story Continues to Unfold as Nike Squeaks By AT&T
Snap Pulls Off Miracle, Can the Good Times Continue? An Update From the Challenge
The Inside Scoop on TheStreet's Market Bracket Challenge
Here's a Look at the 64 Best Performing Stocks Over the Last 4 Month
As denoted in the introduction, TheStreet has ranked some of the best-performing and most widely held stocks in the S&P 500, based both on their appreciation over the past four months and their prospects for the coming weeks.
DISCLAIMER: This challenge is for entertainment purposes only. There is not a prize associated with this challenge. All trademarks are the property of their owners. This challenge is not sponsored, endorsed or administered by any such trademark owner. Questions can be sent to bracketchallenge@thestreet.com.
Editor's note: This article was originally published on March 29 at 9:21 pm ET