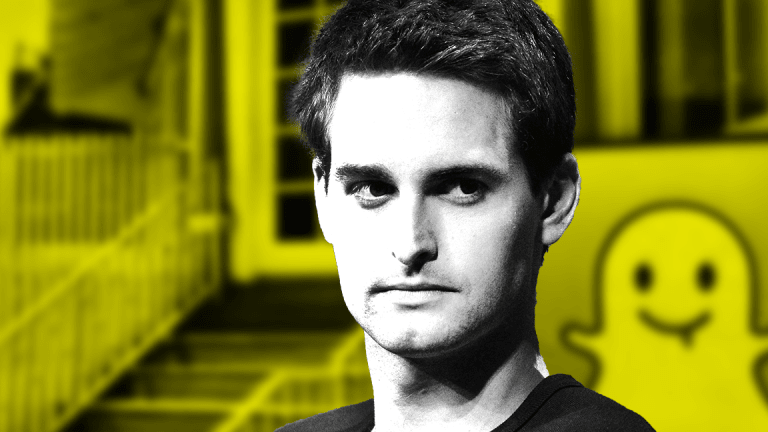 Snap's Problems Run Much Deeper Than Just a Decline in Daily Users
The Snapchat parent's heavy cash burn and slowing North American ARPU growth also warrant attention.
Though Snap's (SNAP) - Get Snap Inc. Class A Report weak user growth numbers are nothing to ignore, some of the financial figures it just shared are also pretty troubling.
The Snapchat parent's shares are down roughly 6% in Wednesday trading in the wake of Tuesday afternoon's Q2 report. Snap beat Q2 forecasts -- revenue of $262.2 million (up 49% annually) and GAAP EPS of negative $0.27 beat consensus estimates of $249.5 million and negative $0.31  but also guided for Q3 revenue of $265 million to $290 million (up 27% to 39%), which is almost entirely below a $289.2 million consensus.
In addition, Snap's closely-watch daily active user (DAU) count came in at 188 million. The figure represents an annual increase of 15 million, but a sequential drop of three million, and is below a consensus of 192 million. Snap's North American, European and "Rest of World" DAUs each fell by one million sequentially.
CEO Evan Spiegel insists Snapchat's controversial redesign, which it has backtracked on to an extent, is to blame for its DAU pressures, but it's hard to overlook Instagram's competitive impact. Whether at 188 million or 191 million, Snap's DAUs are equal to less than half of what Instagram claims for its Stories product alone.
In addition to the much-discussed DAU decline, Snap's report and earnings call also featured a few other red flags. Specifically:
1. Snap's Cash Burn Remains Massive
Though Snap's revenue rose 49% annually last quarter, and its operating expenses only grew 8% to $247 million thanks to recent job cuts, its free cash flow (FCF) was negative $234 million. That's a little better than Q1's negative $268 million, but slightly above Q2 2017's negative $229 million (it's worth noting here that quarterly FCF numbers can be lumpy). 
Massive cloud infrastructure expenses are a major culprit here: Snap's infrastructure costs rose 28% to $136 million. And its infrastructure costs per DAU, while down by a penny sequentially, grew by $0.11 annually to $0.72.
As is the case for Facebook (FB) - Get Meta Platforms Inc. Report , which plans to more than double its capital spending this year to around $15 billion, supporting massive amounts of user-generated video doesn't come cheap for Snap. And unlike Facebook, which relies on its own data centers, Snap's infrastructure costs are boosted by the fact that it relies on the public cloud platforms of Alphabet/Google (GOOGL) - Get Alphabet Inc. Report and Amazon.com's (AMZN) - Get Amazon.com Inc. Report  to host its content.
Facebook, Alphabet and Amazon.com are holdings in Jim Cramer's Action Alerts PLUS member club. Want to be alerted before Jim Cramer buys or sells FB, GOOGL or AMZN? Learn more now.
Also:
It looks as if Snap's operating expense growth is about to pick up. On the call, CFO Tim Stone said that Snap, which saw its employee headcount drop by 190 during the first half of 2018 to 2,879, expects to end the year with a headcount that's "relatively consistent" with what it had at the end of 2017.
Snap is keeping opex down in part by relying heavily on stock compensation. The company's stock comp expenses totaled $161 million in Q1; that's equal to 65% of reported opex of $247 million.
Fortunately for Snap, the company still has over $1.5 billion on its balance sheet to pay the bills with, and no debt. But as I noted following its May CFO change, Snap is still a long ways removed from becoming cash-flow positive, and neither a difficult cost structure nor slowing revenue growth help its cause.
2. North American ARPU Growth Is Slowing
Based on DAUs, Snap's average revenue per user (ARPU) in North America rose by just 12% annually to $2.21. That compares with 16% in growth in Q1 and 28% growth in Q4.
The company is seeing much faster ARPU growth in other locales: Its European ARPU rose 70%, and its ARPU for the "Rest of World" region rose 220%. However, at $0.66, and $0.96, respectively, Snap's ARPUs for these regions remain far below what it's getting from North America, which still accounts for over two-thirds of its revenue.
Snap's North American ARPU remains far above its ARPUs for other regions. Source: Snap.
Facebook, by comparison, saw its ARPU per North American DAU rise 36% in Q2 to $33.79. While it would be unrealistic to expect Snap's North American ARPU to match Facebook's, given the advantages Mark Zuckerberg's firm has in fields such as daily time spent, scale and user data, the fact that Snap's ARPU growth in the region has slowed so much even though it's less than one-tenth of Facebook's level is troubling. That's especially true since Snap has remained aggressive about rolling out new ad solutions both for Snapchat Stories and its photo/video messaging services.
3. User Engagement Appears to be Under Pressure
Looking to calm worries about the DAU decline, Spiegel said on the call that Snap's monthly active users (MAUs) still rose sequentially, albeit without specifying by how much or Snap's total MAU count. He also mentioned (without giving a precise number) that time spent per DAU remained above 30 minutes.
The glass-half full view of the MAU disclosure is that the total number of consumers opening the Snapchat app at least once in a month continues to grow. The glass-half empty view, in light of the DAU decline, is that the percentage of monthly Snapchat users who treat Snapchat as a daily habit is dropping.

DAUs fell sequentially for each of Snap's three reported regions. Source: Snap.
Curiously, Snapchat's approach to disclosing user growth stats is the reverse of Twitter's (TWTR) - Get Twitter Inc. Report . Twitter, looking to draw attention away from its tepid MAU growth, has been disclosing healthier DAU growth rates, but without sharing how many DAUs it has or has added. For Q2, Twitter reported its DAUs rose 11% annually, but also disclosed its MAUs rose just 3% to 335 million, with flat growth in the U.S..
Ultimately, Snap and Twitter are in the same boat. They're struggling to expand user bases that remain a small fraction of those claimed for Facebook's most popular services beyond a core base of loyal consumers, and are trying to highlight those stats that make its user growth pressures look less worrisome.