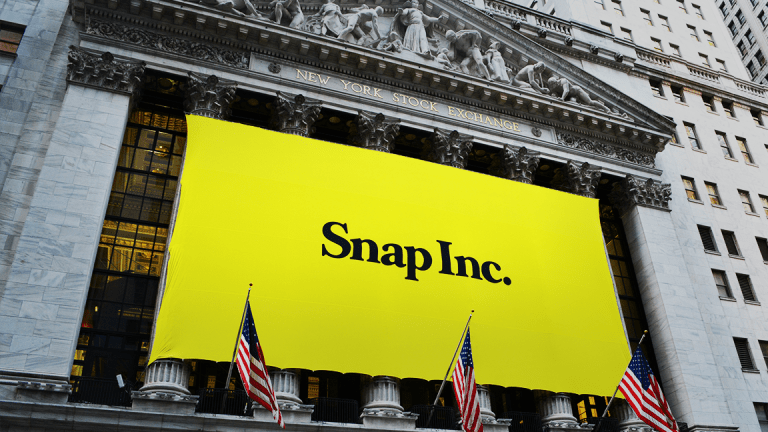 Snap Takes Steps in Right Direction, But It's Still Far From a Sure Bet
Snap Inc.'s first quarter results delivered on Tuesday were encouraging. But the social media company still has a long way to go before it can prove that an investment in the stock makes sense at current levels.
Snap Inc.  (SNAP) - Get Snap, Inc. Class A Report  has taken yet another step in the direction of profitable growth.
On Tuesday, the social media company reported first quarter results that topped analysts' expectations. A revenue increase of 39% landed nearly ten percentage points above consensus, an impressive feat. Adjusted net loss per share of $0.10 looked less concerning than previously expected, as non-GAAP EBITDA margin of -38% surpassed management's own forecast of -51% at the mid-point of the guidance range shared in early February.
Although shares jumped in after-hours earnings on Tuesday, the gains turned to losses later in the day, possibly on concerns about when the company would eventually become profitable. Shares of Snap were down 4.8% to 11.42 on Wednesday, but are still up more than 108% year to date. 
Strong Operating Metrics, Improved Margins
For the quarter, Snap posted impressive ARPU (average revenue per user) growth of 39% to $1.68. This is perhaps the most meaningful trend driving revenues up, considering that the company's average daily active user count has remained virtually flat for the past several quarters.
Snap Inc.'s initiatives to boost user engagement and provide advertising partners with better ROI opportunities seem to be bearing fruit. The Discover platform has been gaining momentum and allowing clients access to an increasing mobile audience in the U.S. The launch of Snap Games and the newly-introduced augmented reality features also appear to be key driving forces supporting ad revenue growth.
Considering the gains of scale, it is not surprising that margins have continued to trend positively in the first quarter. Cost of revenue declined by 22 points on a percentage-of-revenues basis, more than doubling adjusted gross margin year-over-year to 39%.
Management should also be commended for keeping a lid on operating expenses, which were down 4% excluding share-based compensation, providing some evidence that Snap might just be able to grow its top line without sacrificing profits as much as it has in the past.
Despite The Positives, Investment Is Speculative
Given the skepticism that Snap faced in the months that followed its celebrated 2017 IPO, Tuesday's earnings results looked encouraging enough to justify near-term bullishness on the stock. But despite all the positives, Snap still has a long road ahead to prove that an investment in the stock makes sense at current levels.
Snap's first quarter top-line increase has been enabled primarily by the doubling of ad impressions over year-ago levels. In the past, peer Facebook (FB) - Get Facebook, Inc. Class A Report  proved that the strategy can only go so far before ad fatigue puts a dampen on monetization opportunities. Although Snap is far from reaching maturity, the company needs a long runway to push revenues to levels that could justify its fairly rich $16 billion market cap.
In addition, the company's expansion efforts are likely to cause growing pains. As the management team discussed in the earnings call, operating leverage could suffer in the foreseeable future from increased investments in infrastructure and marketing, suggesting that margin improvement might not follow a linear path. It is worth noting that Snap is still far from being a net profitable company, while free cash flow has remained well into negative territory. 
Snap investors do have good reasons to celebrate the latest quarterly results. But betting on the stock of a young company that has yet to prove itself a viable, profitable business is not without substantial risks. Investors looking to play the social media space more conservatively might first want to consider Facebook, still the undisputed leader in the space, or Twitter (TWTR) - Get Twitter, Inc. Report , following the company's robust first quarter performance.
The author has no positions in any stocks mentioned in this article.