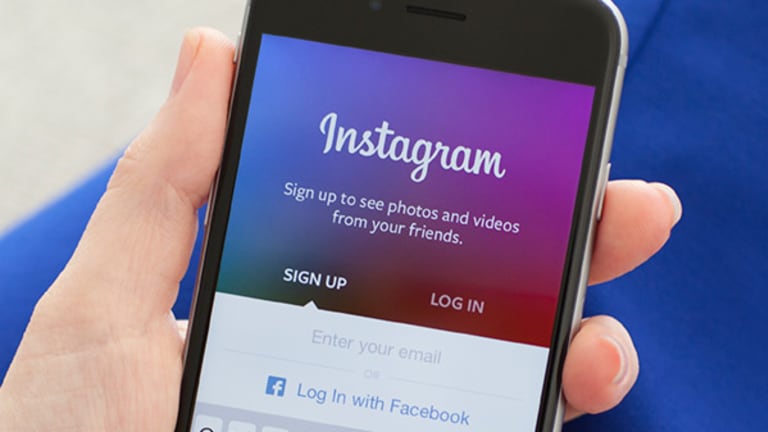 Snap Is Evolving Its Services Well, but So Is Facebook's Instagram
Product announcements made on Tuesday show how each platform is steadily improving its Stories feature. But Instagram's strategic position remains stronger.
This column originally appeared on May 23 on Real Money, our premium site for active traders. Click here to get great columns like this.
Whatever its challenges, Snap Inc (SNAP) does manage to provide almost-weekly confirmation that it's no Twitter (TWTR) . Whereas Twitter still struggles with basic functions such as finding interesting accounts for new users to follow, highlighting interesting material and letting users attach longer pieces of text to a post, Snapchat has shown a knack for keeping its core users engaged and augmenting popular services with clever new features.
Unfortunately, Facebook's (FB) Instagram, a service that has more than twice as many active users as Twitter less than three years after having a smaller user base, is showing that it can execute at least as well. And as Instagram liberally borrows Snapchat's best ideas (to put it politely) while adding some original touches, that continues to do a number on Snapchat's addressable market.
Facebook is a holding in Jim Cramer's Action Alerts PLUS Charitable Trust Portfolio. Want to be alerted before Cramer buys or sells FB? Learn more now.
Snapchat and Instagram's latest product announcements drive home this dynamic. On Tuesday, the former unveiled Custom Stories, a feature that lets multiple users contribute to the same Stories photo/video stream, with the Story disappearing if no contributions are made for 24 hours. The feature comes with the ability to restrict content-sharing to a specific location, and is likely to be popular with groups of friends looking to create a collection of photos/videos from, say, a party, wedding or concert.
Around the same time, Instagram announced its own Stories feature has been updated to let users search for publicly-shared Stories content based on its location or the hashtags attached to it. Instagram's algorithms will compile material sharing a common location or hashtag into individual Stories. Compiled location-based Stories will also be shown on the popular Explore page of Instagram's app.
To a large extent, Instagram is copying Snapchat yet again. Snapchat has long had a feature called Our Story, through which Snapchat editors compiled photos and videos content submitted by users to them into Stories related to specific events. And in March, Snapchat made Our Stories content searchable, and also started using algorithms to create Stories for events and themes. Early reactions have mostly been positive.
But Instagram is casting a wider net by creating Stories for cities and other larger locations (rather than just events), and by making any publicly-shared content featuring the same hashtag a possible candidate for a common Story. Throw in how Instagram's personalized Explore page has already been showing (along with standalone photos/videos) individual Stories from non-followed accounts that it thinks a user may be interested in, and one can argue that it's more aggressive about making the mountains of public content shared on its platform each day organized and easily discoverable.
That arguably meshes with how Instagram's product philosophy has been evolving. The platform has quickly morphed from one in which users typically see a small number of higher-quality photos and videos (possibly enhanced via filters) from followed accounts, to one in which users browse a wide variety of content from both followed and non-followed accounts.This is being done not only via regular Stories and Explore, but also by adding features such as live-video Stories (still not supported by Snapchat, possibly due to its engineering challenges), support for Snapchat-like disappearing private messages and the ability to add up to ten photos and videos to a post.
With Instagram having grown its monthly active user (MAU) base from 500 million to 700 million just from June 2016 to April 2017, it's hard to complain about the results of this evolution. And all that growth is clearly affecting how much Snapchat can grow, even as Snapchat does a solid job of holding onto its core base.
Instagram Stories now has over 200 million daily active users (DAUs), more than the 166 million Snapchat had at the end of Q1 for all of its services. Data from analytics firms 7Park Data and Captiv8 respectively indicates that Instagram Stories usage has impacted Snapchat user sessions, and that a majority of "social media influencers" are now posting more on Instagram's Stories feature than Snapchat's. And given Instagram's heady international growth, it may have been telling that of the 7 million DAUs Snap added in Q1, only 1 million came from outside of the U.S. and Europe.
In Snap's defense, Instagram's moves don't seem to have hurt the popularity of Snapchat's core ephemeral messaging service, which have a playful, irreverent, anything-goes, feel that's tough for Instagram (never mind Facebook proper) to replicate. And Snap is also doing a good job of steadily enhancing this service, as shown by a recent tweak meant to keep messages from disappearing so quickly (if the sender is fine with it) and the addition addition of "World Lenses" that add augmented reality-like content to photos and videos taken with a rear camera.
But a no-hold-barred brawl continues to unfold for Stories content. And Instagram, thanks to its scale, technology strengths and access to Facebook's resources, is arguably wielding the bigger stick.