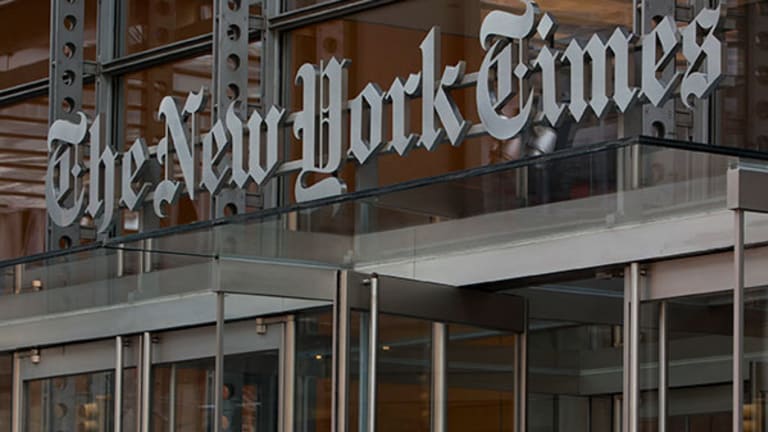 Smooth Sailing for The New York Times?
Investors have pushed the publisher to close to a nine-year high, but do the numbers support the optimism?
Updated from May 10 with a clarification about the Washington Post's subscriber numbers.
It's been a long decade for The New York Times Co. (NYT) - Get New York Times Company Class A Report -- and all its newspaper company peers. Wounded mildly by early digital disruption, the newspaper industry has seen nothing but financial woe into and out of the Great Recession.
Times shares, though, busted through a nine-year high Tuesday before dropping a few cents below at close.  Since CEO Mark Thompson unveiled first-quarter financials last Wednesday, Times shares have soared. They are up 18% over the last week.
Is this rational exuberance? Has the long-suffering Times Co. -- which took a Carlos Slim $250 million lifeline loan at 14% interest in 2009 -- secured its passage to survival and sustainability in the digital age? Has it sailed out of its doldrums?
Look at the Times' middling profit numbers, and you wonder what it is that investors see in this two-tier public company. Operating profit grew year over year by $1.1 million -- on $398 million in total quarterly revenue -- to $29 million in the first quarter. Revenue certainly didn't do the stoking here, up 5%. What, then, may be driving investor hope, if not confidence? In a word, think crossover: There may be enough numbers in the report to bolster the belief that the publisher of The New York Times can escape its print shackles and achieve a new, lasting life in the digital realm.
Let's let at five percentages that may indicate whether we can forecast smooth sailing for the company.
17.9%: The Times Co. lost almost one in five print ad dollars compared with the first quarter of 2016, showing an almost 18% decline. It's not alone there, with newspaper peers, national and regional, largely in the teen percentage loss range over the past year and more. The assumption is that the astounding loss would chill investors. In this quarterly report, though, the company showed an uncommon resilience -- still growing overall revenue 5.1% despite that staggering print loss. One other calculation that can be extrapolated out of the numbers: Only 20% of all Times revenue now come from print advertising. That's why it could increase revenue despite the big print loss. 
38.2%: While print ads have tanked for almost a decade, the Times Co. still finds growth in digital advertising. In fact, digital advertising now accounts for nearly four out of every 10 ad dollars (38.2%) that the publisher takes in, another threshold crossed for the first time in the latest financial report. One year ago, three of every 10 ad dollars (29.9%) were digital. As I've written, its branded content business, especially around its T Brand line, has helped the Times build its digital ad business in areas outside of Facebook's (FB) - Get Facebook, Inc. Class A Report and Google's (GOOGL) - Get Alphabet Inc. Class A Report relentless competition. So year over year, it grew digital ad revenue 19%. Compare that gain to the 17.9% print ad loss, and we can see another reason why the optimists may be pushing up the stock. When the Times surpasses the 50% threshold -- as digital ad revenue passes print ad revenue -- the math gets better and better, assuming, of course, it can match its digital ad revenue growth to its print ad revenue loss.  That crossover may well happen within the next 18 to 24 months.
40%: Witness the tangible evidence of the Trump Bump, and following subscription surge. As we've reported here at TheStreet, news organizations from the Boston Globe and Oregon Public Broadcasting to The New Yorker and The Atlantic have all seen unprecedented rushes of new subscribers. Donald J. Trump's lead generation service is now well-proven, even as the surge softens, with the big bumps largely subsiding. Yet it is the president's derided "failing New York Times" that's proven the big winner of the surge. Thompson could report a 40% increase in digital circulation revenue, year over year. The unexpected increase gives the Times' 2.2 million digital subscribers, and more than 3 million overall, including print. How did the Times generate 5% more revenue in 2017's first quarter over 2016? Circulation revenue grew 11%.
60%: For the first time, the Times generated six out of every 10 of its dollars from readers. Old-fashioned "circulation" revenue -- which in predigital days contributed only a third or so of revenue as advertising provided the huge profits of the halcyon times of print -- now drives the enterprise. As Thompson has said, and has driven the message across the company, "We see our business as a subscription service first, which requires us to offer journalism and products worth paying for." Because reader revenue now constitutes a strong majority of income, the company can counter those massive print ad revenue losses.
70%: That's a number readers won't find in the Times' earnings announcement, yet it's a decisive number. At 60%, the Times' reader revenue is impressive and, as we can see, is stemming the incoming tide of print ad lost revenue. Yet at the 60% level, that's about what it can do: stem. If it reaches 70% -- and the publisher, I understand, believes it may be there between 2020 and 2022 -- it could generate actual, lasting growth, ahead of inflation. The Times hasn't consistently reached that mark since the first decade of this century but could by its third. 
Add it all up, and the outline of crossover sharpens into view. Balancing on that teeter-totter of print and digital, investors see a lot they like. Further, the digital subscription spurt helps Thompson stay on track to meet his larger strategic goals of doubling Times digital revenue by 2020. 
New York Times Co. has written a great storyline for itself. 
What should the skeptics consider?
Let's look at the Mark Thompson's risks going forward.
First off, digital subscription growth is slowing at the company, if predictably slow. The Times has built an impressive conversion-of-heavy-reader-to-subscriber machine, even before the new president's aid. It will continue to add subscribers, but the question is at what rate. Further, the bane of all subscription sellers, churn -- or the nonrenewal by subscribers -- has got to be watched. How many of the newer Times subscribers, spurred on by the political times will stay on?
On the positive side, the Times has big plans, so far unannounced. They included the unveiling of both new programs and new products, both in the U.S and globally. Just a week ago, the Times extended its international push, as it announced its Australia edition, just as Fairfax Media, the country's second-largest publisher, finds itself dealing with an unwanted TPG Group buyout offer and its own massive layoffs.
The Times needs lots more digital subscription dollars. While 40% of its ad dollars now come from digital, only 31% of its circulation dollars do. Print subscriptions -- dropping in (somewhat manageable) volume -- still account for 69% of its reader revenue. What if those print subscribers abandon newsprint more quickly?
Second, consider the vagaries of digital advertising. In the first quarter, the Times saw digital gain largely set off print loss. Digital ad growth, though, has been quite bumpy for the Times. How will its growth play out the rest of the year?
And then there's that guy named Jeff Bezos. Out of seemingly nowhere, the Bezos-owned Washington Post has made itself a real news competitor to the Times, in audience, in stature and in impact. While the Republic is the better for it, one question increasingly occupies the minds of Times executives: What will the Post do next? 
Unquestionably, the Post still plays catch-up in the digital business, both on the subscription and advertising ends of the business. While the Times counts those 2.2 million digital-only subscribers, the Post, I'm told, counters with a little more than a tenth of that amount.
[Clarification: While the Washington Post doesn't publicly report its circulation numbers, the Post's Kris Coratti told The Street on Friday that "we have added more than that number [220,000 or 10% of the Times' 2.2 million] in the first quarter alone." Coratti says that the first quarter additions are "net new subscribers." Given that first-quarter surge, the Post's overall digital subscription number, while well behind that of the Times, would come in at significantly more than a tenth of the Times' own total.]
And they are lower-priced customers. Bezos' Amazon Prime-like business model: Bring in mass audiences at lower prices -- and then find lots of ways to upsell them. We've yet to see how the Post will move on that strategy and how much such a play would attempt to take paying subscribers away from the Times. There should be lots of room for both companies to gain in-common subscribers, but will they become the Netflix (NFLX) - Get Netflix, Inc. (NFLX) Report and Amazon Prime (AMZN) - Get Amazon.com, Inc. Report of national paid news, or will consumers more likely invest in one or the other?
Crossover -- that tightrope-like walk from the old world to the new -- is a tricky walk. Today, Mark Thompson, feeling a little steadier than he did a year ago, continues forward on the narrow path that larger finances allow.
Jim Cramer and the AAP team are discussing fallout from first-quarter earnings from Apple (AAPL) - Get Apple Inc. (AAPL) Report and Facebook and how to play the big tech names. Get his insights and analysis with a free trial subscription to Action Alerts Plus.