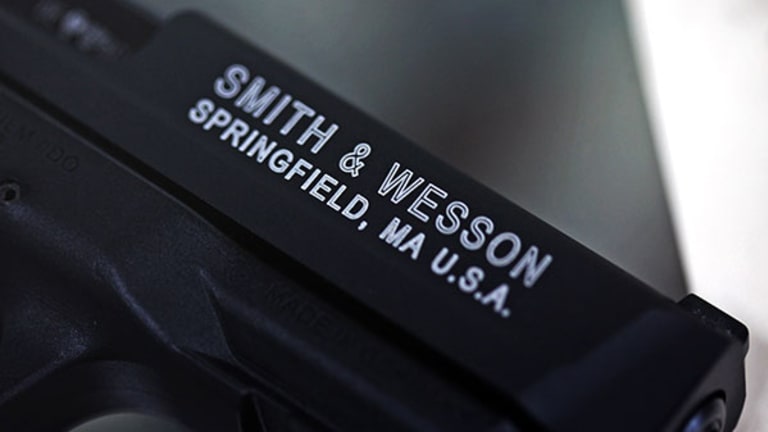 Smith & Wesson Stock Will Plunge, and This Chart Shows Why
A massive technical sell signal was just triggered for Smith & Wesson (SWHC) stock. Investors ignore it at their peril.
There's plenty of talk about the executive steps on guns that President Obama has said he will take, and some investors may be wondering how they will affect stocks of gun manufacturers. It might be time to recall that right after the the 2008 presidential election then-President-elect Obama had pledged to make the expired Assault Weapons Ban permanent.
The following monthly bar chart of Smith & Wesson (SWHC) provides some historical perspective, and shows us what actions for investors are productive under current conditions, and which aren't.
Click here to see the following chart in a new window
First, in the lower pane of the graph, the stochastics indicator historically becomes overbought and reverses lower after testing the 90% threshold, and becomes oversold and reverses higher after testing the 10% threshold. So the best times to buy are near the green zone that surrounds 10%. Similarly, the best times to sell are near the pink zone that surrounds 90%. Skeptics will point out that there are times when these levels are reached and the price don't immediately reverse, which we (and our objective decision support engine's algorithms) see, too. Clearly, if one wants to choose an ideal time to buy and sell, the best time to buy would be when the stochastics are in the green zone, and the best time to sell would be when stochastics are in the pink zone. But this is too simple to work by itself, so we need to dig deeper.
Notice what happens when prices move above the golden bands (two standard deviations above and below the 200-day moving average) that surround the price bars. Since these bands contain 95% of normality, price tends to remain outside these bands for only hours to days, not weeks to months. We've put red circles at each instance in the past 10 years that price was above the upper band (where only 5% of normality exists) and stochastics were in the pink zone near the extreme overbought 90% threshold. On Tuesday, this condition occurred for only the fourth time in Smith & Wesson's history, and the outcomes following the first three instances is alarmingly bearish! Let's see what happened.
At the far left instance, in 2007, the five months that followed this sell signal saw an 83% crash. This wasn't even the final destruction, which occurred 14 months later, and 93% off the sell signal's peak. The second instance was in March of 2012. By June, prices had fallen 24%. Instance three was in June of 2014, which gave way to a 47% crash in the following four months.
So, here we are at the moment that instance four has just been triggered, and bulls must ask themselves the question that Dirty Harry often asked bad guys who were staring down the barrel of his Smith & Wesson .44 Magnum, "Do you feel lucky, punk?" If you do, then you're likely considering staying with your profitable long trade in Smith & Wesson and seeing how far you can ride this now-parabolic rally. But, let's take another look at the chart and see what else the decision support engine has noted.  
At Tuesday's high, near $26.50, the stock's price was not only above the two-standard-deviation band, but above the three-standard-deviation band (not shown) near $24.12 (which contains 99.7% of normality). It also was testing the four-standard-deviation band (which contains 99.9% of normality). This means that remaining long Smith & Wesson is a bet that the hype surrounding the "guns" issue will allow prices to exist in the 0.3% of normality that is statistically impossible to survive in for very long, and that you are smart, nimble, flexible, fast and good enough to capture any further gains in a condition that has no analogy to relate to its rarity (let alone lunacy).  
But, let's say you are just that smart, nimble, flexible, fast and good. If another day of hype inflates this bubble to $29, the five-standard-deviation band will be reached (purple line), and at $31, the six-standard-deviation band (gray). There's no point in stating the percentages of normality that would be being defied, as there's no oxygen left in that space to understand what normality even is. Hence, the decision support engine's point: sell, sell, sell! When? Where? We've posted the zone that must be used to protect from the outcomes that the only other instances in history experienced: $28 +/-$3. If you're long, use this zone to exit, or at least any break of $22 as a sell stop. If you're flat, $25 to $29 would be the ideal zone to establish short exposure, while using a break of $22 to either add to or establish short exposure on the downside. Just to clarify, this is a high-confidence sell signal, and the pink ovals have been ideal sell zones.  
High confidence buy opportunities are illustrated with green ovals, which are triggered when stochastics are in the green zone and price is testing the lower two-standard-deviation band. The current conditions are the exact opposite of a high-confidence buy opportunity. Buying under these conditions can only be justified using the "greater fools theory" of investment management. That theory states that there will always be a greater fool than me to buy at an even more exuberant price than I just paid. This theory works well up until the time you look around the room trying to find a greater fool to sell to at a higher price than you paid, and realize the you are the greatest fool of all. Don't try this at home!
Back to Smith & Wesson, the blue arrows highlight the path of the decision support engine's forecast for the coming 12 to 18 months, even though the three previous instances of this ominous sell signal manifested their destruction in an average of only four months. The only scenario that would keep Smith & Wesson from following this forecast would be if the company became the target of a crazy buyout bid. While that can't be fully ruled out, it'd be foolish to have that as your only thesis for investing at the four-standard-deviation band, with stochastics above the 90% threshold. We'll objectively revisit these shares once a new green oval is placed on the chart by the decision support engine.
Interested in this kind of market analysis? Sign up today for a FREE 7-day trial of our Decision Support Engine Premium Service at no obligation. Inquire about special pricing for TheStreet.com readers after your complimentary trial.
This article is commentary by an independent contributor. At the time of publication, the author held no positions in the stocks mentioned.